ISLAMABAD -- Pakistani authorities are enhancing operations against local affiliates of al-Qaeda and the "Islamic State of Iraq and Syria" (ISIS) as part of an effort to stave off potential security threats as the international coalition withdraws from neighbouring Afghanistan.
NATO and US forces began formally withdrawing from Afghanistan on May 1 and have pledged to complete the action by September 11.
To support the withdrawal process and to maintain pressure on terrorist groups throughout the region, the US military is deploying additional forces and resources in the Middle East.
In Pakistan, law enforcement agencies are continuing to crack down on terrorist groups such as al-Qaeda in the Indian Subcontinent (AQIS), ISIS's Khorasan branch (ISIS-K) and Tehreek-e-Taliban Pakistan (TTP).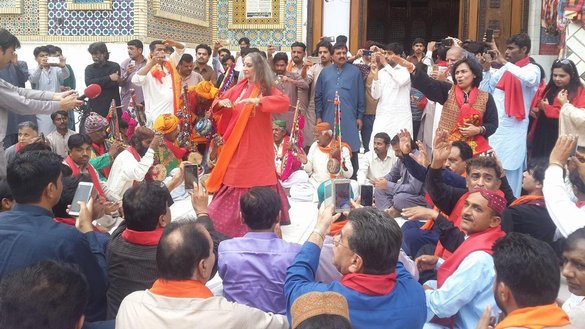 On May 2, police arrested three militants linked with ISIS-K in Shikarpur district of Sindh province.
Those arrested were said to be close aides of Abdul Hafeez Pindrani, the deputy chief of ISIS in Sindh province. Pindrani was killed alongside Maulvi Abdullah Brohi, the chief of ISIS in Sindh, in February 2018 in a shootout with police in Sibi district of Balochistan province.
Sindh's Counter-Terrorism Department (CTD) on April 19 announced the arrest of five suspected militants, including two alleged would-be suicide bombers, associated with TTP near Hyderabad.
The militants were planning to attack the Police Training Centre in Karachi and had already carried out reconnaissance operations, said Omar Shahid Hamid, a senior Sindh CTD official.
Some of the arrested militants were involved in various high-profile attacks, including the 2019 suicide bombing of the Data Darbar shrine in Lahore and the 2018 suicide bombing of a Pakistani army volleyball match in Swat, according to Hamid.
In a separate raid the same day, district police in Karachi arrested two TTP militants allegedly sent by TTP leaders headquartered in Afghanistan to rebuild the organisation in the city.
In January, Sindh's CTD arrested an engineering student in Karachi in connection with charges of sending money to families of militants linked with ISIS in Syria.
Last November, Punjab's CTD in a joint intelligence-based operation in Rajanpur district arrested five suspected members of AQIS and seized suicide jackets, hand grenades, arms and ammunition.
The AQIS suspects were planning to launch terrorist attacks on vital installations in Punjab's southern districts, said a CTD press release.
Afghan operations
At the same time, AQIS and ISIS-K in recent months have suffered heavy losses in Afghanistan as a result of military operations there.
Evidence is continuing to mount of a continuing close relationship between the Taliban and other terrorist groups, al-Qaeda in particular, despite the Taliban's pledge to cut ties.
In late March, Afghan National Directorate of Security (NDS) forces killed AQIS senior leader Dawlat Beg Tajiki, alias Abu Mohammad al-Tajiki, along with several Afghan Taliban leaders in an operation in Gayan district, Paktika province.
The NDS in November also killed AQIS leader Mohammad Hanif, who was originally from Karachi, in Farah province.
Hanif was a close aide of Asim Umar, who led AQIS from its inception in 2014, according to the NDS. Umar was killed during a raid in September 2019 on a Taliban compound in Musa Qala district, Helmand province.
Abu Muhsin al-Masri, an Egyptian national believed to be the number-two leader of AQIS, was killed in Andar district, Ghazni province, in October 2020, according to the NDS.
In April last year, Afghan National Defence and Security Forces (ANDSF) arrested ISIS-K chief Aslam Farooqi, a Pakistani national.
"The killing and arrest of leaders of AQIS and ISIS-K, particularly Umar, Hanif, and Farooqi in Afghanistan have also helped Pakistani authorities in weakening the terror outfit in the country," said an Islamabad-based senior intelligence official monitoring transnational militant groups.
Even after the drawdown of coalition forces from Afghanistan, AQIS and ISIS-K are not in a position to reorganise themselves in Pakistan, he said.
Formation of AQIS and ISIS-K
Al-Qaeda leader Ayman al-Zawahiri launched AQIS in September 2014 as the terrorist group's South Asian arm.
Soon after the group's formation, AQIS became active in Pakistan and several local militant outfits that had an ideological association with al-Qaeda also pledged allegiance to AQIS.
The move was seen as a response to the launch of ISIS-K in July 2014.
"ISIS was the biggest beneficiary of al-Qaeda's decline, and many of the latter's affiliates in the region joined the former," said Munir Ahmed Shah, a Karachi-based security analyst.
"ISIS's arrival in Pakistan and Afghanistan had begun to challenge al-Qaeda as the leaders of the latter started announcing plans to join the former," he said.
ISIS has largely failed to establish a lasting presence in Pakistan because of the swift security response and society's rejection of the group's ideology, analysts say.
This is not to say that the group did not make a serious attempt.
Over a span of several years, ISIS-linked or -inspired militants carried out a series of grisly attacks in Pakistan that targeted minority groups, security forces and others.
But Pakistan's diverse cultural, religious and ethnic landscape has proven to be inhospitable to such violent extremism.