KARACHI -- The killing of the chief of al-Qaeda's South Asia branch is a major blow to terrorism in the region and highlights joint efforts by Afghan, Pakistani and coalition forces to prevent the return of the terrorist group.
Asim Umar, who led al-Qaeda in the Indian Subcontinent (AQIS) from its inception in 2014, was killed during a raid September 23 on a Taliban compound in Musa Qala District, Helmand Province, Afghanistan.
Afghanistan's National Directorate of Security (NDS) on October 8 confirmed Umar's death on Twitter, adding that among six other AQIS members killed in the raid was a man identified as "Raihan," a courier for al-Qaeda leader Ayman al-Zawahiri.
The NDS had said in an earlier tweet on September 23 that a joint operation was carried out to eliminate "a high-profile Al-Qaeda group embedded with Taliban leaders in a compound" that included Umar.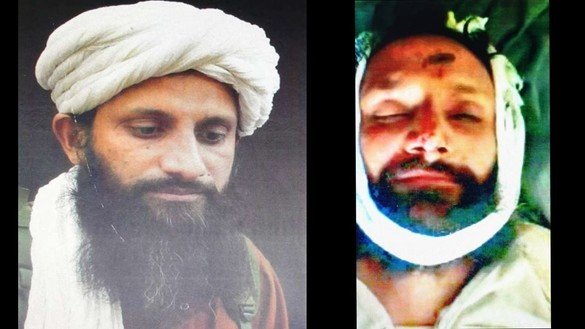 Twenty-two foreign members of the Taliban were killed and 14 arrested, said the Afghan Ministry of Defence in an October 8 statement.
"The arrested terrorists include five Pakistani nationals and one Bangladeshi. The foreign terrorist group was actively engaged in organising terrorist attacks. During the operation, a large warehouse of the terrorists' supplies and equipment was also demolished," the ministry said.
Al-Qaeda terrorists also were killed in a separate operation in Helmand.
"A unit belonging to the National Security Directorate conducted a major operation in Musa Qala District on [September 30], where a number of al-Qaeda members were killed and four of them were arrested," said Omar Zwak, a spokesman for the Helmand governor.
"Three women were among those arrested," Zwak said, adding that they spoke foreign languages. "Afghan forces destroyed ammunition, weapons and other equipment belonging to al-Qaeda during the operation."
Major blow to al-Qaeda
"Umar was highly respected both by local and foreign jihadists in Afghanistan and Pakistan, as he had a record of being a strong ideologue and was well recognised in the community," said Abdul Basit, a Singapore-based security analyst.
Before being appointed chief of AQIS, Umar was al-Qaeda's internet propagandist and headed its Sharia committee for Pakistan, according to Basit.
Soon after Umar became the leader of AQIS, the group attempted to hijack a Pakistani navy frigate in Karachi in September 2014.
The attack left 10 paramilitary personnel dead and 15 wounded. Two attackers were killed in the fighting, and a third blew himself up.
Umar was designated as a global terrorist by the United States in 2018.
Umar was a strategically significant militant commander and knowledgeable ideologue, said a number of law enforcement officials.
"Umar not only recruited a significant number of young and educated militants who are trained in making bombs but compelled a number of local militant outfits to pledge allegiance to AQIS," said Raja Umar Khatab, a senior official of the Sindh Counter Terrorism Department (CTD).
"Because of his past connection with various local militant outfits operating in the region, he managed to influence networks of Afghan and Pakistani Taliban, jihadi groups operating in Kashmir and smaller groups operating in other South Asian countries," he said.
Umar also had strategically targeted Pakistan's higher-education institutions to recruit young graduates.
"In Karachi, we have unearthed several small groups of militants linked with Umar who were affluent and graduates of prestigious universities," Khatab said.
Already weakened
AQIS already had deteriorated in Pakistan, as a result of a crackdown on various militant outfits.
Throughout 2018, law enforcement agencies in Karachi made numerous AQIS-related arrests, including that of Umar Jalal Chandio in Gulshen-e-Iqbal in November.
Also known as Khatio, Chandio was a close associate of Umar and Ayman al-Zawahiri, the leader of al-Qaeda.
Talat Mehmood, the AQIS chief for Sindh Province who was also known as Yousaf, was among three terrorists killed in a shootout on June 24 in the Khuda Baksh Goth neighbourhood, according to Karachi police.
Mehmood's was among the names included in the Sindh Counter Terrorism Department's Red Book, a list of most-wanted terrorists.
AQIS was not involved in any terrorist attack in 2018, but it remains in the sights of law enforcement agencies, according to an annual report published by the Pak Institute for Peace Studies, an Islamabad-based think tank.
"AQIS could not carry out a terror attack in Pakistan for the past three years, and Umar and his key commanders were in Afghanistan supporting the Afghan Taliban," said Khatab, the Sindh CTD official.
"It showed that AQIS had been greatly weakened," he said.
[Ahmad Wali Sarhadi from Kandahar contributed to this report.]