HERAT, Afghanistan -- The Iranian government has abruptly reduced the amount of electricity supplied to Herat province, Afghanistan, forcing factories to halt operations and making everyday life uncomfortable during summer heat.
Under an agreement between Iran and Afghanistan, Iran is obligated to export about 120 megawatts of electricity to the province.
Since August 8, however, Iran has reduced the supply to 30 megawatts.
Production in Herat Industrial City has subsequently decreased by 70%, said Hamidullah Khadem, chairman of the Herat Chamber of Industries and Mines.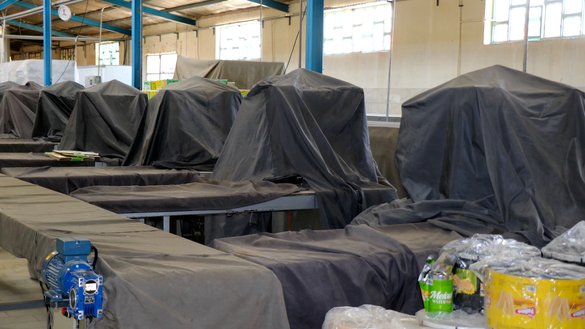 "Iran has violated the agreement by reducing the electricity supplied to Herat. It has done so in the past as well, without any coordination, causing major losses to Herat's industry and people," he said.
"Of the imported electricity from Iran, 100 megawatts [out of 120 megawatts] provides the power for the Industrial City," he said, referring to the former level of power supplied.
Now the Industrial City has to find power when the whole province receives only 30 megawatts.
The power sometimes goes out without warning, according to Khadem.
"Every time there is a blackout, factories' machinery stops working, resulting in up to $10,000 (845,000 AFN) in losses at each factory. In the Industrial City, 400 factories incur losses daily," he added.
Because of these problems, 20,000 of the 30,000 workers in the Industrial City have lost their jobs, Khadem said.
Nek Mohammad Elhami, who manages a plastic factory in Herat Industrial City, said his factory's operations are on hiatus due to power outages, which have left some 150 of his employees without work.
"We have invested millions of dollars in the Industrial City, but now it is in an uncertain situation because of power shortages."
"By cutting off power, Iran is trying to force Afghan industries to move overseas," he said.
"When the power is cut off, raw material remains stuck inside the machines and is wasted. We have to spend large amounts of money to open the machines and take the material out," he added.
If the power issue is not resolved, factories in the Industrial City will have to cease operations, resulting in the loss of thousands of jobs, Elhami said.
Halt in domestic production
A few of the Industrial City's factories are continuing operations by using diesel generators.
Ghulam Jilani, the production manager of a food factory in Herat's Industrial City, said that he has managed to keep only one of his factory's five production lines operational by using diesel generators.
"We face serious power shortages due to the reduction of power supply from Iran," he said, adding that Iran did it without prior notice.
Raw material worth millions of afghanis has been wasted in production cycles, he added.
"With the halt in electricity supply, our production has decreased by 70%, so we cannot meet our customers' demands."
"There are fewer domestic products sold on the market every day. They are being replaced by imported Iranian products," he added.
One hundred fifty of his workers are out of work because of the current power conditions, he added.
Azizullah, the breadwinner of a six-member family who works at a food factory in Herat Industrial City, has been unable to work amid the power shortages.
"The company I work for has reduced production by 80% because of power shortages. Most of its employees, including myself, are out of work. We don't get paid if we don't work," he said.
"My only source of income is this factory. If this situation continues long term, I will start facing economic problems." he said.
Iranian regime's 'revenge'
The Iranian regime has decreased the electricity supply because the flow of water from the Helmand River to Iran has decreased, say Herat residents.
Iranian officials earlier this year accused their Afghan counterparts of not meeting their obligations to provide Iran with its "water rights" from the Helmand.
"Iran has reduced electricity supply to Herat because it did not get water from the Helmand River, but electricity import is a separate issue from Helmand River water," said Naseem Hashemi, 31, a resident of Herat city.
"We pay Iran for its electricity, but it wants free water from Afghanistan."
"For years, Iran received more free water from the Helmand River than the amount that was agreed upon, but this year there is less water, and even Afghans have faced severe water shortages due to the drought," he added.
"There is no water to address the needs of Afghan farmers, but Iran wants water."
"Although Iran has an agreement with Afghanistan, every year it halts electricity export to Herat in summer and winter when electricity demand is high," said Abdul Rahim Qane, 25, another resident.
"Most of the time there are blackouts at hospitals, trade centers and residential areas, causing many problems ... in hot or cold weather."
"The halt to electricity supply by the government of Iran is a form of revenge inflicted on Afghans. Because of the drought, water from the Helmand River does not reach Iran, but the Iranian government either punishes Afghan refugees in Iran or cuts off the electricity supply," he added.
The Iranian government should be asked to compensate Afghans for the losses caused by electricity shortages, Qane said.