ISLAMABAD -- Pakistan's reported renewal of a security pact with the United States deepens the strategic defense relationship between the two and could pave the way for Islamabad to acquire military equipment, analysts say.
Pakistan's former cabinet earlier this month renewed the Communications Interoperability and Security Memorandum of Agreement (CIS-MOA) between Pakistan and the United States, which had lapsed in 2020.
A cabinet member who asked not to be identified confirmed the circulation of the summary on the CIS-MOA, official sources told the Express Tribune on August 3.
There was no official announcement about the signing, and the cabinet member declined to say if a majority of the cabinet members approved it.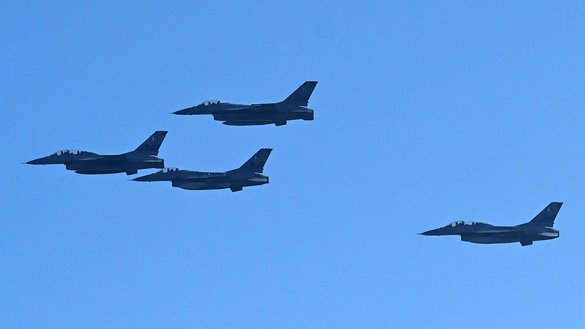 The CIS-MOA establishes terms for secure communications interoperability and security between the United States and its allies, according to the US Defense Security Cooperation Agency (DSCA).
DSCA manages foreign military sales for the US Department of Defense.
Initially signed in 2005 for 15 years, the agreement lapsed in 2020.
Important allies
"Accepting CIS-MOA enables potential future US sales of military equipment to Pakistan, enhancing joint military operations and exercises," said a Pakistani defense ministry official, who asked that his name not be used.
"Furthermore, the agreement expands access to US military technology and training, bolstering Pakistan's military capabilities," the official added.
But a retired senior army officer who previously dealt with the United States told the Express Tribune that even with the agreement in place, it is not easy for Pakistan to buy military hardware from the United States.
The pact's significance rests on Pakistan's role as a crucial US ally in the region, according to the New Delhi-based security think tank Vivekananda International Foundation (VIF).
"Implementing the CIS-MOA will enable the United States to enhance its provision of advanced military equipment and training to Pakistan," VIF said in an analysis published August 14.
"This, in turn, as claimed, will bolster Pakistan's defensive capabilities against various threats posed by terrorist organisations and other adversaries," it added.
In September, the US State Department approved the potential sale of F-16 aircraft, technical support and related equipment to Pakistan in a deal valued at up to $450 million, according to the DSCA.
This would enable Pakistan "to retain interoperability with US and partner forces in ongoing counterterrorism efforts and in preparation for future contingency operations," it said at the time.
Pakistan has an estimated 85 F-16s.
Strengthening security cooperation
The reported renewal of the CIS-MOA follows official visits and intensified communications between Washington and Islamabad, indicating warming ties.
The United States and Pakistan share a common goal in countering threats to regional stability, US State Department spokesman Vedant Patel said August 15.
"We have a shared interest with Pakistan ... in combating threats to regional stability and remain ready to work with Pakistan to combat militant and terrorist groups," Patel said.
Officials from the two countries "are in regular communication," he added.
"We also support the government's own efforts to combat terrorism and ensure the safety and security of its citizens in a manner that promotes the rule of law," Patel said.
Last month, US Central Command (CENTCOM) chief Gen. Michael "Erik" Kurilla visited Pakistan for the third time in less than a year.
He discussed security matters with top Pakistani military officials, including Chief of Army Staff Gen. Syed Asim Munir, visited the National Counter Terrorism Centre and Pakistani Army Sniper School and spoke with senior military personnel.
Also in July, US National Security Council senior director for South Asia Rear Adm. Eileen Laubacher discussed matters of mutual interest with Pakistani Foreign Minister Bilawal Bhutto Zardari in Islamabad.
Bilawal and Laubacher "reaffirmed commitment to further deepen Pakistan-US ties and expand cooperation in trade, economy and energy for regional peace and stability", the foreign minister said in a July 20 social media post.