TASHKENT -- Uzbekistan is warning the international community of a growing extremist presence in northern Afghanistan and is strengthening security co-operation with other Central Asian states.
Uzbekistani Foreign Minister Abdulaziz Kamilov at the 23rd Organisation for Security and Co-operation in Europe (OSCE) Ministerial Council session, held in Hamburg on December 8, said that ongoing activity in Afghanistan is posing a threat to the Central Asian region.
In response to these warnings, Central Asian countries and Afghanistan are working to protect their borders and eliminate the common extremist threat.
Militant infighting
One of the reasons for the uptick in extremist activity in northern Afghanistan is internecine fighting among militant groups.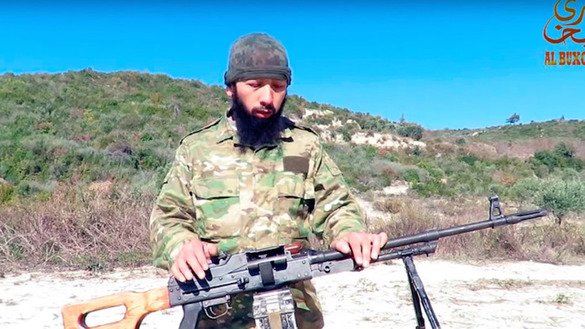 For many years, the Islamic Movement of Uzbekistan (IMU), comprised of Uzbekistani militants who had fled their homeland, operated in Afghanistan and Pakistan as an ally of the Taliban and al-Qaeda.
In 2015, its commander, Usman Ghazi, switched allegiance to the "Islamic State of Iraq and the Levant" (ISIL). Later that year, the Taliban decimated the IMU in a battle in Zabul Province, Afghanistan. Ghazi has not been heard from since.
In June this year, after months of IMU silence, a group describing itself as the surviving members of the IMU surfaced on social media and said that it was now returning to the Taliban's embrace.
Meanwhile, another militant group, comprised mostly of ethnic Uzbeks from various countries, Imam Bukhari Jamaat (IBJ), has been battling Syrian government forces for years.
The IBJ, which fought alongside ISIL in Idlib Province, Syria, similarly swore allegiance to the Taliban in July.
What is left of the IMU already operates in Afghanistan, but reportedly, the IBJ has been relocating to Afghanistan as militants suffer a string of defeats in Syria. The exodus means even more militants in Afghanistan.
At the same time, ISIL -- the IMU's brief ally and now foe again -- has been struggling to establish a foothold in Afghanistan, but the Taliban regard it as a rival and are determined to crush it.
Observers alarmed
Afghan and coalition forces have substantially shrunk the territory available to ISIL's Afghan wing, according to the UN Security Council's December monthly forecast on the situation in Afghanistan, published November 30.
However, ISIL's inability to expand outside its box in Nangarhar Province leaves a niche nationwide for IBJ militants who fled Syria and for surviving IMU militants, who could storm back into their home countries, according to observers like the UN.
For example, Helmand Province contains many ethnic Uzbek and Tajik militants, the UN Security Council's Analytical Support and Sanctions Monitoring Team said October 4 in its seventh report on the security situation in Afghanistan.
"Afghan authorities believe that they may be members of the Katibat Imam Bukhari group [the IBJ], who who took the oath of allegiance to the new leader of the Taliban movement ... having previously transferred from the Syrian Arab Republic to Afghanistan," the UN team wrote. "Senior Afghan officials assessed that the reason for those fighters' presence in Afghanistan was to create a network of supporters in the provinces in the northern and north-eastern parts of the country in order to obtain experience, network and potentially prepare for a return to their countries of origin."
"The interlinked network of terrorist actors currently operating in Afghanistan highlights that the threat is not limited to Afghanistan," the UN team warned in October. "Under current circumstances, it has the potential to permeate throughout the wider region, as well as the international community."
Potential terrorist haven
Much to the alarm of Central Asian countries, northern Afghanistan -- which borders three Central Asian states -- could become fertile ground for relocating militants.
"Northern Afghanistan is very attractive for extremists because of its proximity to drug-trafficking channels through Central Asia, as well as the large Uzbek and Tajik population that lives near the border of Uzbekistan and Afghanistan," Umid Asatullayev, a Tashkent political scientist, told Caravanserai.
That large population of co-ethnics could enable the militants to blend in and to find sympathisers.
Nine percent of the Afghan population identifies itself as ethnic Uzbek and 33% as Tajik, according to a 2012 Asia Foundation survey.
"Organisations like the IBJ in Syria and Iraq couldn't acquire a base in society [among Arabs] and recruited supporters solely from abroad," Asatullayev said. "If they work among the diaspora [of their own ethnic groups], their activity could become much more dangerous."
Regional co-operation against militants
Aware of the reported phenomenon of Central Asian militants arriving in Afghanistan, authorities in the region are trying to form a common strategy.
Intelligence agency specialists from Kazakhstan, Kyrgyzstan, Tajikistan, Uzbekistan and other Commonwealth of Independent States (CIS) countries held consultations on December 7 in Bishkek.
"The main topic ... was security in the context of foreign militant terrorists coming back to the region, and how to suppress recruitment activity in Central Asia," according to the CIS Anti-Terrorism Centre press office.
The organisation in October agreed to hold joint counter-terrorism exercises in Tajikistan next May and June.
At the same time, Afghanistan and its neighbours are pursuing a number of military, diplomatic and even grass-roots initiatives to knock the militants off their stride.
For example, in October, Uzbekistani and Afghan officials in Tashkent signed an agreement enabling them to extradite each other's extremists and other criminals.
In Faryab and Jawzjan provinces in northern Afghanistan, self-defence "Arbeki" brigades formed by the ethnic Turkmen minority battle the Taliban and other extremist groups.
Afghan forces, meanwhile, regularly conduct operations that kill or dislodge militants from any sanctuaries they might have formed in the north.
Among day-to-day operations, large-scale efforts include Shafaq 1 and 2, the latter of which kicked off on December 9.
Shafaq 1, which was conducted in March, reportedly killed dozens of militants in Kandahar, Zabul, Uruzgan and Daikundi provinces.
Afghan troops are steadfastly battling the Uzbek militants in the north who threaten the peace and stability of Afghanistan and of its neighbours, Afghan Defence Ministry spokesman Gen. Dawlat Waziri told Caravanserai.
[Izazullah from Kabul contributed to this report.]