Recent moves by Washington, such as a visit to Pakistan by a top US Air Force officer and the approval of a potential sale of F-16 fighter jet support to Pakistan, are evidence of a growing relationship between the air forces of two countries.
Lt. Gen. Alexus Grynkewich, commander of Ninth Air Force (US Air Forces Central Command), met Pakistan Air Chief Marshal Zaheer Ahmed Babar Sidhu in Islamabad Monday (January 23).
The two discussed "matters pertaining to the regional security situation, enhanced bilateral and defense co-operation", a handout from the Pakistan Air Force (PAF) said.
As the commander of the Ninth Air Force, Grynkewich is responsible for developing contingency plans and conducting air operations in a 21-nation area of responsibility covering Central and Southwest Asia.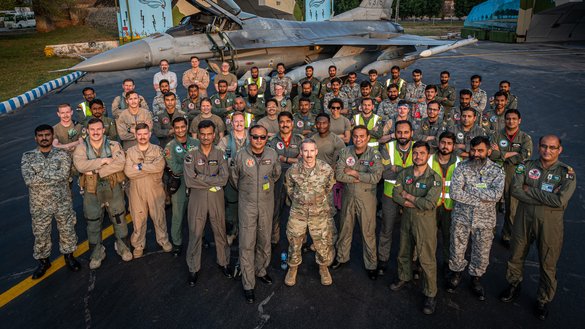 Grynkewich in the meeting vowed to enhance co-operation in various fields and expressed his appreciation for "Pakistan's efforts in promoting regional peace," the handout added.
Pakistan "values its strong diplomatic, economic, and defence relations with the United States which are based on convergence on all important issues relating to regional peace, security, and stability", Sidhu said in the statement.
Both leaders also agreed to "further optimise military-to-military ties, particularly in training and operational domains," the handout added.
Pakistan and the United States enjoy a broad security partnership and have worked collaboratively to address security threats that both nations face, say experts.
Grynkewich's trip comes a month US Central Command (CENTCOM) chief Gen. Michael "Erik" Kurilla's visited Pakistan in mid-December.
Kurilla conferred with Pakistani army chief Gen. Asim Munir and other top army officials on "security co-operation, security along the Afghanistan-Pakistan border, the threat posed by terror groups in the region, ongoing operations, and opportunities to increase co-operation between CENTCOM and the Pakistan Army", CENTCOM said in a December 16 statement.
Kurilla also traveled to Peshawar and visited the headquarters of XI Corps, which is assigned to Khyber Pakhtunkhwa province and is responsible for about half of the border with Afghanistan.
He and XI Corps leaders flew by helicopter to the Big Ben outpost overlooking the Khyber Pass, where they "observed border security and discussed the cross-border threat of terror groups operating in Afghanistan", CENTCOM said.
The growing security co-operation demonstrated by Grynkewich's and Kurilla's visits "will help in countering local and transnational militant groups, such as al-Qaeda, Tehreek-e-Taliban Pakistan, al-Qaeda and the 'Islamic State [of Iraq and Syria]', in the region," said Muhammad Hussain Shah, a professor of international relations in Karachi.
Boosting regional stability
Last year, Pakistani and US airmen conducted a bilateral training event during Falcon Talon 2022 at a PAF base from February 28 to March 4, US Air Force Central said in a statement last March 9.
Falcon Talon 2022 was Ninth Air Force (Air Forces Central)'s first major training event in Pakistan since 2019.
The exercise included "live flying events and activities to strengthen interoperability across multiple capabilities, including maintenance, security forces and support functions", according to the statement.
"Celebrating the 75th anniversary of US and Pakistan relations, our militaries were happy to increase our interoperability and partner capacity during Falcon Talon," US Army Brig. Gen. James Sindle said at that time.
In April 2021, the PAF organised two-week drills at one of its air bases, where the PAF, Royal Saudi Air Force (RSAF), and US Air Force, among other countries, actively participated.
The PAF's F-16 and JF-17 fighter jets and the RSAF's Tornado aircraft took part in the exercise.
Observers say that by inviting foreign forces to participate in joint counter-terrorism air and naval drills shows Pakistan's commitment to international co-operation against extremism and terrorism in the region.
Pakistan is preparing to host a multi-national naval exercise, AMAN-23, in the Arabian Sea off the coast of Karachi from February 10-14, with an aim to promote security co-operation and combat maritime terrorism and piracy.
The Pakistan Navy has been holding the AMAN biennial exercise since 2007.
Approving sale of F-16 equipment to Pakistan
In September, the US State Department approved the potential sale of F-16 aircraft sustainment and related equipment to Pakistan in a deal valued at up to $450 million, said the US Defence Security Co-operation Agency (DSCA) on September 7.
Pakistan has an estimated 85 F-16s.
"Pakistan has requested to consolidate prior F-16 sustainment and support cases to support the PAF F-16 fleet by reducing duplicate case activities and adding additional continued support elements," the DSCA said.
"This proposed sale will support the foreign policy and national security objectives of the US by allowing Pakistan to retain interoperability with US and partner forces in ongoing counterterrorism efforts and in preparation for future contingency operations," it added.
The follow-on support deal also covers Pakistan's participation in several programmes and technical co-ordination groups, including the F-16 Aircraft Structural Integrity, International Engine Management, Electronic Combat International Security Assistance and Engine Component Improvement programmes.
Over the past decade, the PAF has shifted towards the Chinese JF-17 Thunder aircraft.
However, many of the jets have been grounded by mechanical problems in what has become another indicator of the poor quality of Chinese military equipment.
Pakistan has commissioned more than 100 JF-17s since 2007.
Since then, the JF-17 has recorded a string of crashes, casting serious doubts on the quality of Chinese-co-manufactured aircraft and their engines.
A media report in 2012 listed a string of 12 crashes over 18 months, among which were several JF-17's and Chengdu F-7 fighter jets bought from China.