Pakistan is preparing to host a multi-national naval exercise next month in the Arabian Sea off the coast of Karachi, with an aim to promote security co-operation and combat maritime terrorism and piracy.
The Pakistan Navy has been holding the AMAN biennial exercise since 2007.
This year, the AMAN-23 exercise will take place from February 10-14.
The exercise will "develop synergy between participating naval units to tackle maritime security challenges by enhancing interoperability between regional and extra-regional navies at different levels of technological prowess," Adm. Muhammad Amjad Khan Niazi, Pakistan's chief of naval staff, told China's Global Times on January 9.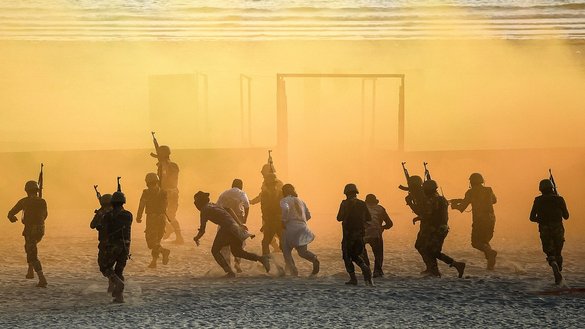 "There are a number of non-traditional threats that prevail in the wider Indian Ocean region such as terrorism, piracy, drugs smuggling and arms trafficking," Niazi said.
"The vastness of the oceans makes the maritime arena an attractive avenue for illegal activities, and no country has the capability to singlehandedly counter these challenges," he said.
He said that collaborative maritime security has thus evolved as an established norm and the Pakistan Navy is actively involved in international and regional efforts.
Exercise phases
The AMAN-23 exercise is divided into two distinct phases -- harbour and sea.
The harbour phase will be held February 10-12, and includes the hoisting of flags of all the participant nations to mark the beginning of the exercise.
"During the harbour phase, participants from all the countries visit each other's ships and Pakistani officials hold meetings with senior foreign naval officers to share experiences on contemporary maritime security challenges and co-ordinate the modalities of sea exercises," a Pakistan Navy official involved in organising the event said on the condition of anonymity.
The sea phase, which will be held from February 13-14, consists of "exercises by warships, helicopters and other aircraft" as well as special operations drills, gunnery firings, anti-piracy demonstrations, replenishments at sea and flypasts, the official said.
This year, 110 navies have been invited to take part in AMAN-23.
"We are expecting a wide range of participation from around the world," the navy official said.
"The increase in the participants in the AMAN exercises show the eagerness and enthusiasm of regional countries to support Pakistan's ongoing regional and international initiatives for strengthening maritime security in the Indian Ocean region," he said.
In 2007, 28 countries took part in the exercise.
Despite COVID-19 restrictions, that number grew to 43 countries by 2021.
International co-operation
Pakistan's socio-economic prosperity, regional connectivity and integration depend on oceans, said Dr. Mehmood-ul-Hassan Khan, executive director of the Centre for South Asia and International Studies, an Islamabad-based think-tank.
AMAN-23 will further improve Pakistan's overall operational and tactical preparedness in terms of intelligence sharing and joint manoeuvres against state and non-state threats, he said.
It will also shore up Pakistan's naval modernisation as well as security mechanisms in deep waters and coastal areas, he added.
The exercise seeks to develop friendly relationships and co-operation among the participating countries, facilitate interoperability and camaraderie among naval crews and remove barriers, Khan said.
"It also enhances mutual understanding ... to aid each other against non-traditional threats of terrorism, piracy, armed robbery, narco-trade, arms smuggling, human trafficking, illegal fishing, and other illicit activities in our surrounding maritime area," he said.
Hosting the AMAN-23 drills continues Pakistan's many years of work helping navies police the seas.
The Pakistan Navy participated in International Maritime Exercise (IMX) 2022 in February that year in the Gulf of Oman.
"IMX/CE 2022 provided a unique opportunity to navies from across the globe, maritime organisations and communities to demonstrate global resolve to preserve the rules-based international order," said Pakistan Navy Cmdr. Vaqar Muhammad, deputy commander of the exercise, in a US Central Command statement.
In 2004, Pakistan joined the US-led Combined Maritime Forces (CMF), a 34-nation coalition that "exists to uphold the International Rules-Based Order ... by countering illicit non-state actors on the high seas", according to the CMF's website.
The CMF protects "approximately 3.2 million square miles [8.3 million square kilometres] of international waters" and is headquartered at the US naval base in Bahrain.
Pakistan participates in two of the CMF's four task forces: CTF 150, which protects maritime security outside the Gulf, and CTF 151, which fights piracy.
Command of the task forces rotates every four to six months. The Pakistan Navy has commanded each task force several times.