KARACHI -- The successful multinational AMAN-21 naval exercise will pave the way for more security co-operation among regional and extra-regional navies to ensure peace and combat maritime terrorism, officials and analysts say.
Forty-five countries -- with ships, destroyers, fighter jets, special operations teams, explosive specialists and military observers -- participated in AMAN-21, which started on February 12 in the Arabian Sea off the coast of Karachi.
The seventh edition of the AMAN multinational exercise ended Tuesday (February 16) after a review of the participating ships.
The drills were split into two phases: at harbour and at sea. Harbour activities included seminars, discussions, demonstrations and international get-togethers, while sea activities included tactical manoeuvres, firing drills, and search and rescue missions.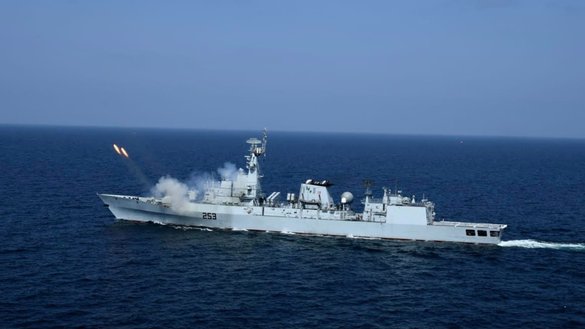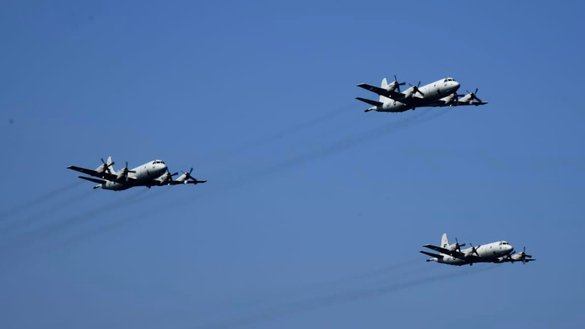 The exercise "successfully demonstrates Pakistan's commitment to peaceful co-existence and multilateralism, in line with @GovtofPakistan's vision for regional peace and stability", Prime Minister Imran Khan tweeted Monday.
Khan congratulated all participating nations on being part of the flagship event.
AMAN-21's main objective is to bring regional and extra-regional navies on one platform and conduct access operations to enhance interoperability, said Commodore Khan Mehmood Asif.
"The exercise was aimed at bringing navies together to counter terrorist threats, piracy and other crimes threatening maritime security and stability," he told the media.
Boosting regional stability
The Pakistan Navy has held the AMAN exercise biennially since 2007 to help make the seas safer.
Since then, the number of participants in the drills has increased steadily. In the 2007 exercise, 28 countries participated, while 45 countries attended the drills this year.
"The increase in the number of participants over the years reflects a growing urge amongst maritime nations, both regional and extra-regional, to initiate military collaborations to counter contemporary challenges, particularly terrorism and piracy, at sea," said Syed Asghar Bukhari of Karachi, an analyst of maritime issues.
"AMAN exercises are also helping boost regional stability," Bukhari said.
Pakistan's maritime diplomacy is a key example of the country's ability to bring 45 diverse countries and navies on a common platform of peace in the Indian Ocean region, said Mushahid Hussain Sayed, chairman of the Pakistan Senate Foreign Affairs Committee.
In 2015, Pakistan's seabed territory grew by about 50,000 sq km after the United Nations' Commission on the Limits of the Continental Shelf accepted Islamabad's claim for extension of sea limits.
That change thereby extended Pakistan's sea boundary from 200 nautical miles to 350 nautical miles.
Pakistan must implement a maritime commercial policy that puts the continental shelf in the Indian Ocean at the core and its navy in the lead role, Sayed said at a February 13-15 international maritime conference in Karachi, according to The News International.
Efforts against maritime terrorism
Maritime terrorism has received significant international attention, particularly after the 9/11 attacks, when al-Qaeda threatened to target naval and cargo ships.
To defeat the threat from al-Qaeda and other terrorists, in 2004, Pakistan joined the US-led Combined Maritime Forces (CMF), a 33-nation coalition that "exists to uphold the International Rules-Based Order ... by countering illicit non-state actors on the high seas", according to the CMF's website.
The CMF protects "approximately 3.2 million square miles of international waters" and is headquartered at the US naval base in Bahrain.
Pakistan participates, and even commanded for several times, two of the CMF's three task forces: CTF 150, which protects maritime security outside the Gulf, and CTF 151, which fights piracy in the Gulf of Aden and off the eastern coast of Somalia.
The navy has experienced several acts of terrorism.
In September 2014, al-Qaeda-affiliated militants tried to hijack a Pakistan Navy warship, the PNS Zulfiqar, but naval personnel foiled the plot. One Pakistani officer and three terrorists were killed.
Al-Qaeda said later it planned to use the Zulfiqar to attack US naval vessels, Reuters reported at the time.
In May 2011, al-Qaeda-linked Tehreek-e-Taliban Pakistan (TTP) militants struck the Pakistan Navy's Mehran base in Karachi, destroying two P-3C Orion maritime surveillance aircraft.
Sixteen Pakistani military personnel and four terrorists were killed in that battle.