KARACHI -- The multinational AMAN-21 naval exercise hosted by Pakistan shows the collective will of the international community to pursue joint efforts toward peace and security, officials and observers say.
The seventh edition of the multinational naval exercise was formally inaugurated on February 12 at a colourful flag-hoisting ceremony at Pakistan Navy Dockyard, a submarine base in Karachi.
Forty-five countries -- with ships, destroyers, fighter jets, special operations teams, explosive specialists and military observers -- participated in the week-long AMAN-21 drills, which ended Tuesday (February 16).
The drills were split into two parts: at harbour and at sea. Harbour activities included seminars, discussions, demonstrations and international get-togethers, while sea activities included tactical manoeuvres, firing drills, and search and rescue missions.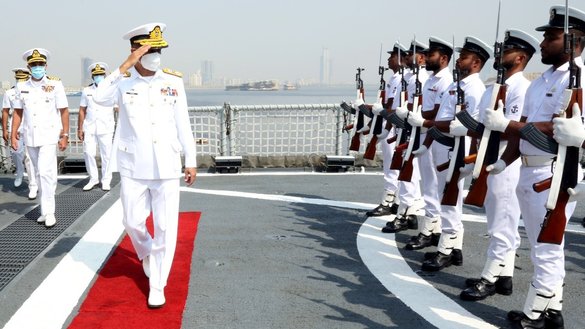 "The AMAN-21 drills, under the slogan of 'Together for Peace', demonstrate Pakistan's commitment to peace, reinforce regional maritime security, and enhance interoperability between regional and extra-regional navies," said Chief of Pakistan Naval Staff Adm. Amjad Khan Niazi during a visit to foreign warships participating in the exercise on February 13.
The camaraderie generated in the exercise will grow in the future and will bring nations closer to the mutual goal of peace and prosperity, he said.
Enhancing interoperability
AMAN-21 aims to boost interoperability among navies to secure a sustainable maritime environment and fight terrorism and other maritime threats.
The drills will help nations to collectively work "against human trafficking, smuggling of narcotics and weapons, and terrorism in the region", said Pakistan Foreign Office spokesperson Zahid Hafeez Chaudhri.
AMAN-21 carries the message of peaceful coexistence and stability in the region, said Naufil Shahrukh, a security analyst at the Institute of Policy Studies, an Islamabad think-tank.
"Since 2007, the exercise has provided participants a unique training opportunity to develop and practice tactics which help them foster mutual relationships that are conducive to safe and secure sea lanes across the world's oceans," he said.
The number of participants in the drills has grown over the years.
Twenty-eight countries participated in the 2007 exercises, while 45 countries participated this year.
Boosting military co-ordination
The exercise is helping to boost military co-ordination among participant countries.
Niazi on February 14 separately conferred with US Rear Adm. Curt Renshaw, Saudi Rear Adm. Ahmed Bin Mohammad, Sri Lankan Rear Adm. YMGB Jayathilake, Jordanian Col. Hisham Khaleel Mubarak Aljarrah, and commanders of other navies, and discussed matters of defence collaboration and maritime security dynamics, according to a Pakistan Navy statement.
"The exercise is a reflection that nations can play a constructive role in building new ties, establishing innovative relationships while strengthening existing ones," said Pakistan Fleet Commander Rear Adm. Naveed Ashraf.
In 2004, Pakistan joined the US-led Combined Maritime Forces (CMF), a 33-nation coalition that works to uphold the International Rules-Based Order by countering illicit non-state actors on the high seas and promoting security, stability and prosperity.
It operates across approximately 3.2 million square miles (8.3 million sq km) of international waters, encompassing some of the world's most important shipping lanes.
The CMF works with US Naval Forces Central Command (NAVCENT) to maintain the security of navigation through these waters.
Pakistan participates, and even commanded several times, two of the CMF's three task forces: CTF 150, which protects maritime security outside the Gulf, and CTF 151, which fights piracy.
The CMF has seized almost 3 tonnes of illicit drugs in a string of recent operations in the Arabian Sea and the Indian Ocean. The drugs were worth an estimated $11 million.
Blue economy
In tandem with AMAN-21, the National Institute of Maritime Affairs, a Pakistan Navy-linked maritime research body in Islamabad, organised a three-day international maritime conference under the theme "Development of Blue Economy under a Secure and Sustainable Environment: a Shared Future for Western Indian Ocean Region".
International scholars from participating countries, including the United States and the United Kingdom, attended the event in person in Karachi and online from February 13 to February 15.
President Arif Alvi urged the international community to adopt a more responsible attitude toward oceans to ensure the development of the blue economy.
Besides defending its maritime borders, Pakistan will seek a sustainable strategy for using ocean resources to benefit humanity, he said at the conference on February 13, according to the Express Tribune.
"The world needs to bring an end to irresponsible exploitation of oceans," he said, lamenting that almost 90% of Pakistani and international fish stocks are fully exploited, over-exploited or depleted.
US Vice Adm. Samuel Paparo, commander of NAVCENT, gave remarks as well, describing effective mechanisms for enhancing security in the western Indian Ocean.