ISLAMABAD -- Recent arrests and killings of high-profile militants in the ongoing crackdown against Tehreek-e-Taliban Pakistan (TTP) and other terror outfits have resulted in a significant decline in terrorism in Khyber Pakhtunkhwa (KP) province, according to a police assessment.
In its latest progress report, the KP Police Counter Terrorism Department (CTD) observed that incidents of terrorism in the province declined by 11.9% in April, compared to the previous three months of the year.
During the first four months of 2023, police registered a total of 309 cases of terrorism, out of which 213 were traced and 124 arrests were made, according to the CTD report released May 13.
The report also said that police arrested at least 54 proclaimed offenders, including 15 carrying head money, in various raids during the same period.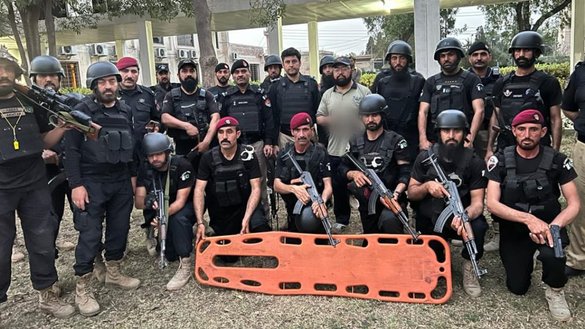 Police also arrested 158 terrorists belonging to various militant outfits in 711 intelligence-based operations across the province, the report said.
In 39 encounters with terrorists, the CTD succeeded in neutralising 62 of them and preventing 53 attempted terror attacks.
Recoveries during the four-month-long crackdown included: 47kg of explosives, 150 hand grenades, one suicide jacket, 105 weapons and 2,822 rounds of various calibres, the report added.
Eleven terrorists were convicted in eight cases as a result of successful investigations, it said.
Successful crackdown
KP province has been badly affected by TTP violence.
There have been several terrorist attacks carried out by the group that have resulted in the loss of many innocent lives, including police officers.
Between January and April, 120 policemen were killed and 333 were injured in 77 attacks on the police force in KP, MM News reported May 1.
TTP claimed most of the attacks.
On January 30, over 100 people were killed by a suicide bombing that targeted policemen praying in a mosque in Peshawar.
"February saw a significant rise in terror attacks from the TTP in Khyber Pakhtunkhwa, but after adopting a strategy of prevention through intelligence gathering and detection, the CTD has succeeded in decreasing terror attacks by arresting and killing the key militant commanders," said a CTD official in Peshawar, requesting anonymity.
Zubair Hameed, a security analyst who heads a risk assessment firm in Islamabad, said that the TTP, the "Islamic State of Iraq and Syria" Khorasan branch (ISIS-K) and a militant group headed by commander Hafiz Gul Bahadur are the major terror groups operating in the province.
The killing of Iqbal alias Bali Khayara, an important TTP commander, is a major success in the crackdown on the terror group, Hameed said.
Iqbal was killed May 4 in a police shootout in KP's Dera Ismail Khan. He had associated with al-Qaeda and Lashkar-e-Jhangvi in the past and masterminded several high-profile attacks, including the 2009 attack on the visiting Sri Lankan cricket team in Lahore and the 2008 suicide bombing on a district hospital.
On May 14, the CTD arrested a TTP militant from Bannu for his involvement in the assassination of CTD senior officer Iqbal Mohmand.
Mohmand and three other policemen were killed on March 30 when their vehicle struck a roadside bomb in Lakki Marwat district.