KARACHI -- The killing in Sindh Province of a top commander of a South Asian-based al-Qaeda offshoot reflects efforts by Pakistani authorities to squash the foreign militants' bid to regroup in the country, security officials say.
Karachi police Monday (June 24) said they killed three terrorists, including the al-Qaeda in the Indian Subcontinent (AQIS) chief for Sindh Province, in a shootout.
Police raided a house in Khuda Baksh Goth to arrest three militants associated with the al-Qaeda offshoot, said Irfan Bahadur, Malir District police chief.
"All three, including Talat Mehmood, alias Yousaf, the outfit's Sindh Province chief, were killed in the shootout," Bahadur said in an interview.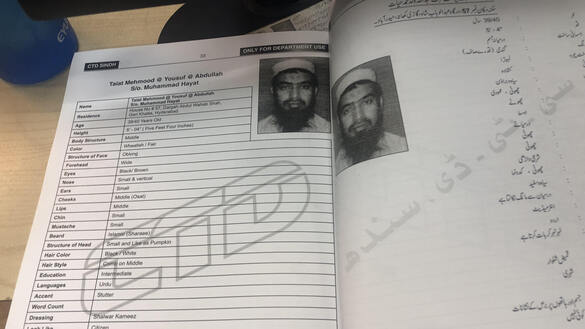 Mehmood's name was included in the Sindh Counter Terrorism Department's Red Book, a list of the most wanted terrorists. He also served with "Islamic State of Iraq and Syria" (ISIS) for a brief time.
Mehmood had been involved in a number of terrorist activities in Sindh and Balochistan provinces and masterminded the slaying of several police personnel in Hyderabad, Bahadur said.
An ISIS rival
The leader of al-Qaeda, Ayman al-Zawahiri, launched AQIS in 2014 as the terrorist group's South Asian arm -- a move analysts say was a response to ISIS launching its Khorasan branch (ISIS-K), in July 2014. ISIS-K is ISIS's unit for Pakistan and Afghanistan.
"Al-Qaeda's top leader, al-Zawahiri himself, appeared in a video introducing Asim Umar, the al Zawahiri-nominated emir of AQIS. The two vowed to strike terror in the Indian subcontinent," said Farhan Zahid, an Islamabad-based security analyst.
"The rationale was quite simple: al-Qaeda could not allow ISIS to gain ground on the variegated jihadi landscape of Pakistan that al-Qaeda has long dominated," Zahid said in an interview.
Since then, the group has been active in Pakistan, and several local militant outfits that had an ideological association with al-Qaeda also pledged allegiance to AQIS.
Immediately after the group's formation, AQIS attempted to hijack a Pakistani navy frigate in Karachi. Ten paramilitary personnel were killed, and 15 were wounded. Two attackers were killed in the fighting, and a third blew himself up.
After the attack, a major crackdown on AQIS ensued across Pakistan, particularly in Karachi. The effort shattered the group's network and reduced its ability to carry out further violence, analysts and law enforcement officials say.
AQIS was unable to outperform ISIS-K last year as far terrorist activities are concerned, Zahid said.
In addition, the group suffered some major losses as some of the most-wanted AQIS terrorists were arrested by the Karachi Counter Terrorism Department, and the organisation was unable to launch terror strikes in retaliation, he said.
AQIS was not involved in any terrorist attack in 2018, said the Pak Institute for Peace Studies, an Islamabad-based think-tank, in its annual report.
The report "showed that AQIS had been greatly weakened and hadn't been able to carry out terror attacks", said Shabbir Rizvi, a Karachi-based activist campaigning against militant outfits.
Vigilance continues
Still, Pakistani security agencies are still closely monitoring the group.
"Because AQIS has many allies in several proscribed militant outfits -- such as Tehreek-e-Taliban Pakistan [TTP] and Lashkar-e-Jhangvi [LeJ] -- we are still considering it a potent threat," said a senior law enforcement official in Karachi on the condition of anonymity because he is not authorised to speak to the media.
Law enforcement agencies in Karachi recorded a number of successful operations against AQIS members last year, including the arrest in November of Umar Jalal Chandio, alias Khatio, who was allegedly very close to al-Zawahiri, in Gulshan-e-Iqbal.
Chandio's capture "was a big blow to AQIS in the region", said the security official in Karachi.