PESHAWAR -- One of Memona Akhtar's missions in life is to help youth from diverse backgrounds in Peshawar learn how to better co-exist while developing interfaith harmony.
To that end, Akhtar established Peace Promoters, a group of like-minded youth who strive to show how different religious groups can live together peacefully in society.
"We visit churches, gurdwaras, temples, imambargahs and other holy places. Our team talks about problems they are facing in society" concerning religious and ethnic preconceptions and misperceptions, Akhtar said.
Peace Promoters seeks to create a space for youth to have meaningful discussions on common issues of society, she added. The group organises seminars and awareness sessions for the youth of Peshawar.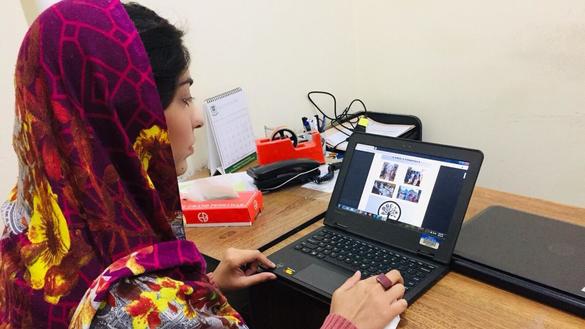 "In the forum we talk with youth about interfaith harmony and try to change the narrative and behaviour toward others," she said.
"We are providing a platform for them to sit together and share and discuss the misperceptions of their religion in a good environment," the 29-year-old said.
The group provides a safe platform for youth -- regardless of gender, colour, creed, caste or religious beliefs -- to celebrate and enjoy their diversities with others, she added.
"It is required of us ethically to gain respect and to pay respect to other groups' beliefs," she said.
Bridging 'the communication gap'
Youth in the area have welcomed the initiative and joined the cause.
The group is a volunteer effort aimed at celebrating diversity with the youth of Khyber Pakhtunkhwa (KP), emphasised Riaz Ghafoor, a resident of Peshawar and a volunteer with Peace Promoters.
"Through the Peace Promoters network, we try to bridge the communication gap among various religious groups and provide them an opportunity to speak," he said.
Peace Promoters engages youth in activities such as visiting religious sites in order to create a space for interfaith harmony and dialogue, Ghafoor added.
The organisation is promoting confidence and supportive and trusting relationships among members of different ethnic backgrounds to spur harmony and peace in society, he said.
The group's work is winning recognition, said Akhtar.
"On the basis of our work and initiatives, we won the [KP] Youth Innovation Challenge, and we are in the phase of implementing that grant to achieve our proposed milestones," Akhtar said.
The organisation also has developed a research-based manual titled "Voices of Faith", she added.
"The manual is an all-embracing document that points out the universal acceptance of the notion of peace. It unveils the fact that diversity is a beacon for all the beautiful colours of the world," she said.
Reducing misconceptions
Other local and international non-profit organisations are working in the province to promote interfaith harmony, including the Pakistan Council Of World Religions-Faith Friends in Peshawar.
On December 11, the group put on a one-day session for its female wing.
Women from different religions including Muslims, Christians, Sikhs and Hindus participated in the training workshop.
More than 60 participants including youth and religious leaders learned about the norms and beliefs of different religions through presentations and video documentaries.
While addressing the participants of the training session, Priest John Joseph, a leader from the Peshawar Christian community and an active member of Faith Friends, lauded the work of Akhtar and Peace Promoters.
"We must appreciate youth like Memona Akhtar, who is working to bring minorities together and spread happiness," he said.
Women, youth and adults must create awareness in society about interfaith harmony, he said. "They all can work in their respective fields to educate the masses and teach them to respect the faith of others."
Breaking stereotypes and taboos about different religions is needed, he said.
"We must accept and support minorities and their faith," Joseph said.
Faith Friends was formed in 2009 with the support of the leaders of different ethnic and religious groups in KP, said Maqsood Ahmad Salafi, the group's founder.
"The basic aim of our organisation is to create peace in society and provide an environment for youth to promote intra- and interfaith harmony in the province," Salafi said.
The role of youth and women in the development of social cohesion and interfaith harmony is crucial, he said.
"By ensuring their role as leaders and supporters, we are paving the way for the development of a tolerant society," he said.
Peaceful co-existence and religious tolerance are about understanding and exploring the rights and responsibilities of individuals and various ethnic and religious groups, said Akhtar.
"We need to understand the different cultures and creeds," she said. "This diversity makes our society amazing. Therefore, they [cultures and creeds] should not be used to constitute barriers for intermingling."
Peace and tolerance are needed more than ever, she said.