LAHORE -- A suicide bombing at one of Pakistan's oldest and most popular Sufi shrines killed at least 10 people and wounded 24 in Lahore Wednesday (May 8) in an attack claimed by a faction of Tehreek-e-Taliban Pakistan (TTP).
The explosion occurred near the entrance gate for female visitors to the 11th century Data Darbar shrine, one of the largest Sufi shrines in South Asia, as the country marks the holy month of Ramadan.
"A 14- to 16-year-old bomber, with about 7 to 8kg of explosives in his vest, blew himself up near a police mobile van at gate No. 2 of the shrine," Inspector General of Punjab Police Arif Nawaz told reporters.
A closed-circuit TV camera shows a boy walking close to a police van when the blast occurred.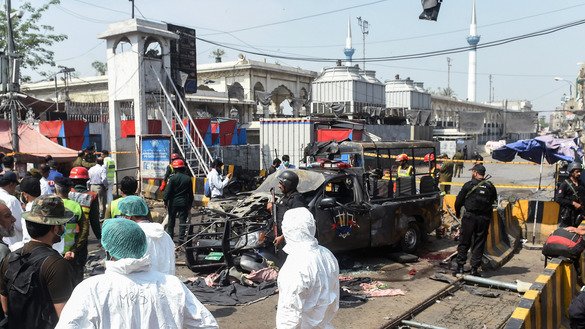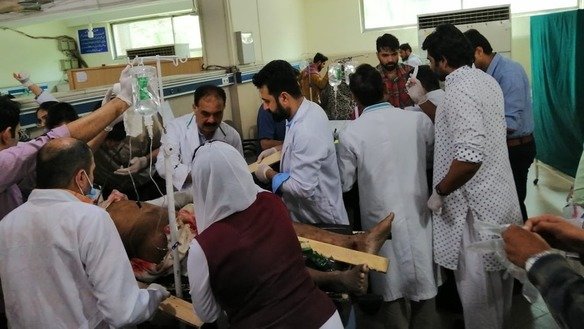 The bombing "took place at about 8.45am, but luckily the bomber could not make his way into the shrine," which could have led to higher casualties, said Mian Aslam Iqbal, Punjab minister for industries, commerce and investment.
The wreckage of vehicles damaged in the blast littered the pavement near the shrine as first responders rushed to the scene and security forces fanned out in the area.
Those hurt in the explosion were rushed to Mayo Hospital, and most were reported not to have life-threatening injuries.
One woman said she was looking for her 15-year-old son, Mudassar, at the hospital.
"Mudassar was on his way to work, but he hasn't reached his destination" she told Pakistan Forward. "I don't know whether Mudassar is safe, and no one here can help me."
An injured survivor was worried about the fate of his own son.
"We both were passing by Data Darbar when the blast took place. We both were hurt, but now I don't know where my son is," he told Pakistan Forward.
Hizbul Ahrar (HA), which splintered off from Jamatul Ahrar (JA) -- itself a TTP splinter group -- claimed responsibility, according to Riffat Ullah Orakzai, a BBC correspondent in Khyber Pakhtunkhwa.
Targeted by militants
Prime Minister Imran Khan condemned the attack, tweeting that he has asked the Punjab government to provide all the assistance necessary to the injured and to the families of victims.
Hafiz Abdul Rahim Ashrafi, an Islamic scholar and director of the Jamia Ashrafia madrassa in Lahore, also condemned the blast.
"The killing of innocents is an insane, inhuman and un-Islamic act by the terrorists," Ashrafi said in a statement.
The shrine has long been home to colourful Sufi festivals and a prime destination for the country's myriad Muslim sects, making it a soft target for militant attacks.
It has been targeted previously. A 2010 suicide bombing at the shrine took more than 40 lives.
Since then, the area has been increasingly hemmed in by heavy security, with visitors forced to pass through several layers of screenings before they can enter the complex.
Sufi worshippers, who follow a mystical form of Islam, have frequently been targeted in Pakistan by Islamist militants -- including "Islamic State of Iraq and Syria" (ISIS) -- who consider Sufi beliefs and rituals at the graves of Muslim saints as heresy.
Pakistan's push against extremism was stepped up after the country's deadliest terrorist massacre -- an assault on a school in Peshawar in 2014 that left more than 150 people dead, mostly children.
Since then, security has improved considerably, although militants retain the ability to carry out dramatic attacks.
[Abdul Nasir Khan in Lahore contributed to this report.]