KARACHI -- Tehreek-e-Taliban Pakistan (TTP) is crumbling under sustained military pressure, the killing and capture of high-ranking leaders, and internal fissures.
The TTP has served as an umbrella organisation for various militant groups since its formation December 14, 2007, exactly 11 years ago.
Another tragic anniversary is coming December 16, which will mark four years since TTP members slaughtered more than 150 children and teachers at Army Public School in Peshawar.
Initially the group was concentrated in parts of Khyber Pakhtunkhwa (KP), formerly North-West Frontier Province, and the erstwhile Federally Administered Tribal Areas, which is now part of KP.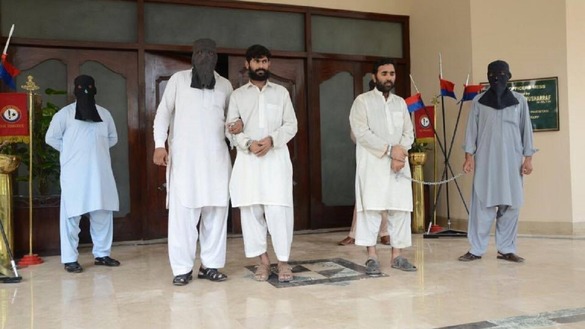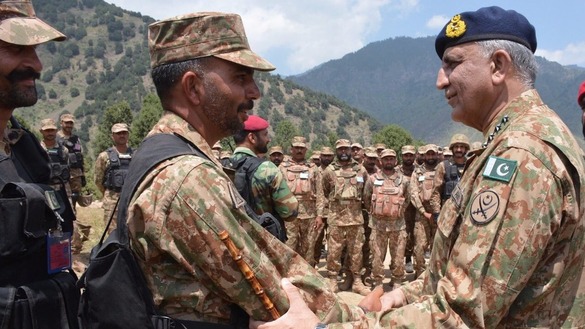 Later on the group expanded its influence to the rest of the country, emerging as a key actor during the years of terrorism and militancy in Pakistan. Its attacks hit civilians, government installations, places of worship, law enforcement personnel and polio vaccination teams, among other targets.
More than a decade of counter-terrorism operations
Eleven years later, Pakistani military and intelligence-based operations have weakened the terror outfit to a great extent, shattering the Taliban's control-and-command system and degrading its ability to carry out large scale attacks.
Pakistani security forces have been chipping away at the TTP since its start, launching military operations in various parts of the country to counter the militants' aggression.
On October 25, 2007, then-TTP leader Mullah Fazlullah led militants into Swat Valley, KP, where they quickly seized control of the area on November 7. The Pakistani army launched Operation Rah-e-Haq on November 15 and battled the Taliban in Swat for two years.
Mullah Fazlullah was killed in a joint US-Afghan counter-terrorism operation June 14, 2018, in Kunar Province, Afghanistan. The TTP replaced Mullah Fazlullah with Mufti Noor Wali Mehsud, in a highly controversial last minute flip-flop decision, signalling major internal divisions.
The First Battle of Swat ended in a shaky peace deal in February 2009. But in April 2009, Pakistani troops and the Taliban began to clash again, leading to the launch of Operation Rah-e-Rast in May.
As a result of that operation, the Second Battle of Swat ended decisively with the Pakistani government in control after the capture and killing of several top Taliban commanders. After years of bloodshed and violence, peace and normality have returned to Swat Valley.
Similarly, in South Waziristan, where the TTP was formed, Pakistani security forces launched Operation Rah-e-Nijat in June 2009. For almost six months, until December 2009, the Pakistani army pummeled TTP militants in a series of ground offensives and air raids.
The operation was successful in liberating South Waziristan from Taliban control in December 2009, although many of the Taliban's top leaders escaped over the border into Afghanistan.
Efforts continue
In subsequent years, the Pakistani military has not stopped its onslaught against the TTP.
In September 2013, law enforcement agencies, particularly the paramilitary Rangers, initiated a major crackdown in Karachi on various criminal groups, local gangs and proscribed militant outfits, including the TTP.
Operations over the past five years have restored stability to the city, according to the Sindh Rangers' latest performance report.
In June 2014, Pakistani forces launched Operation Zarb-e-Azb in North Waziristan, along the Pakistan-Afghanistan border.
The joint military offensive dismantled networks of the TTP and allied outfits, including the Haqqani Network, al-Qaeda, Jundullah, Lashkar-e-Jhangvi and the Punjabi Taliban.
From 2014 to 2017, the Pakistani army extended Operation Zarb-e-Azb to parts of Khyber Agency. The series of four operations targeted the TTP as well as other local militant groups such as the Mangal Bagh-led Lashkar-e-Islam.
In February 2017, the Pakistani military, in support of local law enforcement agencies, launched the ongoing Operation Radd-ul-Fasaad to uncover, disarm and eliminate terrorist sleeper cells throughout Pakistan.
TTP 'desperate and broken'
Pakistani armed forces and law enforcement agencies have had great success against the TTP and Taliban-affiliated terrorist networks since the start of the operations against them, said Muhammad Amir Rana, director of the Pak Institute for Peace Studies, an Islamabad-based security think-tank.
The TTP is "desperate and broken", he told Pakistan Forward.
It can no longer find recruits to support terrorism and it has lost its ability to convince the public that it is fighting for Islam because the militants have killed so many innocent civilians, including schoolchildren and worshippers, he said.
Internal fighting among rival groups of militants has weakened the TTP, leading some members to kill their compatriots over accusations of spying.
"After Ehsanullah Ehsan, the former spokesman for TTP and [TTP splinter group] Jamatul Ahrar (JA), surrendered, the infighting and killing of militants by rival groups grew not only in Mohmand and Bajaur districts but also in Kunar Province, Afghanistan," a Peshawar-based intelligence official, who spoke on the condition of anonymity, told Pakistan Forward in October.
The TTP, JA and other militant groups have been misusing religion as a tool to loot, plunder and kill the innocent in the name of Islam, Ehsan, also known as Liaquat Ali, said in a scathing confession released in April 2017.
Religious scholars, citizens back operations
Pakistani religious scholars and citizens, relishing their newfound security, have welcomed the military operations against the TTP and other militant groups.
In May 2017, a group of 31 religious scholars signed a fatwa declaring suicide attacks, insurgency against the state and terrorist activity of any kind as haram. They were later joined by more than 1,800 scholars from different sects when they created the "Paigham-e-Pakistan" (Message of Pakistan), a similar fatwa.
The TTP's version of Islam deviates from the authentic interpretation of Sharia, said Allama Muhammad Ahsan Siddiqi, a Karachi-based religious scholar who heads the Interfaith Commission for Peace and Harmony.
"The Taliban, in both Pakistan and Afghanistan, are sending the wrong message to the world that Muslims are terrorists, but in reality, the Taliban are the enemies of Islam," he told Pakistan Forward December 11.
Counter-terrorism operations have made a palpable change in Karachi's security situation, said Aslam Mehsud, a social activist in the Manghopir area of Karachi.
Many key Taliban commanders and supporters in Karachi have been killed by the law enforcement agencies, especially by the Rangers, he said.
"We haven't seen the Taliban killing anyone or asking traders for extortion money over the past four months," he told Pakistan Forward. "The TTP militants have disappeared, and the residents of Pashtun neighbourhoods are now feeling secure."