PESHAWAR -- The death of Tehreek-e-Taliban Pakistan (TTP) leader Mullah Fazlullah has brought consolation and relief to the survivors and the families of those killed in the December 2014 massacre at the Army Public School (APS) in Peshawar.
Fazlullah was killed June 15 in an air strike in Marawara District of Kunar Province, Afghanistan, where he had been hiding since he was ousted from the Swat Valley during the Pakistani army's Operation Rah-e-Nijat in 2009.
Also known as "Mullah Radio" for his hate speeches on illegal radio, Fazlullah became leader of the TTP in 2013.
He was one of the masterminds of the APS attack, which left more than 150 Pakistanis, mostly children, dead.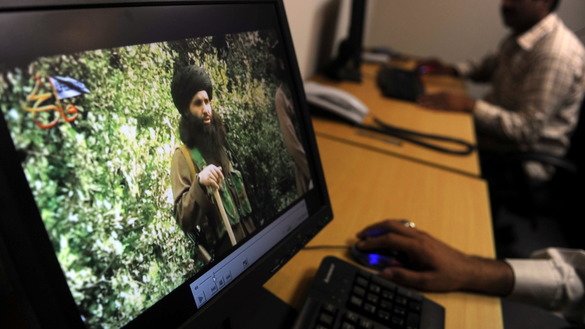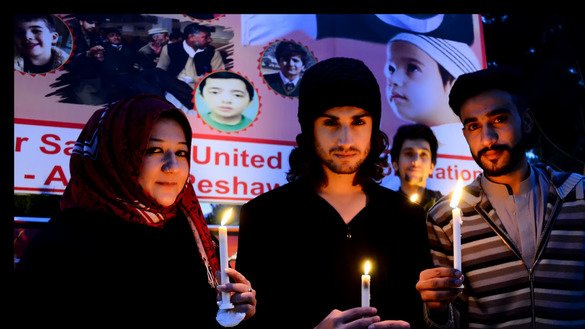 'Our grief has vanished'
The killing of Fazlullah "is a source of satisfaction for the parents and relatives of the victims of APS", said Javid Khattak, whose son was killed at APS.
Although Fazlullah's death will not bring back his son, it has brought him extreme joy, he said.
"The scales of justice have tipped in our favour," he told Pakistan Forward.
Ajun Khan, whose son Asfand was killed at APS, also rejoiced over news of Fazlullah's death.
"We had been grieving the demise of our son, but now our grief has vanished," he told Pakistan Forward. "The death of Fazlullah should not be the end to the campaign against Taliban militants ... the effort should go on until complete success against insurgents."
Survivors of the APS massacre also celebrated the killing of Mullah Fazlullah.
"The bloodbath we saw that day was tell-tale evidence of how ruthless the militants are as they have no mercy for children," Suhail Ahmed, a 9th grader at APS who was in 5th grade that day, told Pakistan Forward.
Ejaz Khan, another survivor who was in 6th grade that day and is now in 10th grade, said he was very happy that the TTP mastermind is dead.
"I was very fortunate to remain unscathed that day but saw from a close distance how they mercilessly targeted our friends," he told Pakistan Forward. "I noticed the cowardice showed by the militants when they targeted unarmed students as if they were battling an organised army."
Terrorists' objective failed
Fazlullah was not only responsible for the APS massacre but also the October 2012 attempt in Swat to assassinate Malala Yousafzai, who survived and became an activist for girls' education and the youngest Nobel Peace Prize laureate, said Salima Bibi, a student at Islamia College University in Peshawar.
"The Taliban's attacks on the APS and Malala did not deter students from getting an education," she told Pakistan Forward. "The Taliban's hatred of women's education has resulted in a love for schools among students and their parents."
In many universities in Khyber Pakhtunkhwa, female students outnumber their male counterparts -- clear evidence that females are joining educational institutions in droves, she said.
Fazlullah's death is a major success in the war against terrorism, said Shafat Ali, a Pakistan studies lecturer at the University of Peshawar.
"[Pakistanis] have known that barring boys and girls from education would not be accepted by society because Islam places a great emphasis on education," he told Pakistan Forward.
"Some supported the Taliban when it first appeared, but [Pakistanis] began to hate the group when it began to target schools and students," he said.
"Now, it has become a generally accepted fact in Pakistan that progress is impossible without the elimination of all Taliban militants," Ali said.
"The killing of the TTP chief is extremely encouraging as it will shatter the unity of the militants and force them to vanish soon," he said.