KARACHI -- With peace returning to the nation, Pakistani activists are becoming increasingly active and organising more activities to promote religious tolerance and interfaith harmony.
In a latest example, civil society and peace activists conducted a six-day-long peace convoy that began from Karachi on April 24 and ended in Lahore on April 29. They travelled by car between the cities but marched inside the cities.
The "Humanity March", organised by Rawadari Tehreek (RT), a nationwide civil society group, sought to spread a message of peace and religious tolerance.
Activists from across the country, including those from militancy-hit areas, gathered in Karachi to attend an inauguration ceremony kicking off the procession on April 24.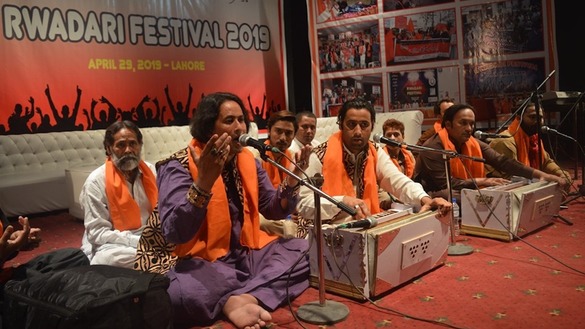 "The procession started from Karachi, the country's largest city, and ended in Lahore, the second-largest city, after passing through 25 cities," Samson Salamat, director of RT, told Pakistan Forward.
The event sought to bring members of different faiths, ethnicities and cultures and residents of different provinces together and mobilise them in favour of peace, pluralism and interfaith harmony, he said.
Participants, carrying placards and banners inscribed with pro-peace and anti-militant slogans, travelled about 2,000km and passed through Hyderabad, Sarkand, Moro, Khairpur, Sukkur, Ghotki, Rahim Yar Khan, Bahawalpur, Multan, Faisalabad and Kasur before stopping in Lahore.
In Lahore, they marched from the Lahore Press Club to the Punjab Assembly.
"In every district, the participants organised rallies against terrorism and militancy, and local residents, peace groups and civil society outfits participated and announced their support for the cause," said Salamat.
At the end of the procession April 29, participants attended a grand Rawadari (harmony) festival held in Lahore to celebrate the success of the campaign with Sufi music, dance and theatre.
Participants unanimously passed a declaration demanding that religion be considered a private matter and be kept separate from state affairs and politics.
The declaration urged the government to take strict action against extremist outfits involved in militancy and promoting religious hatred in accordance with the counter-terrorism National Action Plan.
Visits to Sufi shrines
As part of the procession, participants visited the shrines of Sufi saints Shah Abdul Latif Bhittai (Bhit Shah town), Sachal Sarmast (Khairpur) and Bulleh Shah (Kasur).
Sufism has a deep influence on societies in the sub-continent, and a large number of Sufi shrines dot the landscape of Pakistan and Afghanistan, said Fayyaz Soomro, a Karachi university student who took part in the caravan's inauguration ceremony.
"Taliban and ISIS ["Islamic State of Iraq and Syria"] militants consider Sufism a big threat to their radical brand of Islam," Soomro told Pakistan Forward, adding that Sufism adherents have always condemned the Taliban's un-Islamic acts, such as beheading civilians and bombing mosques and shrines.
For that reason, ISIS and Taliban militants have frequently targeted Sufi shrines in Pakistan.
Just this Wednesday (May 8), a faction of Tehreek-e-Taliban Pakistan (TTP) carried out a suicide bombing at one of Pakistan's oldest and most popular Sufi shrines, the Data Darbar shrine in Lahore, killing and wounding dozens.
In February 2017, ISIS claimed responsibility for a suicide bombing at the shrine of Sufi saint Lal Shahbaz Qalandar in Sehwan, Sindh, killing 85 people and injuring more than 300. Sindh police on February 28, more than two years later, killed Abdullah Brohi, the regional ISIS leader who masterminded the massacre.
In defiance of the bombing, devotees have continued to demonstrate their resilience, gathering each year at the shrine to show their solidarity with the victims and to promote tolerance for all religious worship.