PESHAWAR -- The arrest of a terrorist leader in Afghanistan has authorities in both Pakistan and Afghanistan seeking to punish him.
Afghan forces April 4 announced the arrest of "Islamic State of Iraq and Syria" Khorasan branch (ISIS-K) chief Aslam Farooqi on April 4.
Farooqi, who was captured alongside 19 other fighters in northern Afghanistan April 3, is suspected of masterminding multiple attacks in Afghanistan and Pakistan, including one on a Sikh temple in Kabul on March 24 that left 25 people dead.
Both Pakistan and Afghanistan are eager to punish Farooqi.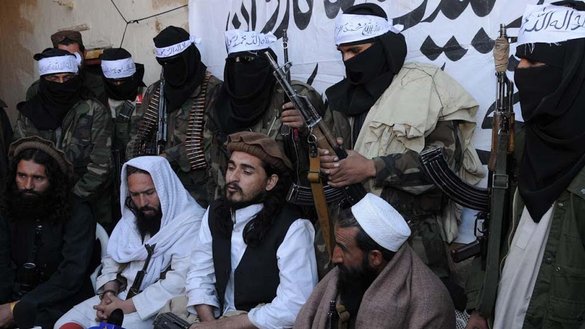 Pakistan's Foreign Office on April 9 called on Afghanistan to hand over Farooqi so that he could be tried in connection with terrorist attacks in Pakistan. Pakistan has another claim on Farooqi: he is a native of Orakzai District.
Human Rights Watch in a statement on April 6 called upon the Afghan government to bring appropriate war crimes charges against Farooqi for his alleged role in directing attacks against civilians in Afghanistan.
"Farooqi's arrest is an opportunity for the Afghan authorities to show that they are capable of securing fair justice for victims of war crimes and other atrocities," Patricia Gossman, associate Asia director for the organisation, said in the statement. "Victim participation is key to ensure that justice is not only done, but seen to be done, by those most affected by Farooqi's crimes."
"Afghanistan owes it to the victims to carry out a credible prosecution and fair trial of Aslam Farooqi and others accused of serious crimes," Gossman said. "The pursuit of justice is essential if Afghanistan is to bring an end to such violence."
A weakened group
Most ISIS-K fighters are suspected of coming from the Orakzai tribal district and other tribal areas in Pakistan, having fled to Afghanistan under the leadership of Hafiz Saeed Khan, a former member of Tehreek-e-Taliban Pakistan (TTP) and Sipah-e-Sahaba Pakistan (SSP).
Farooqi, a close aide of Khan, became chief of ISIS-K in April 2019 after ISIS central leadership demoted Abu Omar al-Khorasani for "poor performance", according to a report published last July by the United Nations Security Council.
Al-Khorasani himself replaced Hafiz Saeed Khan after he was killed in a missile strike in July 2016 in Nangarhar Province, Afghanistan.
"It's a fact such militant groups have a hydra effect -- as one dies, many others pop up to take power, but it is true Farooqi's arrest will further neutralise ISIS-K activities," said Dr. Syed Hussain Shaheed Soherwordi, chairman of the Peace and Conflict Studies Department at the University of Peshawar.
"They will not be able to move around across the border as they had been doing earlier, and authorities can seek out valuable information from Farooqi and further hunt them down," he said.
"He can be instrumental in giving leads to others in and around Pakistan, sources of funding, sympathisers and other information," Soherwordi said.
Funding sources for the group have been shrinking as top leaders are lost, he added.
Co-operation
Farooqi's arrest is encouraging for flushing out ISIS-K fighters and supporters in the Pak-Afghan region, said Brig. (ret.) Saad Muhammad, an Islamabad-based security analyst.
The arrest or elimination of a top leader is symbolically very important, and Farooqi's arrest will lead to the demoralisation of ISIS-K while boosting Afghan and coalition troops in the war on terror, Muhammad said.
While the group may be weakened, lower-tier leaders will try to be deadlier and more effective, he said, adding that all stakeholders must act promptly before the group regains its strength.
"If coalition troops and Afghans want to get rid of this ISIS-K, they have to make the peace process a success," he added.
ISIS-K was already facing many problems, including attacks by Afghan and coalition forces as well as by the Taliban, said Nasir Dawar, a journalist with Aap Television.
The group has been operationally inactive for some time but can still "launch sporadic attacks as they did on the Sikh temple [in Kabul]," he said.
Most ISIS-K fighters are on the run as they have no space in Pakistan, said Dawar, adding that things will get worse for them in Afghanistan amid the potential peace deal with the Taliban.