KARACHI -- Sindh Police killed two leaders of the "Islamic State of Iraq and Syria" (ISIS) who operated in Sindh Province in what has been described as a major law enforcement achievement.
Police officers from Shikarpur District, Sindh Province, February 28 killed the two militants -- Maulvi Abdullah Brohi and Abdul Hafeez Pindrani -- in a shootout in the Sibi region of Balochistan.
The Sindh officers were authorised to operate in the neighbouring province.
Brohi and Pindrani were, respectively, the chief and deputy chief of ISIS in Sindh Province, said Shikarpur Police Chief Sajid Amir Saduzai. They were wanted for their involvement in a number of terror attacks in Sindh and Balochistan since 2010.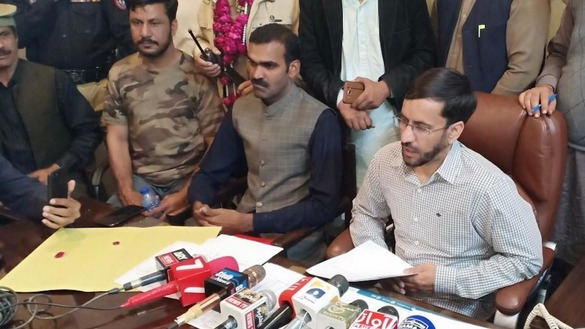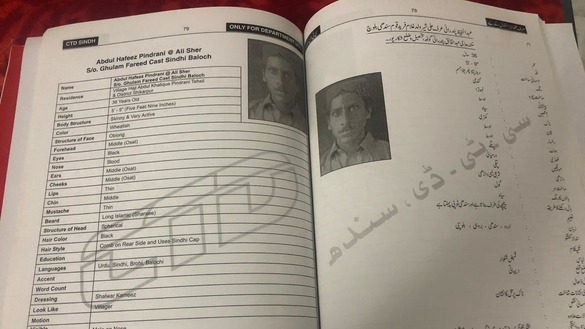 The death of the militant leaders "is a great success for law enforcement agencies in their ongoing crackdown on the militant group in the Northern Sindh region," Saduzai told Pakistan Forward.
Sindh Province Police Chief Dr. Syed Kaleem Imam on February 28 announced a Rs. 2 million ($14,000) reward for the police team that killed the two militants.
A deadly terror group
The militant outfit led by the two ISIS leaders was responsible for last July's suicide bombing of an Awami Party political rally in Mastung District, Balochistan, killing 149 Pakistanis, including candidate Siraj Raisani.
It also carried out a suicide attack in February 2017 on the Lal Shahbaz Qalandar shrine. The explosion at the Sufi shrine killed 85 people and wounded more than 300.
Other attacks include one in October 2016 on a police training centre in Quetta that killed more than 60 cadets and a suicide bombing in January 2015 on a Shia mosque in Shikarpur that killed 61 individuals.
The group was also involved in suicide attacks on politician Dr. Arif Jatoi, head of the National People Party, and on spiritual leaders Pir Hussain Shah and Pir Syed Hajjan Shah. Jatoi and Pir Hussain Shah survived those assassination attempts.
Pindrani and Brohi were both included in the Red Book of Sindh's Counter Terrorism Department, which contains the names, photos and details of most-wanted militants. The Sindh provincial government had placed a bounty of Rs. 10 million ($72,000) on Pindrani, whom it considered the mastermind behind the terrorist acts, and Rs. 5 million ($36,000) on Brohi.
Militant leaders such as Pindrani and Brohi have tried to target the religious and sectarian pluralism of Sindh Province, said Amer Hussain, a relative of a worshipper killed in the Shia mosque bombing in Shikarpur in 2015.
"But they could not succeed in their nefarious goals as the residents, religious scholars and civil society jointly condemned all the terrorist acts," Hussain told Pakistan Forward.
For example, civil society activists across the province visited the religious places and shrines days after they were attacked to show their unity, according to Hussain.
On February 17, a large number of peace activists of diverse religious faiths visited the Lal Shahbaz Qalandar shrine to remember the victims and to demonstrate their resilience on the second anniversary of the suicide bombing there.
A group of artists, including Sheema Kermani, a Karachi activist and dancer, performed dhamaal, a celebration of Sufi music and dance.
A blow to ISIS
The deaths of the two militant leaders will undermine ISIS in the region, according to analysts.
Pindrani, who emerged as a key militant commander in the Sindh-Balochistan border region, was causing a law-and-order situation there, said Riaz Sohail, a Karachi-based journalist who covers militancy in Sindh.
"His killing is indeed a great blow to the militant group in the region," Sohail told Pakistan Forward.
"Pindrani did not openly announce joining ISIS, but it seems that he had links with ISIS and other sectarian outfits, such as Lashkar-e-Jhangvi (LeJ) in Sindh and Balochistan," Raja Umar Khatab, a counter-terrorism police officer in Karachi, told Pakistan Forward.
LeJ is known to have allied itself with ISIS.
Pindrani's modus operandi of targeting shrines and the Shia community resembles bombings in Syria and Iraq carried out by ISIS, Khatab said.
The killings of various LeJ leaders, such as Malik Ishaq in July 2015 and Asif Chotu in January 2017, were a big blow to LeJ but also to ISIS's ambitions in Pakistan, he added.