With dozens of infrastructure projects spanning almost 150 countries, China's Belt and Road Initiative (BRI), also known as One Belt One Road (OBOR), has become one of the world's largest development projects.
But almost a decade after Chinese leader Xi Jinping launched the BRI, the disparities between the project's rhetoric and its actual practices have become increasingly evident, new research shows.
Also concerning, governments and populations that have depended on Chinese-funded infrastructure are starting to notice major structural and engineering defects in the projects themselves.
Rather than promote "peace, collaboration, growth and mutual benefit" in host countries, the BRI serves as a cover for China's "debt-trap diplomacy" and expanding military presence around the globe, the South-South Research Initiative (SSRI), based in Colombo, Sri Lanka, said in a report published January 26.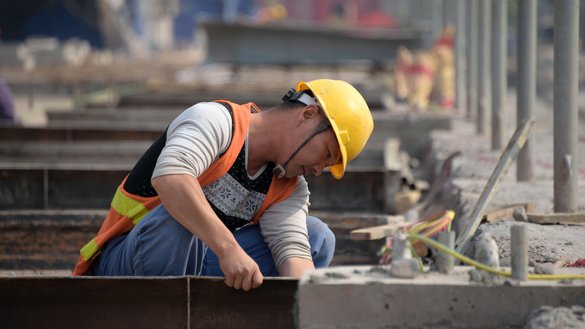 The SSRI looked at China's engagement with Zambia, Angola, Laos, Sri Lanka and Pakistan.
Overall, it identified several main problems associated with the BRI: rapid increase of public debt and economic crisis; lack of transparency and corruption; social, political, legal and security unrest; and environmental issues.
In Zambia, the government is turning a blind eye to Chinese investors' detrimental practices that are destroying the industrial sector; in Angola, China's investment in the real estate sector has not benefited the local population; and Laos' debt to China is making it susceptible to influence from Beijing, according to the report.
Sri Lanka in particular is undergoing a major political and economic crisis due in part to Chinese loans and infrastructure projects gone awry.
"With a significant portion of investment in BRI coming from Chinese public entities, there is concern of Sri Lanka's growing debt burden and loss of sovereignty," the SSRI report said. "BRI projects in Sri Lanka showed lack of transparency and corruption. There are some environmental impacts as well."
'Fears have become reality'
Meanwhile, in Pakistan, the population's "fears have become reality", the report said.
With large Chinese fishing trawlers off the coast of Gwadar in the Arabian Sea, many Pakistani fishermen are unable to sustain themselves.
"Accordingly, it is clear that China's BRI project has triggered social unrest in Pakistan and has also led to economic instability," the SSRI said.
Protesters on December 27 began holding daily demonstrations in Pakistan's Gilgit-Baltistan (GB) region to convey concerns over Chinese influence on their livelihoods and daily lives -- namely land grabs and other problems, including electricity and wheat shortages and taxation without representation in parliament.
The protests have continued for weeks, despite sub-zero temperatures.
Protesters in other cities, including Karachi, have joined in solidarity with the demonstrators in GB.
GB shares a border with China's Muslim-majority Xinjiang region and is a gateway to the China-Pakistan Economic Corridor (CPEC), a Pakistani component of the BRI.
Chinese investment in GB benefits only Beijing and could spark armed resistance against the Chinese, activists say, pointing to similar problems in Balochistan and Sindh provinces.
Since December 25, Pakistani authorities, at the behest of Beijing according to locals, have been cracking down on a months-long protest in Gwadar, the Indian Ocean port in Balochistan once considered the "crown jewel" project of CPEC.
"The Chinese are known for implementing development projects without caring much about the environment, local culture or religion," Muhammad Shafiq Hunzai, a political science professor in Hunza, GB, said in January.
The country owes China $87 billion in outstanding debt, according to the Pakistan Economic Survey for 2021-2022.
Pakistan is also saddled with repaying Chinese loans at staggeringly high interest rates, the SSRI reported. For example, in 2021-2022, Pakistan paid China $150 million in interest on a $4.5 billion loan.
When Pakistan asked to restructure debt, China offered yet another loan. As a result, "Pakistan ... is currently mired in a never-ending debt cycle," the SSRI said.
Crumbling infrastructure
The Neelum-Jhelum hydroelectric plant in Jammu and Kashmir region, Pakistan, provides another example of Chinese-built projects gone awry.
Pakistani officials shut down the plant last year after detecting cracks in a tunnel that transports water through a mountain to drive a turbine, The Wall Street Journal reported January 20.
Construction on the project began in 2008 after a Chinese consortium received the contract the previous year. After many delays, the first generator was commissioned in April 2018 and the entire project was completed in August 2018.
The tunnel could collapse just four years after the 969-megawatt plant became operational, Tauseef Farooqui, chairman of Pakistan's National Electric Power Regulatory Authority (NEPRA), told lawmakers in November.
Since July, the closure of the plant has already cost Pakistan about $44 million a month in higher power costs, according to NEPRA.
If well built and maintained, hydropower plants can last at least 100 years, according to the US Department of Energy and the World Bank.
Around the globe, in Latin America and Africa, similar problems are brewing.
Thousands of cracks have emerged in a massive hydroelectric plant built by China in Ecuador, according to government engineers.
The $2.7 billion Coca Codo Sinclair hydroelectric plant was the biggest infrastructure project ever in the country, and so important to Beijing that Xi spoke at its inauguration in 2016, according to The Wall Street Journal.
Now, the cracks in the concrete structure and erosion of the Coca River's mountainous slopes are threatening to damage the dam, raising concerns that Ecuador's largest power source could break down.
"We could lose everything," said Fabricio Yépez, an engineer at the University of San Francisco in Quito, Ecuador, who has closely tracked the project's problems. "And we don't know if it could be tomorrow or in six months."
Ecuador's hydroelectric plant is one of many Chinese-funded projects around the world plagued with construction flaws, the newspaper reported.
Low-quality construction risks crippling key infrastructure projects and saddling host nations with additional debts as they try to fix the defects, it said.
Loans on top of loans
In Uganda, the country's power generation company has identified more than 500 construction defects in the Isimba Hydro Power Plant, a Chinese-built 183-megawatt hydropower plant on the Nile River.
As a result, the plant has suffered frequent breakdowns since it went into operation in 2019.
China International Water & Electric Corp. failed to build a floating boom to protect the dam from water weeds and other debris, which has led to clogged turbines and power outages, according to the Uganda Electricity Generation Company Limited (UEGCL).
There are also leaks in the roof of the plant's power house, UEGCL said.
The $567.7 million plant was financed mostly through a $480 million loan from the Export-Import Bank of China.
Further down the Nile, another Chinese-built hydropower plant, the 600-megawatt Karuma Hydro Power Project, is three years behind schedule.
Ugandan officials blame the delay on various construction defects including cracked walls. UEGCL also said the contractor, Sinohydro Corp., installed faulty cables, switches and a fire extinguishing system that need to be replaced.
Although the plant remains inoperable, the government had to start paying back a $1.44 billion loan from the Export-Import Bank of China.
The Chinese companies involved in the Ugandan projects and the Chinese government did not respond to requests for comments.