ISLAMABAD -- A debate on climate change in Pakistan generated after the massive floods that have devastated the country in recent weeks has also brought Chinese-built coal power plants, which are accused of spewing major air pollutants in the country and exposing local populations to serious health risks, into the spotlight.
Heavy monsoon rains that started in mid-June and resulting floods have left more than 1,600 dead and affected around 33 million people, Pakistan's National Disaster Management Agency said in its latest update Saturday (September 25).
Besides endless monsoon rains this summer, dramatic heatwaves in April and May contributed heavily to the floods, environmentalists said.
However, some analysts also blame Pakistan's Chinese-built coal power plants, among other factors, for the climate crisis in the country.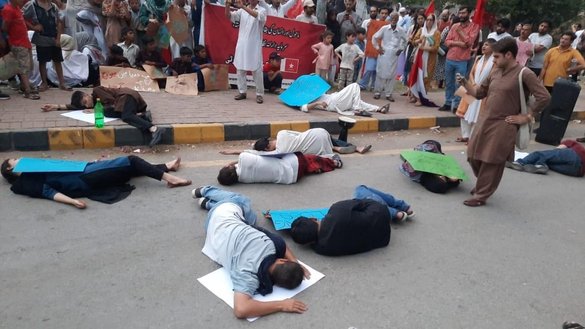 Coal formed a major part of Pakistan's energy projects under the China-Pakistan Economic Corridor (CPEC), a Pakistani component of China's Belt and Road Initiative (BRI), also known as One Belt One Road (OBOR).
Of the 18 "priority" energy projects financed by China, nine were coal fired, the Third Pole, a news site covering the Himalayan watershed, reported last October.
Coal power plants produce a fifth of global greenhouse gas emissions -- more than any other single source -- and these emissions are directly tied to worsening weather events, such as the recent floods.
Demands to end coal projects
China -- by far the world's biggest polluter and biggest consumer of coal -- in September 2021 vowed to end overseas coal projects as part of its contribution to the global effort to cut climate-warming greenhouse gas emissions.
But on the ground, China has been ramping up coal production in a desperate attempt to meet its energy needs.
Sixty coal plants around the world that have received Chinese development finance or foreign direct investment are operational, representing 41 gigawatts (GW) of generating capacity, Boston University (BU)'s Global Development Policy Centre said in February.
"The countries with the most Chinese-funded operational coal capacity are Pakistan, Vietnam, Indonesia, India, and South Africa," said BU.
Environmentalists are calling for early retirement of existing coal-fired plants, not just a moratorium on their construction.
"Coal plants typically have 30-to-40-year lifetimes, and nearly all the Chinese-funded coal plants ... are less than a decade old," BU added.
In Pakistan, the demand to end the Chinese-funded coal projects early is gaining momentum after the recent devastation caused by the floods.
"After the recent floods, it is high time for Pakistan to formulate an adaptation plan for climate change and shut down the Chinese-funded coal projects," said Amjad Saeed of Lahore, a researcher working on environment and energy.
Countries across the world have been scrapping coal-based power plants because of climate change, air pollution, and economic impacts, he said.
"Coal power projects are causing increasing depletion and poisoning of groundwater, making local communities living around them ill and polluting the environment," he said.
Increasing health concerns
Taking the case study of the Port Qasim Power Plant near Karachi, a group of researchers affiliated with BU found that Chinese-financed power plants in Pakistan may also encroach on vulnerable environmental areas.
Port Qasim Power Project has been posing "significant health risks for the surrounding community due to their proximity to the power plant, with an additional 49 deaths estimated to occur annually in the study population", BU said last November.
Also, two other Chinese-funded power projects in Pakistan -- the Thar coal power project in Sindh and Bunji hydropower station in Gilgit-Baltistan -- stand on indigenous populations' lands.
A number of protests have taken place across Sindh Province since the start of the projects in the Thar Desert region.
Thar residents will suffer major health problems as a direct result of coal-related projects in the region, earlier studies have predicted.
The Alliance for Climate Justice and Clean Energy (ACJCE), a local platform comprised of Pakistan's leading environmentalists and of community leaders, in its 2021 study "Coal Rush: The Impact of Coal Power Generation on Tharis' Land Rights", decried the societal impact of Pakistan's "unfortunate turn to coal".
Six of the 10 village communities it surveyed in Thar expect "complete displacement", the ACJCE found.
Emissions from Thar coal mines and power plants could be responsible for 29,000 air-pollution-related deaths over a 30-year period, according to a May 2020 study conducted by the Centre for Research on Energy and Clean Air (Helsinki, Finland).
Similarly, the Neelum-Jhelum hydropower plant, another Chinese-funded project, overlaps with both potential critical habitats and indigenous lands.
In September, Chinese engineers abruptly abandoned plans to repair the Neelum-Jhelum hydropower plant, which had shut down in July because of cracks in its tailrace tunnel, the Economic Times of India reported.
The Chinese cited local protests and "the failure of the Pakistan police to offer credible security".
Economic burden
Chinese-financed coal projects have become an economic burden for the Pakistani government, say officials and analysts in Islamabad.
"Amid a spike in coal prices, it is now hard for Pakistan to buy expensive coal to run them to overcome the worsening electricity crisis in the country," said a Pakistani Ministry of Finance official on condition of anonymity.
Unpredictable international coal prices make running Chinese-financed coal-fired projects to generate electricity "impossible", the official said.
Chinese power-producing firms in Pakistan threatened to shut down their plants in May unless the government made 300 billion PKR in back payments, Dawn reported May 10.
The Chinese companies said they were not provided the liquidity needed to match coal prices.
Pakistan is now asking for debt relief from China on the CPEC-linked power projects.
"Beijing, which has claimed to be an 'all-weather friend' ... instead has pressured [Pakistan] continuously to pay its debts," the Finance Ministry official said.