ISLAMABAD -- Rising costs of a major rail project in Pakistan again have raised concerns over massive debt to China.
The Joint Coordination Committee, the decision-making body of the China-Pakistan Economic Corridor (CPEC), in a virtual meeting on August 27 agreed to execute the much-awaited Main Line-1 (ML-1) project at an estimated cost of $9.85 billion.
Beijing in recent years has inked deals with Islamabad for several multi-billion-dollar infrastructure projects under CPEC, a Pakistani component of China's Belt and Road Initiative (BRI), also known as One Belt One Road (OBOR),
The ML-1 project is aimed at track doubling and upgrades on 1,872km of railway between Karachi and Peshawar and between Taxila and Havelian.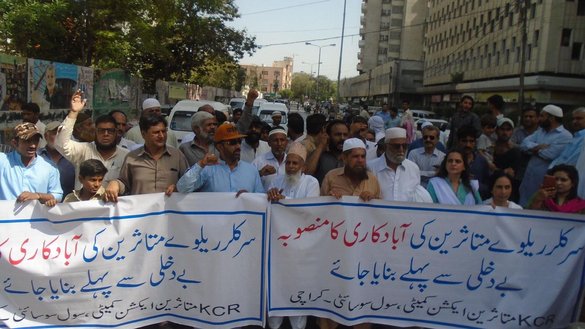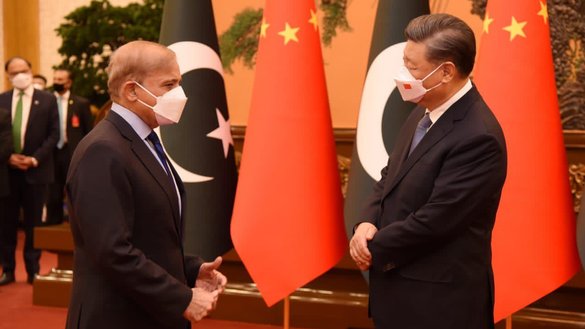 It represents the largest CPEC project in terms of cost.
The implementation of the ML-1 project had been awaiting a final decision for the past five years for several reasons, particularly an increase in cost.
"Pakistan has agreed to increase the cost of ML-1 from $6.8 billion to $9.85 billion, on the demand of Chinese negotiators, who termed the former cost figure as unrealistic," an Islamabad official told Nikkei Asia on October 28 on the condition of anonymity.
Growing debt
Pakistan -- which has been struggling with inflation and devastating floods -- should reconsider its agreement with China to execute the rail project, say analysts.
"The cost and financing terms extended by Beijing for executing all CPEC-linked projects are too expensive and overly exploitative and overly favour China," an Islamabad-based economist who works with the Pakistani Ministry of Finance said on the condition of anonymity.
Beijing gives money to developing countries only to ensure maximum profit, he said.
Rail projects under China's BRI have run into problems elsewhere in Asia.
A rail line linking Thailand and Laos, part of a BRI plan to link China with Association of Southeast Asian Nations (ASEAN) member states unveiled in 2010, has been beset by delays over financing.
Thailand said it would complete its part of the delayed rail project by 2028, reigniting doubts about the country's commitment and whether the $12 billion project will pay off, Voice of America reported July 17.
Similarly, then-Malaysian Prime Minister Mahathir Mohamad in 2018 suspended the Chinese-funded East Coast Rail Link project over high costs and graft accusations.
The project was restarted after a new deal brought the project cost down from 65.5 billion MYR ($14.4 billion) to 44 billion MYR ($9.7 billion).
Loans and financial agreements between Islamabad and Beijing are among the key factors behind Pakistan's ongoing economic crisis, say observers.
"China's ability to exert influence on Pakistan's economy has grown substantially in recent years, mainly due to the fact that Beijing is now Islamabad's largest creditor," according to a United States Institute of Peace report published in May 2021.
Pakistan's total public and publicly guaranteed external debt stood at $44.35 billion in June 2013, just 9.3% of which was owed to China.
By April 2021, this external debt had ballooned to $90.12 billion, with Pakistan owing 27.4% -- $24.7 billion -- of it to China, the report said, citing International Monetary Fund statistics.
Rights abuses
The ML-1 deal has raised concerns among rights groups over Chinese companies' labour practices, the forced displacement of Pakistanis and subsequent unrest in the country.
"Thousands of families have forcibly been displaced ... in the route of ML-1 and the Karachi Circular Railway, another BRI-linked railway project," said Jaffar Khan, a Karachi-based rights activist.
Authorities demolished houses in Karachi and other areas without providing families compensation or alternative accommodations, he said.
Rights abuses in the past have sparked protests across the country.
In one case, employers violated the rights of construction workers during the construction of the M4 Motorway, a 309km-long motorway built as part of Chinese investment projects, according to a study published in 2019 by Leiden University in the Netherlands.
"There were problems with wage payments, which most agreed were low; some had their pay deducted or paid late," said the study, citing field interviews with workers.
"The workers reported having no safety equipment or training," it added.
In Lahore, the Orange Line Metro Train (OLMT), also part of the BRI, came under fire amid allegations that the Chinese firms that built the railway violated the rights of workers and ignored safety precautions at construction sites, resulting in the deaths of some labourers.
Lists of the wages of personnel who worked on the OLMT revealed that Chinese staffers earned much more than their Pakistani counterparts, according to official documents shared by Pakistani government officials in 2020.
The page for Chinese staff disclosed monthly salaries in yuan. They ranged from the equivalent of 1.2 million PKR ($5,460) to 3.6 million PKR ($16,382).
Pakistani workers' monthly salaries ranged from 30,000 PKR ($136) to 625,000 PKR ($2,844).
Most recently, Chinese companies operating the Chinese-built coal-fired power plant at Port Qasim in Karachi and at the Saindak copper and gold mine in Chaghi district, Balochistan province, have been enforcing zero-tolerance COVID-19 measures on their Pakistani workers.
Such measures have included forced lockdowns and separation from their families, a recent investigation said.
Chinese influence
Beijing's self-serving deals with Islamabad for multi-billion-dollar infrastructure projects and the mistreatment of local employees have aroused resentment and protests in Pakistan.
The exponential growth of Chinese influence in Pakistan, particularly in Balochistan and Sindh provinces -- with Chinese companies exploiting local resources without care or concern for the impact on locals -- has led to serious unrest in the province.
Anger over growing Chinese influence in Balochistan has spurred Baloch and Sindhi militant organisations to ally with each other, fuelling concern that the combined group will step up violent activities in the region.
On September 28, a gunman killed a man and wounded two others of Chinese origin in an attack in Karachi, police said.
In late April, the Balochistan Liberation Army (BLA), a component of the Baloch Raji Aajoi Saangar (BRAS), claimed responsibility for killing four people, including three Chinese teachers, in a suicide attack inside a state-run university in Karachi.
BLA militants in February also staged twin assaults on army posts in Noshki and Panjgur districts, Balochistan.