Residents and activists of Gwadar last week launched a protest over growing Chinese influence, the second such demonstration since last November.
The port city on the southwestern coast of Balochistan is expected to be a major part of the China-Pakistan Economic Corridor (CPEC), a Pakistani component of China's Belt and Road Initiative (BRI), also known as One Belt One Road (OBOR).
CPEC-affiliated projects have not improved the lives of Gwadar residents, nor have they helped resolve long-standing water and power shortages, said the protesters.
"We don't have water, power or education. We don't want such a CPEC," said Maulana Hidayatur Rehman, who led the earlier protest last year.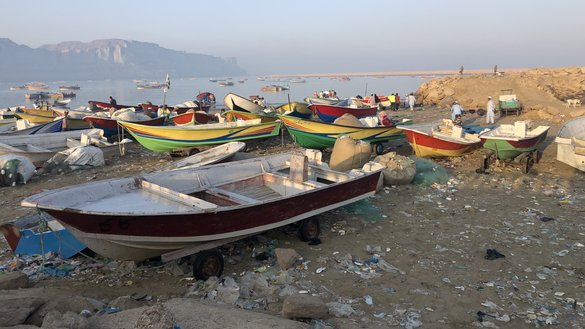 Rehman, a local Jamaat-e-Islami Pakistan leader who founded the "Give Gwadar its rights" campaign, made his remarks while speaking to the 4th Asma Jahangir Conference in Lahore last Saturday.
Instead of providing teachers and schools to Gwadar residents, the CPEC has led to military checkpoints and military personnel who guard Chinese nationals and their interests, Rehman said.
Last November, thousands of residents took part in the weeks-long "Give Gwadar its rights" campaign, demanding an end to illegal deep-sea fishing by local and Chinese trawlers and to the harassment of locals at security checkpoints leading to projects part of the CPEC.
The protesters, led by Rehman, also demanded an end to water and electricity shortages and expressed opposition to potential fencing in Gwadar aimed at protecting Chinese-funded projects from Baloch separatists who oppose CPEC.
"Despite the passage of a year, Gwadar's problems were not resolved and instead increased. We will protest again against check-posts and deep sea trawlers and for basic human rights," Bashir Hout, a leader of fishermen in Gwadar, said at the time.
"China's presence in Gwadar has made local residents strangers on their own land," he said.
Concerns grow
After a spike in attacks on Chinese citizens and projects by militant groups, Pakistani authorities established dozens of security checkpoints to protect Chinese nationals working at the Gwadar port.
However, the checkpoints have hindered the movements of the more than 300,000 residents of Gwadar district, arousing a severe backlash from the local population that swelled into a rights campaign.
"After organising a protest for more than a month, the movement succeeded in pressuring the government to fulfill some of its demands, including easing the checkpoints and stopping fishing trawling," said Hout in May.
Because of the Chinese presence in Gwadar and other parts of Balochistan, local residents are in a state of uncertainty, he said.
In January 2021, a provincial court stopped Pakistani authorities from building a barbed-wire fence around the port in Gwadar that locals said would have hampered the movement of local residents and prevented fishermen from reaching sea access points.
Chinese influence
The exponential growth of Chinese influence in Pakistan, particularly in Balochistan and Sindh provinces -- with Chinese companies exploiting local resources without care or concern for the impact on locals -- has led to serious unrest in the province.
BRI-related companies and projects have also created resentment by implementing zero-tolerance COVID-19 measures on their Pakistani workers, including forced lockdowns and separation from their families.
They have also been accused of paying Chinese nationals more than Pakistani workers.
Anger over growing Chinese influence in Balochistan has spurred Baloch and Sindhi militant organisations to ally with each other, fuelling concern that the combined group will step up violent activities in the region.
On September 28, a gunman killed a man and wounded two others of Chinese origin in an attack in Karachi, police said.
In late April, the Balochistan Liberation Army (BLA), a component of the Baloch Raji Aajoi Saangar (BRAS), claimed responsibility for killing four people, including three Chinese teachers, in a suicide attack inside a state-run university in Karachi.
BLA militants in February staged twin assaults on army posts in Noshki and Panjgur districts, Balochistan.