A large-scale protest against Chinese influence in the Gilgit-Baltistan (GB) region started its third week on Wednesday (January 11) despite sub-zero temperatures.
Protesters began holding daily demonstrations in Skardu, GB, on December 27 to convey concerns over Chinese influence on their livelihoods and daily lives -- namely land grabs and other problems, including electricity and wheat shortages and taxation without representation in parliament.
Residents also held a shutter down and wheel jam strike across GB on January 6 to convey solidarity with the protesters.
Protesters in other cities, including Karachi, also have joined in solidarity with the demonstrators in GB.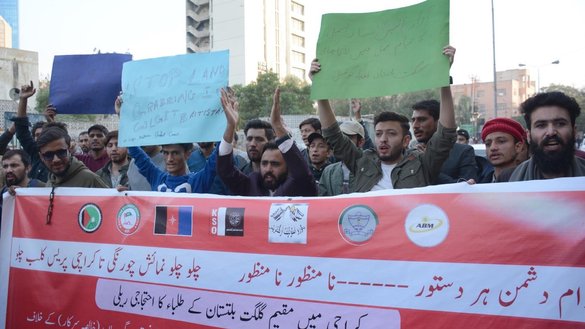 GB shares a border with China's Muslim-majority Xinjiang region and is a gateway to the China-Pakistan Economic Corridor (CPEC), a Pakistani component of China's controversial Belt and Road Initiative (BRI), also known as One Belt One Road (OBOR).
The Pakistani government has been seizing land for secret projects that are part of CPEC, say demonstrators.
"We demand the Pakistani government disclose all project agreements, particularly about the land acquisitions that it inked with China that will be carried out in Gilgit-Baltistan," said Mustafa Shigri, a civil society activist.
China has plans to build a processing plant for the lithium it will mine and transport from Afghanistan in the near future, claim some activists.
Locals "have serious reservations about the state taking over land in the region that they say belongs to the people", Dawn editorialised on Monday. "The state has been acquiring land in GB for CPEC as well as other projects."
"Considering that the people of GB have united over these issues, the state has to engage with them, listen to their concerns and arrive at mutually agreed solutions," it said.
GB residents have many expectations of CPEC, say protest organisers.
"But despite being at the entrance of CPEC, the local people are completely excluded from the decision-making process and direct benefits of the mega-project," said Jawad Baig, a leader of local traders.
In 2015, the GB Legislative Assembly (GBLA) unanimously passed a resolution to urge the federal government to include its representatives in the consultative committee that is working on CPEC.
Creating new conflict
Chinese investment in GB benefits only Beijing and could spark armed resistance against the Chinese, activists say, pointing to similar problems in Balochistan and Sindh provinces.
Since December 25, Pakistani authorities, at the behest of Beijing according to locals, have been cracking down on a months-long protest in Gwadar, the Indian Ocean port in Balochistan once considered the "crown jewel" project of CPEC.
Signs of conflict between Islamabad and local groups already have emerged in Balochistan and Sindh, where local ethnic militant groups have formed an alliance, called Baloch Raji Aajoi Saangar (BRAS), and have attacked Chinese interests in Pakistan.
"Now such elements in Gilgit-Baltistan could exploit the situation if the concerns of the local population about Chinese investment are not resolved properly," said Muhammad Shafiq Hunzai, a political science professor in Hunza.
"On one side, the lands have been taken over forcibly in the name of CPEC projects, while on the other side, the area has been secured by deployment of a large number of soldiers to protect Chinese nationals," he said.
Islamabad and Beijing held Tehreek-e-Taliban Pakistan (TTP) responsible for a July 14 suicide attack that killed nine Chinese engineers who were working on a hydroelectric project in Kohistan, Khyber Pakhtunkhwa, a district adjacent to GB.
"The Chinese are known for implementing development projects without caring much about the environment, local culture or religion," Hunzai added.
Detaining Uighur wives
Beijing's oppression of Muslims has also spilled across the border into GB as the regime continues to detain hundreds of Uighur wives and children of Pakistani nationals, hardening anti-Beijing sentiment in the country.
A group of men, mainly from GB, have been campaigning since 2017 for the release of their Uighur Muslim wives, who reportedly are being held in the Chinese regime's notorious "indoctrination camps".
Residents of GB and Xinjiang frequently visit each other, and intermarriages are not uncommon.
In 2018, the GBLA through a unanimous resolution demanded urgent steps from the government to secure the release of the detained wives in Xinjiang.
However, despite large-scale protests and the local parliament's resolution, Chinese authorities have not yet released the wives and children of GB residents.