GWADAR -- Residents of Balochistan province and members of local political parties have won a temporary victory in opposing a plan to fence off parts of Gwadar, the province's main seaport, but worries remain it will still go through.
Locals detest the planned fence because it would complicate the movements of the more than 300,000 residents of Gwadar district, as well as block fishing workers from their usual points of access to the sea.
Balochistan officials say the fence is necessary to protect Chinese workers from local hostility, including terrorist acts.
If built, the fence would have "three or four entry and exit points", according to Chinese government-run news site Gwadar Pro.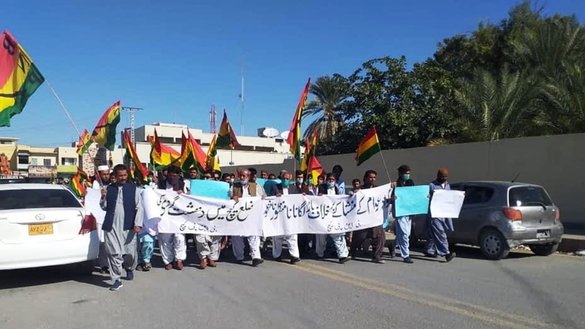 Chinese workers at Gwadar "deserve a normal life free from all sorts of threats," an unidentified Gwadar Development Authority official told Gwadar Pro in December.
Provincial Home Minister Ziaullah Langove on December 29 pledged to take local opinion into account.
"The local people will not be kept away from decision-making about Gwadar and a decision about fencing would now be taken after taking the local people into confidence over the issue," he said at an open meeting in Gwadar.
A large number of people, including leaders of political parties and activists, attended the meeting and expressed their reservations about the fence, Dawn reported.
Langove said the fencing project was meant to send a message to investors that Gwadar is safe. "It is a plan for protection of the port city and nothing else," he said.
Controversial fencing
Although the controversial plan to build the barbed-wire fence around the port is on hold over the public uproar, its eventual completion is likely since the project is part of the Gwadar Smart Port City Master Plan, analysts say.
The local government began fencing off the 24-square-kilometre area surrounding the port in mid-December, ostensibly to protect projects that are part of China's Belt and Road Initiative (BRI).
Baloch militant groups have attacked various BRI sites, playing off growing local resentment of Chinese projects.
Beijing has been exploiting local resources with no concern about the impact its actions have on the local population, say Pakistani lawmakers and observers.
Pakistanis also resent the Chinese practice of paying Chinese workers more than Pakistani workers.
"Fencing Gwadar in the name of security of Chinese projects and nationals has angered local residents and caused huge protests against the government's move," said Bashir Hout, a fisherman and civic leader who attended a December 27 meeting in Gwadar.
"Residents fear that fencing will displace them and subsequently change the city's demography," he said.
The government should abandon the fencing project as it is bound to face stiff political resistance, said Abdul Malik Baloch, a former Balochistan chief minister.
"The fencing project is aimed at dividing the port city and ultimately separating the Gwadar coast from Balochistan," he said.
Fencing will restrict the movements of Gwadar residents, forcing them to leave the city and settle elsewhere, he said.
Senator Mir Kabir Mohammad Shahi said the fence "was a conspiracy to separate Gwadar from Balochistan".
Munir Ahmed Kakar, vice chairperson of the Balochistan Bar Council, the province's key legal body, filed a petition in late December to stop the project, stating that the fencing initiative would negatively affect the more than 300,000 inhabitants of Gwadar district.
"Half of the population will be inside the fence and half outside it," he said. "It will affect the education of students and the mobility of patients going to hospitals, and most important, it will block sea access for fishermen."
Impact on residents' lives
BRI-affiliated projects have not improved the lives of Gwadar residents, nor have they helped resolve long-standing water and power shortages, say locals.
"Instead of making Gwadar a hub of business and trade and [creating] development projects for the residents, China has been forcing Pakistani authorities to make the port city a security zone and to limit residents' movements," said Ashraf Ali, a student in Gwadar.
"The people of Gwadar are still forced to buy drinking water at the rate of Rs. 2,500 ($15.50) per tanker," he said.
Fencing off Gwadar will likely intensify feelings of deprivation and marginalisation in Balochistan, said Rafiullah Kakar of Quetta, a public policy and development specialist.
"The security establishment needs to realise and appreciate that a hard approach alone can ensure only partial and temporary peace at best, and that a low-level insurgency could continue almost indefinitely no matter what security measures are taken," he wrote in a Dawn newspaper column published December 26.
Concerns over ethnic insurgency
The exponential growth of Chinese influence in Balochistan and Sindh continues to cause unrest among the public.
Anger over increasing Chinese influence in Balochistan and Sindh provinces has motivated Baloch and Sindhi militants to unify, sparking concerns about possible new violence in the region.
The Baloch Raji Aajoi Saangar (BRAS) and the Sindhudesh Revolutionary Army are now working together "in light of the current scenario in the region, as both [Baloch and Sindhis] have severe reservations over growing Chinese influence", BRAS said in a statement last July.
Baloch ethnic separatist groups have targeted infrastructure projects and Chinese workers in Pakistan multiple times in recent years.
In Karachi, militants attacked the Chinese consulate in November 2018, killing four people. Last June, four terrorists attacked the Pakistan Stock Exchange, also in Karachi, killing three security guards and a policeman.
A Chinese consortium owns 40% of the Pakistan Stock Exchange, the Balochistan Liberation Army said, claiming responsibility for that assault.