ISLAMABAD -- Protests in Gwadar are the latest indication of Pakistanis' concerns over Chinese influence on their livelihoods and daily lives.
The port city on the southwestern coast of Balochistan is expected to be a major part of China's Belt and Road Initiative (BRI), opening Pakistan to trade and development projects that many Pakistanis consider harmful to their country and beneficial to China.
Thousands of residents have been taking part in the "Give Gwadar its rights" campaign since November 15, demanding an end to illegal deep-sea fishing by local and Chinese trawlers and the harassment of locals at security checkpoints leading to projects part of the China-Pakistan Economic Corridor (CPEC).
The protesters, led by local Jamaat-e-Islami Pakistan leader Maulana Hidayatur Rehman, have also demanded an end to water and electricity shortages and expressed opposition to potential fencing in Gwadar aimed at protecting Chinese-funded projects from Baloch separatists who oppose CPEC.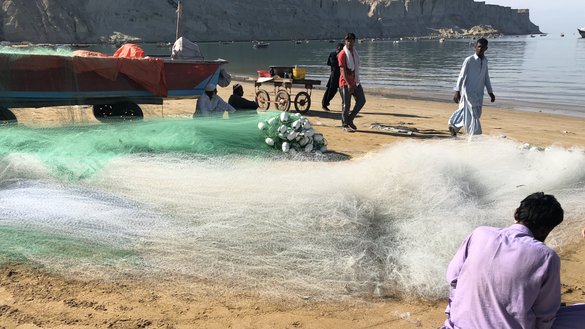 A provincial court stopped Pakistani authorities in January from building a barbed-wire fence around the port in Gwadar that locals said would have complicated the movements of more than 300,000 residents of the district and prevented fishermen from reaching sea access points.
CPEC-affiliated projects have not improved the lives of Gwadar residents, nor have they helped resolve long-standing water and power shortages, the protesters say.
"China's presence in Gwadar has made local residents strangers on their own land," said Bashir Hout, a fishermen's representative who has been attending protests on a daily basis since November 15.
Local residents have been living in a state of uncertainty, he said.
"The protests indicate that the residents of Gwadar will not allow Pakistani authorities to restrict their mobility," Hout added.
"Instead of making Gwadar a hub of trade and creating employment opportunities for local youth in development projects for the residents, China has been forcing Pakistani authorities to make the port city a security zone and to limit residents' movements," said Safdar Baloch, a trader in Gwadar.
"We are not against development, but we won't remain silent on the exploitation in the name of development," he said.
"Gwadar port has long been portrayed as the jewel in the CPEC crown, but in the process, the city has become the very embodiment of a security state," wrote Dawn recently in an editorial on the ongoing protest.
Concerns spreading across the country
Beijing over the past few years has inked deals with Pakistan for several multi-billion-dollar infrastructure projects, raising concerns over Chinese influence and creating resentment with China's practice of paying its nationals more than Pakistani workers.
Beijing has been exploiting local resources with no concern about the impact its actions have on the local population, according to observers.
In the Saindak area of Chaghi district in Balochistan, Chinese companies have extracted copper and gold deposits without any local, national or international supervision.
Contrary to national and international law, Chinese companies did not invest in education, health or infrastructure in Chaghi district, local residents and political leaders have said.
Projects linked to the BRI in Sindh province have also drawn protests from residents in the Thar Desert region after studies showed that coal-mining projects under the programme will be a major air pollutant in South Asia and will expose the local population to serious health risks.
Anger over growing Chinese influence in Balochistan has spurred Baloch and Sindhi militant organisations to ally with each other, fuelling concern that the combined group will step up violent activities in the region.
The Baloch Raji Aajoi Saangar (BRAS) and the Sindhudesh Revolutionary Army are now working together "in light of the current scenario in the region as both [Baloch and Sindhis] have severe reservations over growing Chinese influence", BRAS said in a statement in July 2020.
In Karachi, militants attacked the Chinese consulate in November 2018, killing four people.
In June 2019, four terrorists attacked the Pakistan Stock Exchange, also in Karachi, killing three security guards and a policeman. A Chinese consortium owns 40% of the Pakistan Stock Exchange, the Balochistan Liberation Army said, claiming responsibility for that assault.