LAHORE -- Pakistanis who worked on a Chinese-built light-rail transit system in Lahore say they continue to pay a high price for their efforts.
The Orange Line Metro Train (OLMT), which is linked with China's Belt and Road Initiative and began operating in late October, already has come under fire amid allegations that the Chinese firms that built the railway violated the rights of workers and ignored safety precautions at construction sites, resulting in the deaths of some labourers.
Construction of the disruptive and controversial project began in 2015.
As an early harvest project under the China-Pakistan Economic Corridor, the OLMT was financed by a loan of $1.6 billion (Rs. 256.6 billion) from the Export-Import Bank of China and built by China State Railway Group Co. Ltd. and China North Industries Corporation. The Guangzhou Metro Group, Norinco International and Daewoo Pakistan Express Bus Service operate it.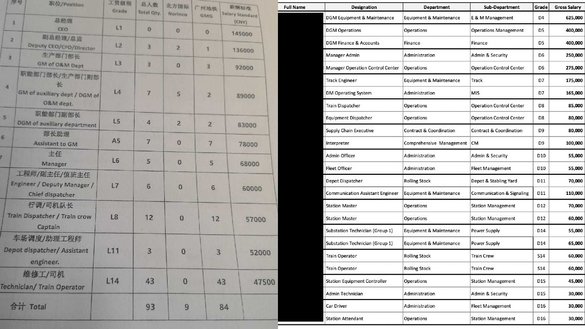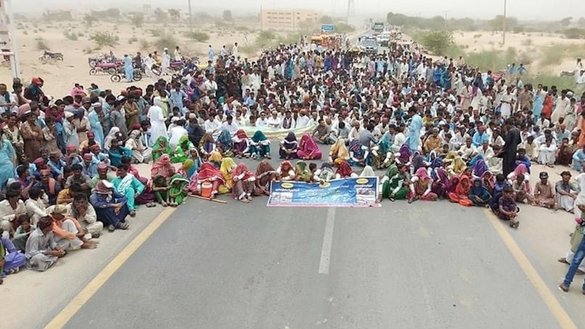 Now, Pakistanis who worked on the OLMT charge that they received scant wages for their labour compared with their Chinese counterparts.
Lists of the wages of personnel who worked on the OLMT reveal that Chinese staffers earned much more than did Pakistanis, according to official documents shared with Pakistan Forward by Pakistani government officials.
The page for Chinese staff discloses monthly salaries in yuan. They ranged from the equivalent of Rs. 1.2 million ($7,724) to Rs. 3.6 million ($22,203).
Pakistani workers' monthly salaries ranged from Rs. 30,000 ($187) to Rs. 625,000 ($3,900).
"We are not against paying handsome wages to Chinese staff ... but the salary difference is huge and has left Pakistani workers in dismay," said Ali, an engineer on the OLMT project. He used only his surname because he is not authorised to speak to the media on the issue.
Deaths of more than 50 workers
The pay issue marks the latest grievance of Pakistanis who have worked on Chinese projects in the country -- often under dangerous and even deadly conditions.
The rail project in particular has been dogged by controversy.
Dubious safety conditions have resulted in dozens of Pakistani workers losing their lives during the construction of the project. In addition, workers demolished a large number of heritage sites and lower-income residences to make room for the transit route despite protests by cultural activists and residents.
More than 50 Pakistani workers working on the 27km-long OLMT project died, according to a Guardian report on November.
In June 2017, four labourers working on the rail project were injured after falling from a crane in Lahore, while in January 2017 seven workers were killed and more than a dozen were injured in a fire at a makeshift residence for workers in Lahore.
In May 2016, seven workers were killed and several others injured when a wall in a warehouse collapsed on their makeshift residence in Manowal. In January 2016, two labourers were electrocuted on the project in the Chung area.
Workers on the project and labour groups regularly have expressed their concerns over the health and safety of workers employed on the OLMT project.
"Instead of ensuring the workers' safety first, the Chinese companies risked their [the workers'] lives to meet the OLMT completion deadline," said Amjad Butt, a labourer on the project. In July 2016 all Pakistani workers temporarily halted work on the project because they did not receive safety gear, he said.
The Chinese bear responsibility because they did not provide a safe environment for workers, said Muhammad Jameel, a relative of Muhammad Sharif, who was among the seven workers who died from the fire in 2017.
"But despite this, the company did not compensate the families of the dead workers," Jameel said without identifying the specific Chinese firm he meant. "The OLMT has been constructed but with the blood of the innocent workers."
Labour rights violations have been common in Chinese-backed projects in Pakistan.
In one case, employers abused the rights of workers during the construction of the M4 Motorway, a 309km-long motorway built as part of Chinese investment projects, according to a study published in 2019 by Leiden University in Leiden, the Netherlands.
"Hirings generally were verbal, and there were no proper contracts to guarantee [worker] rights," said the study, citing field interviews with labourers.
"There were problems with wage payments, which most agreed were low; some had their pay deducted or were paid late." The workers reported having no safety equipment or training.
In September, hundreds of workers blocked the main Naran–Mansehra road in a demonstration against the Chinese company in charge of constructing the Suki Kinari Hydropower Station in Mansehra District, Khyber Pakhtunkhwa.
The main contractor of the power station, a $1.8 billion (Rs. 297 billion) project, is China Gezhouba Group Co. Ltd., a construction firm based in Wuhan, China.
In addition to imposing dangerous work conditions and pay disparities, construction of the OLMT resulted in the loss of some of Lahore's architectural treasures.
Local architects and heritage activists along with the United Nations Educational, Scientific and Cultural Organisation (UNESCO), have expressed concern over the damage to several heritage sites due to the OLMT project, especially to Shalamar Gardens, which dates back to the Mughal era and is on UNESCO's list of world heritage sites.
Concerns over growing Chinese influence
During the construction of the project, residents, traders and civil society activists regularly organised protests against the OLMT and said that crews demolished their houses and shops to make way for the railway.
Before becoming prime minister, Imran Khan in a tweet in December 2017 criticised the previous Punjab government for investing in the project instead of in hospitals or ventilators and castigated its decision not to safeguard the environment or key heritage sites during construction.
Such infrastructure projects not only have endangered Pakistani workers and cultural sites; they have raised concerns over Chinese influence in the country.
The exponential growth of Chinese influence in Balochistan Province -- with Chinese companies exploiting local resources without care or concern for the impact on locals -- is driving serious unrest in the province, say lawmakers and observers.
In the Saindak area of Chaghi District, Balochistan, Chinese companies have extracted copper and gold without any local, national or international supervision.
Contrary to national and international law, Chinese companies did not invest in education, health, or infrastructure in Chaghi District, local residents and political leaders have said.