QUETTA -- Residents of Pakistan's coastal city of Gwadar and other areas of Balochistan continue to raise concerns over Chinese influence on their livelihoods and daily lives.
"Due to the Chinese presence in our areas, we are in a state of uncertainty," said Sattar Dashti, the Gwadar-based leader of a local fishermen's organisation.
"Fishing is the only source of livelihood for the majority of locals in Gwadar and other coastal areas," he said, adding that the government is curbing fishermen's rights and issuing fishing licences to Chinese trawlers instead.
"We have identified dozens of illegal Chinese trawlers to local authorities, but no action has been taken," he added.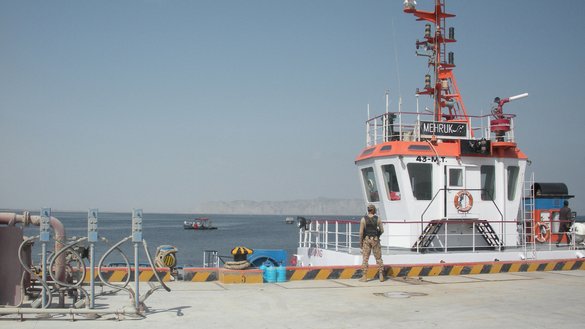 "Local fishermen are facing a lack of resources. Our boats cannot go into deep water for fishing. On the other hand, deep-sea Chinese trawlers have large fishing nets that are destroying the marine environment," he added.
Illegal fishing by Chinese trawlers is forcing locals into unemployment, leaving them no choice but to protest, according to Dashti.
The latest such protest occurred last month in Gwadar when local Baloch fishermen demonstrated against illegal Chinese fishing as well as the issuance of permits to Chinese trawlers.
Gwadar, on the southwestern coast of Balochistan, is expected to be a major part of China's Belt and Road Initiative (BRI), and the scale of the project -- and the debt that the Pakistani government has incurred by borrowing from Beijing to fund multi-billion-dollar infrastructure projects -- has put it in a vulnerable position.
In contrast to how the Chinese regime sells the BRI to countries -- as a key to lucrative trade and development projects -- a closer look at the BRI reveals Beijing's aim of monopolising natural resources and expanding military ambitions from the South China Sea to Gwadar and to other locations in Iran, Central Asia and Africa.
Exploiting Balochistan
"The local tribes are the real owners of all resources and the coast in Balochistan," said Malik Abdul Wali, central vice president of the Balochistan National Party.
Concerns about the future are increasing and hardships are mounting in Gwadar and other coastal areas because of the presence of Chinese companies, he said.
Meanwhile, authorities have restricted transportation in many areas allegedly for security concerns, Abdul Wali said.
The Baloch are not against development, "but they won't remain silent on the exploitation [of Balochistan] in the name of development," he said.
A fencing project late last year that would have complicated the movements of the more than 300,000 residents of Gwadar, as well as blocking fishing workers from their usual points of access to the sea, was halted after protests.
The fence was necessary to protect Chinese workers from local hostility, including terrorist acts, said Balochistan officials.
Sense of deprivation
Rising concerns over Chinese-led projects in Balochistan have resounded in the provincial assembly.
"The federal and provincial governments need to ensure public participation in the ongoing development process until the concerns of the people of Gwadar and of adjoining areas are allayed," said Sanaullah Baloch, a member of Balochistan's parliament.
"One main reason for rising concerns about Chinese development projects is the opaque policies that ignore the concerns of smaller provinces and increase their sense of deprivation," he said.
Chinese companies signed agreements committing to provide maximum employment opportunities to the local population, he said.
However, "since the work started in Gwadar and other areas, most of the provisions of the agreements have been ignored by the Chinese".
As reported last year, Beijing's ill treatment of Muslims in Xinjiang and the growth of Chinese influence in Balochistan and Sindh provinces have aroused anti-China sentiment that militants are exploiting.