BEIJING -- Though China claims it is pivoting to renewable energy sources to meet its pledge to reach carbon neutrality by 2060, its actions do not match its words as it continues to invest heavily in "dirty fuel".
The Chinese regime plans to fund dozens of foreign coal plants and is moving in the wrong direction with its domestic production as well, energy analysts and environmentalists warn.
In an attempt to drive down emissions, China will employ a carbon trading system starting in February, its Ecology and Environment Ministry announced January 5.
The ministry issued new rules allowing provincial governments to set pollution caps for big power businesses for the first time.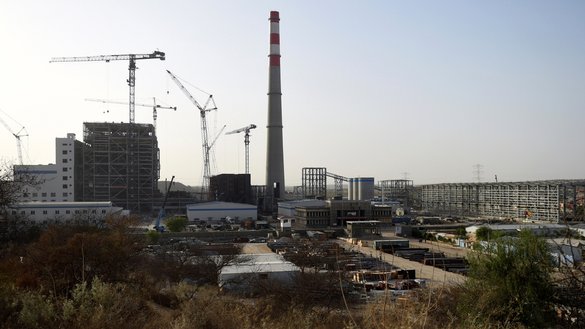 Firms can buy the right to pollute from others with a smaller carbon footprint, but the programme is expected to drive down overall emissions by making it costlier to do so.
However, 60% of power in China still comes from coal, and analysts warn the powerful coal lobby will be pressing hard for favourable carbon caps.
Difficult goals to meet
China -- by far the world's biggest polluter and biggest consumer of coal -- is playing with smoke and mirrors, say some observers.
In defiance of reality, President Xi Jinping on September 22 unveiled his country's bold pitch for leadership on global warming at the United Nations, vowing it would reach peak emissions before 2030 and go carbon neutral 30 years later.
The move represents just the latest example of China attempting to paint itself in a positive light, as the Chinese regime has taken its information war to new levels, borrowing tried and true tactics used by the Kremlin and adding its own twists to spread conspiracy theories and deflect blame on a number of controversial topics.
But to become carbon neutral by 2060, China must stop building new coal power plants and ramp up its wind and solar capacity, the Helsinki-based Centre for Research on Energy and Clean Air (CREA) said in a report released November 20.
The overcapacity of existing plants and new ones being built mean it will be hard for Beijing to meet its goal, the report said.
It called for the Chinese government to shut down all new coal-fired power plants built from 2020 and to double the growth of wind and solar power in the next decade.
Further, it said, China should reduce its coal-based power generation capacity to about 680GW by 2030 -- instead of current plans to expand it to about 1,300GW.
Without proper policy intervention to retire these surplus plants early and to halt the construction of new ones, researchers said the level of carbon dioxide emitted by China would show almost no reduction from 2020 levels.
China's greenhouse gas emissions in 2019 were estimated at 13.9 billion tonnes -- about 29% of the world's total linked to global warming.
Despite pledges to wean the economy off coal, Chinese consumption of the environmentally hazardous fuel climbed in June to near the peak levels seen in 2013.
Pandemic recovery boosts emissions
In an effort to revive provincial economies reeling from the coronavirus pandemic, Beijing opened the taps from government lenders to build new coal plants.
In the first half of 2020 the Chinese regime approved 23GW worth of new coal power projects, more than in the previous two years combined, according to Global Energy Monitor (GEM), a San Francisco-based environmental NGO.
China's rebound from the global coronavirus crisis has been driven by energy-intensive industries such as construction, heaping pressure on the power grid and on coal supplies, said Lauri Myllyvirta, lead analyst at CREA.
"I am afraid that if governments do not take major new policies, we may well see that the decline we are experiencing in emissions this year will rebound," said International Energy Agency Executive Director Fatih Birol.
"If governments do not put clean energy policies in their economic recovery packages, we will go back to where we were before the pandemic," he said.
China is an "important test run" for how other nations power their recovery from the coronavirus pandemic, said Birol.
"We all know China was the first country to have the coronavirus, the first where there was a lockdown and where the economy declined," he said.
"But China is also the first country where the economy rebounded, and as of today, Chinese emissions are higher than levels before the crisis."
Investing in coal
Chinese state-owned firms are investing billions in coal power abroad.
As part of the trillion-dollar Belt and Road Initiative (BRI), China plans to fund dozens of foreign coal plants from Zimbabwe to Indonesia, which are set to produce more emissions than major developed nations do, environmentalists warn.
Those emissions are not counted in the domestic carbon-neutral calculations.
"New plants that would potentially be operating for many years beyond 2030 are fundamentally incompatible with global efforts to contain climate change," said Christine Shearer, director of coal research at GEM.
The new carbon-belching power stations already under construction will produce 19GW of power and emit 115 million tonnes each year, according to Boston University's Global Development Policy Centre.
China has almost three times more in the pipeline abroad, meaning its overseas plants would emit more than major economies such as Britain, Turkey and Italy do now, according to British Petroleum.
Each of the dozens of plants is expected to have a life span of decades.
If completed and operated for 30 years, these plants would emit the equivalent of almost three years of emissions from all coal-fired power plants in China, according to the CREA's Myllyvirta.
Pushing coal abroad
Xi has promised to "pursue open, green and clean co-operation" under the BRI, yet Chinese banks have continued financing coal projects.
Between 2000 and 2018, 23.1% of the $251 billion invested by China's two biggest policy banks on overseas energy projects went to coal projects, according to Boston University.
The foreign plants the Chinese firms are building include the $3 billion Sengwa power plant in Zimbabwe -- one of the largest in Africa. At least eight projects are under way in Pakistan, including a $2 billion plant in Balochistan.
The new projects are all in countries that have signed up for the BRI, locking them into a coal-consuming energy future.
The flood of coal cash is "hampering efforts by developing nations to switch to cleaner alternatives", said Li Shuo from Greenpeace China.
China itself has about 96 billion tonnes of untapped coal reserves -- the fourth largest in the world.
The surplus has pushed Chinese power companies into energy-hungry nations in South and Southeast Asia, Africa and Latin America.
"It is a way to provide markets for companies and services that the country itself increasingly does not need," said Myllyvirta.