ISLAMABAD -- Beijing is attempting to counter the rise of anti-China sentiment in Pakistan by investing in Urdu-language services on Chinese state-run media outlets, analysts say.
The effort has been materialising over the past few years.
In 2018, the Chinese government launched Gwadar Pro, which publishes content in English and Urdu, to defuse growing anger towards China's controversial Belt and Road Initiative (BRI), also known as One Belt One Road (OBOR).
The website is named after Gwadar, a port town in Balochistan, which is expected to be a major part of the BRI and home to development projects that many Pakistanis consider harmful to their country and beneficial to China.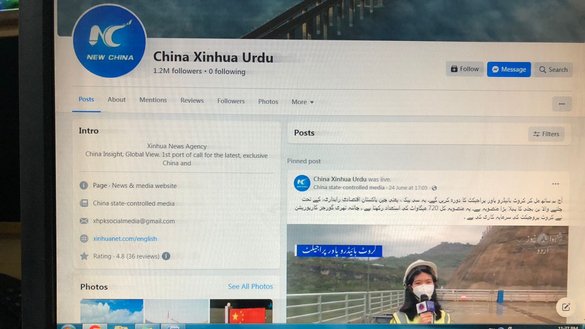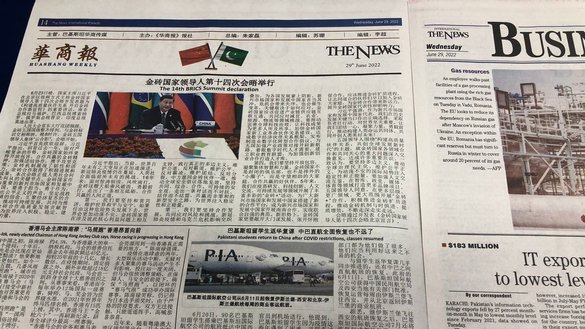 In 2019, Xinhua News Agency, China's largest state-run media outlet, launched an Urdu service in Pakistan, mainly to counter resentment of the China-Pakistan Economic Corridor (CPEC), a Pakistani component of the BRI.
Chinese authorities in 2020 also inked content-sharing deals with several Pakistani wire agencies and publications, including Independent News Pakistan (INP), to disseminate misinformation to Pakistani audiences.
This year, the Chinese embassy in Pakistan and its consulates offered to pay journalists to write content to "refute Western, anti-China forces, NGOs and media that have politicised and stigmatised ... 2022 Winter Olympics in Beijing", according to an email sent to journalists and seen by Pakistan Forward.
The Beijing Olympics, which took place in February, were fraught with controversy amid China's continued oppression of Uighur and other Muslim minorities, including ethnic Kazakhs and Kyrgyz, in the Xinjiang region.
Anti-China sentiments on rise
Pakistan is one of the major targets of Chinese propaganda because of the country's involvement in the BRI and growing public anger over the trillion-dollar infrastructure project, according to Pakistani media observers.
"Anti-China sentiment is growing rapidly in Pakistan over Beijing's treatment of Uighurs and other ethnic minority Muslim groups as well as Chinese companies' disrespect for Islam," said Majid Khan, an Islamabad-based researcher with a focus on growing Chinese influence in Pakistan.
Beijing has been exploiting local resources with no concern for the impact its actions have on the local population, he said.
"Playing off growing local resentment of Chinese projects, Baloch militant groups have attacked various BRI sites," Khan noted.
In such a situation, Beijing has been investing heavily to spread propaganda and disinformation to deflect anger towards China and BRI-related projects in Pakistan.
"However, China's propaganda campaign badly failed because Pakistanis are well aware of Beijing's persecution of the Uighurs and other human rights abuses, thanks to the work of international rights organisations such as Human Rights Watch ... and Amnesty International," Khan said.
China has placed more than a million Muslims in indoctrination camps, which Beijing claims serve the purpose of stamping out extremism and providing vocational training.
However, independent investigations and interviews with former camp inmates have brought to light physical and mental torture, brainwashing, systematic rape, and sexual abuse inside the camps, which effectively serve as prisons.
As part of a 2018–2022 "sinicisation" plan, Chinese authorities also have been removing mosque domes, minarets and other symbols of Islamic architecture, and banning mosques from playing the adhan (call to prayer) on loudspeakers throughout the country.
China's broader campaign
China's efforts in Pakistan are part of Beijing's broader campaign to build global influence, according to global think-tanks.
"For decades, China has mostly focused on censoring its own citizens and on expelling foreign correspondents from mainland China," said a report by the Reuters Institute for the Study of Journalism published last November.
"Now the regime is also attempting to shape the information narratives internationally, especially in countries directly linked to larger infrastructure projects like the BRI," the report said.
"The Chinese regime has built a sophisticated strategy to portray the country's leadership in a good light. It has spent around [$]6.6 billion since 2009 in strengthening its global media presence," it said.
Over the past two years, China has put its international media network to work shaping public opinion on COVID-19, the war in Ukraine, and Chinese foreign policies and the country's image more broadly, according to GRID, a Washington-based digital media company.
"After the outbreak of the pandemic in Wuhan, Chinese media outlets around the world also played a prominent role as China sought to restore its global image, touting its response to the crisis," GRID said in a May report.
After the March 2021 release of a World Health Organisation report on COVID-19's origins, China made a concerted effort to spread false narratives, the report added.