ISLAMABAD -- Pakistani journalists say that the Chinese embassy in Pakistan and its consulates have offered to pay them to write propaganda regarding the upcoming 2022 Winter Olympics in Beijing.
The Beijing Olympics, which are set to kick off February 4 and continue through February 20, have been fraught with controversy amid China's continued oppression of its Uighur minority.
They also come amid growing anti-China sentiment in Pakistan over Beijing's treatment of Uighurs and other ethnic minority Muslim groups as well as Chinese companies' disrespect for Islam.
In 2020, a Chinese online retailer's sale of Muslim prayer mats as decorative rugs sparked outrage among consumers worldwide, including in Pakistan.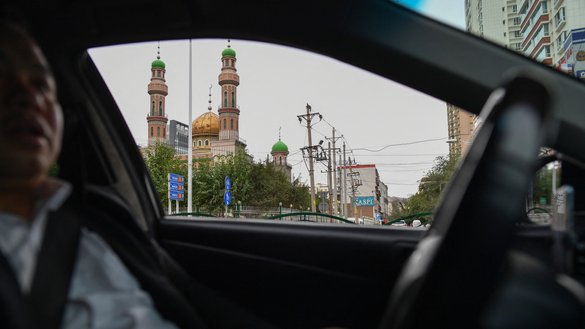 The Chinese embassy in Islamabad and its consulates have been attempting to convince journalists to write content to "refute Western, anti-China forces, NGOs and media that have politicised and stigmatised... the Winter Olympics", according to an email sent to journalists and seen by Pakistan Forward.
The embassy sent the email earlier this month.
The Chinese missions also urged Pakistani journalists to demonise the World Uyghur Congress (WUC) and other Uighur organisations and to portray their accusations against Beijing as false and baseless.
The WUC is a Munich-based global body of exiled Uighurs that campaigns against Beijing's policy of totalitarianism, religious intolerance, terrorism and oppression of the Uighur Muslim population in Xinjiang.
'Against journalism ethics'
"Chinese diplomatic officials have offered journalists and editors a handsome amount of money for publishing a series of articles and news items in favour of the Olympic Games before their start," the editor of an Urdu daily in Islamabad said on the condition of anonymity.
"But Pakistani journalists mostly refused to publish such stories because it is not only against journalism ethics but also basic human rights," he said.
Pakistanis are well aware of Beijing's persecution of the Uighurs and other human rights abuses, thanks to the work of international rights organisations such as Human Rights Watch (HRW) and Amnesty International, he added.
Beijing has been facing mounting pressure over its "horrific and systematic abuses" of Muslim minorities over the past few years in the western autonomous region of Xinjiang.
China has placed more than a million Muslims, including Uighurs and ethnic Kazakhs and Kyrgyz, in indoctrination camps.
Independent investigations and interviews with former camp inmates have brought to light physical and mental torture, brainwashing, systematic rape, and sexual abuse inside the camps, which effectively serve as prisons.
As part of a 2018–2022 "sinicisation" plan, Chinese Communist Party (CCP) authorities also have been removing mosque domes, minarets and other symbols of Islamic architecture and banning mosques from playing the adhan (call to prayer) on loudspeakers.
Global boycott
International governments and global organisations have sought to boycott the 2022 Winter Olympics in Beijing.
The Global Imams Council on December 23 called on Muslims around the world to refrain from participating in or attending the winter games.
The event "directly serves the interests of the tyrannical and despotic regime responsible for the genocide and ethnic cleansing of the Uighurs", the Muslim religious leaders said in a statement.
"The Chinese government continues to violate Chinese Muslims' basic human and fundamental rights through oppression, torture and dictatorship," it said.
"We stand in support of, and united with, the oppressed Uighur Muslims."
The Global Imams Council is the world's first and largest transnational non-governmental body of Muslim faith leaders from all Islamic denominations and schools of thought, according to its website. It is based in Baghdad.
The council's move came after the United States, United Kingdom and Australia last year announced a diplomatic boycott of the Beijing Olympics.
The global boycott -- mainly over China's mistreatment of Muslim minorities in Xinjiang -- has worried the CCP leadership, said Shabbir Farooqi, an editor at a religious magazine in Karachi.
"It is the reason why Chinese diplomatic missions are spending huge money to run a false propaganda campaign in favour of the Olympics and to hide its [Beijing's] suppression of Muslim minorities in Xinjiang," Farooqi said.
In Pakistan, the number of articles and editorials in Islamic journals criticising the Chinese regime has grown in recent years, especially among religious circles.
A study conducted in late 2020 by the Pakistani government on the Uighur issue found that ill treatment of Muslims in China has immensely impacted religious opinion in Pakistan, according to a WION report.
The study reviewed several Islamic journals, including Tarjuman-ul-Quran, Al-Aitisam, Uswah Hasana, Ishraq, Ahl-e-Hadith, Mohaddis, Peyam, and Al Burhan, published by the country's leading seminaries and religious parties and found "growing discontentment" with the Chinese regime, the report said.
Discussing Xinjiang in the context of the suppression of Muslims globally has been a common pattern in religious magazines in Pakistan, it said.