Twenty-eight former prisoners of Chinese indoctrination camps in Xinjiang have come forward and shed light on the type of abuse, deprivation, and routine humiliation that Muslims have been subjected to inside these secretive camps.
In the past few years, Beijing has forced more than a million Muslims, including ethnic Kazakhs and Kyrgyz, into camps where "horrific and systematic abuses" occur, including torture and forced sterilisation of women.
A two-part investigation conducted by BuzzFeed and published on August 27 offers extensive insights into what detainees experienced.
One of the interviewees was Nursaule, an ethnic Kazakh woman in her 60s who lived in Tacheng city.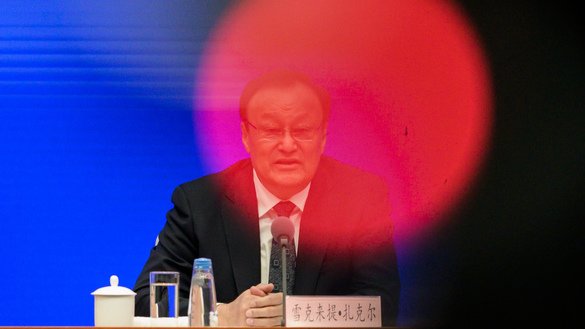 One day a knock came at her door, and Nursaule opened it to find a woman flanked by two uniformed policemen. They told her that they were taking her away for a "medical checkup".
Nursaule first underwent a series of blood tests at a clinic. Officials then made her sign some documents she could not understand and took her fingerprints. After she waited for hours without food or water, a Chinese police officer told her she would be taken to "get some education".
'Treated us like livestock'
Chinese police took her to one of the infamous high-security camps, where, flanked by armed guards and attack dogs, she had to remove her clothes in front of dozens of other male and female detainees and put on a camp uniform.
"We lined up and took off our clothes to put on blue uniforms. There were men and women together in the same room," said 48-year-old Parida, an ethnic Kazakh pharmacist who was detained in February 2018. "They treated us like livestock. I wanted to cry. I was ashamed, you know, to take off my clothes in front of others."
The Chinese then cut her hair very short.
"I wanted to keep my hair," said Nursaule. "Keeping long hair, for a Kazakh woman, is very important. I had grown it since I was a little girl; I had never cut it in my life. Hair is the beauty of a woman."
"Periodically, the detainees were subject to interrogations, where they'd have to repeat again and again the stories of their supposed transgressions — religious practices, foreign travel, and online activities," the investigation reported. "These sessions were carefully documented by interrogators, they said. And they often resulted in detainees writing 'self-criticism'. Those who could not read and write were given a document to sign."
Surveillance was not limited to cameras and guards. At night, the detainees themselves were forced to stand watch in shifts over other inmates in their own rooms. If anyone in the room acted up -- arguing with each other, for example, or speaking Uighur or Kazakh instead of Chinese -- those on watch risked punishment as well. Usually they were beaten, or, as happened more often to women, put into solitary confinement.
Alone and shackled for days
Nursaule said she was never beaten, but one day she quarreled with another prisoner, and guards put a sack over her head and took her to the solitary room.
For three days she was left alone in a small room with no windows or lights, with only a metal chair and a bucket. Her ankles were shackled together.
Nearly every former detainee who spoke to BuzzFeed News described being moved from camp to camp and noted that people always seemed to be coming and going from the confinement buildings.
Among them was Dina Nurdybai, a 27-year-old Kazakh woman who ran a successful clothing manufacturing business. After being detained on October 14, 2017, Nurdybai was moved among five different camps.
In the first camp, "it seemed like 50 new people were coming in every night. You could hear the shackles on their legs," she said.
A year after her arrest, Nursaule was finally released. The Chinese asked her if she wanted to go to Kazakhstan, and she said yes. Officials forced her to sign a number of papers in which she promised never to tell anyone what she had experienced.
She lived under house arrest in China until she left for Kazakhstan for good.
Read more about the experiences of detainees in Chinese indoctrination camps on BuzzFeed's website.