BEIJING -- A recent investigation has revealed the grim details of China's targeting of Muslim women in a campaign of forced contraception and sterilisation as part of ongoing efforts to suppress births in the Xinjiang region.
Interviews with Uighurs, Kazakhs and other Muslim women and men from Xinjiang, and a review of government statistics and local media, reveal a "coercive effort" by the Chinese regime to control the community's reproductive rights, The New York Times reported May 10.
One ethnic Uzbek woman described how she pleaded to be exempted when the Chinese government ordered women in Xinjiang to be fitted with intrauterine contraceptive devices (IUDs) in 2017.
Qelbinur Sedik, then nearly 50, said she had obeyed the government's birth limits and had only one child.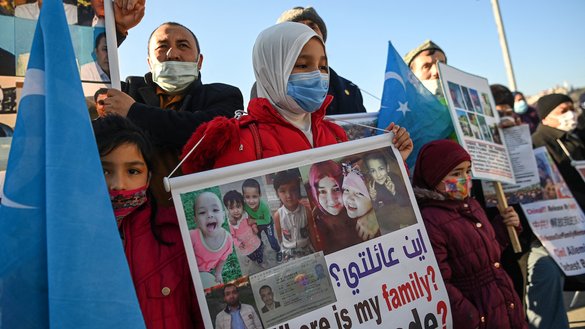 But it was no use. Workers threatened to take her to the police if she refused to comply.
"I felt like I was no longer a normal woman," Sedik said, describing how she wept as a government doctor, using a metal speculum, inserted an IUD to prevent pregnancy.
The IUD caused pain and heavy bleeding, and in 2019 she decided to be sterilised.
"The government had become so strict, and I could no longer take the IUD," she said from the Netherlands, where she settled after fleeing China in 2019. "I lost all hope in myself."
Other women have described being forced to abort pregnancies, to pay steep fines if they had too many children or refused contraceptive procedures, and to take drugs that stopped their menstrual cycles.
Last year, a community worker in Urumqi, the regional capital, ordered all women between 18 and 59 to submit to pregnancy and birth control inspections.
"If you fight with us at the door and if you refuse to co-operate with us, you will be taken to the police station," the worker wrote, according to screenshots of the WeChat messages that Sedik shared with The New York Times.
"Do not gamble with your life," one message read, "don't even try."
Beijing has imprisoned more than one million Uighurs and other Turkic Muslims in as many as 400 facilities that include "political education" camps, pretrial detention centres and prisons.
Millions more live under a harsh system of surveillance and controls.
Torture, gang-rape, beatings
Sterilisation rates in Xinjiang surged by almost sixfold from 2015 to 2018, to more than 60,000 procedures, even as they plummeted around the rest of China, according to German researcher Adrian Zenz.
"The women of Xinjiang are in danger," Gulnar Omirzakh told The New York Times in a telephone interview from Kazakhstan, where she fled after authorities threatened her and her two daughters with detention.
In 2015, when she had her third child, officials in her northern village recorded the birth. Three years later they fined her the equivalent of $2,700 for the violating birth limit.
She borrowed the money from relatives and then fled the country.
"The government wants to replace our people," she said.
The threat of detention is real.
A government notice from a county in Ili Prefecture, Xinjiang, advised that women who refused to terminate illegal pregnancies or pay fines would be referred to the internment camps, Zenz's research revealed.
"Horrific and systematic abuses" occur in the camps, and life becomes unbearable for some, according to first-hand and witness testimonies.
Former detainees and a guard earlier this year told the BBC that Muslim women in the camps suffer systematic rape, torture and sexual abuse.
They described torture by electric shock, including rape by guards using electrified sticks, food deprivation, beatings, gang rape and forced sterilisation.
"You become their toy," said Tursunay Ziawudun, who spent 10 months in a camp in Ili Prefecture for traveling to Kazakhstan.
On three occasions, she was taken to a dark cell where two or three masked men raped her and used electric batons to forcibly penetrate her, she told The New York Times in a telephone interview from the United States where she now lives.
"You just want to die at the time, but unfortunately you don't," she said.
The Chinese government has denied all allegations of abuse in the facilities, which Beijing defends as "vocational training centres" aimed at stamping out terrorism and improving employment opportunities.
"The sexual assault and torture cannot exist," Xu Guixiang, a Xinjiang government spokesman, said at a news briefing in February.
At the UN in February, Chinese Foreign Minister Wang Yi called China's treatment of ethnic minorities in Xinjiang a "shining example" of the country's human rights progress.
Calls on China to end 'genocide'
Officials from the United States, Britain and Germany in a video conference Wednesday (May 12) called on China to end its repression of the Uighur minority.
"In Xinjiang, people are being tortured. Women are being forcibly sterilised," US Ambassador to the United Nations (UN) Linda Thomas-Greenfield said during the conference, which was co-sponsored with Human Rights Watch and featured testimony from Uighurs.
"We will keep standing up and speaking out until China's government stops its crimes against humanity and the genocide of Uighurs and other minorities in Xinjiang," she said.
UK Ambassador Barbara Woodward called on China to allow the UN high commissioner for human rights [HCHR] "immediate, meaningful and unfettered access" to Xinjiang.
"There is evidence of mass arbitrary detention, enforced disappearances and incidences of torture," she said. "There are further reports of widespread forced labour and sterilisation."
"Over a million Muslims have been held in extrajudicial detention in internment camps since late 2017," she said in video remarks posted on Twitter.
"We appeal on China to respect the Universal Declaration of Human Rights and tear down the detention camps," German Ambassador Christoph Heusgen added.
"If you have nothing to hide, why don't you finally grant unimpeded access to the HCHR?" he asked of China.
"The current situation in Xinjiang is at its best in history," the Chinese delegation insisted in a statement.