In further evidence of China's rapid escalation of its campaign against Muslim minorities, a BuzzFeed News investigation revealed that the communist state has built more than 100 new detention facilities in Xinjiang.
The investigation, which was published at the end of December, is part four of a series supported by the Eyebeam Centre for the Future of Journalism, the Pulitzer Centre and the Open Technology Fund.
BuzzFeed News based its findings on government records, interviews and hundreds of satellite images, in which the factory buildings can be seen, distinguished by brightly coloured metal roofs.
In August, the investigation uncovered hundreds of compounds in the Xinjiang region bearing the hallmarks of prisons or detention camps, many of which had been built over the past three years.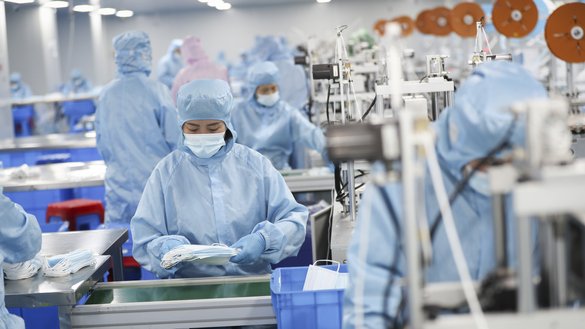 Rights groups estimate one million Uighurs, Kazakhs and other Turkic minorities languish in detention camps in Xinjiang in prison-like conditions.
The Chinese regime insists they are "vocational training centres", but activists say inmates face torture and forced labour, AFP reported.
A new analysis shows at least 135 compounds also hold factory buildings, BuzzFeed News said. According to researchers and former detainees, "forced labour on a vast scale is almost certainly taking place inside facilities like these".
The analysis reveals factory facilities in or near detention camps "are growing in a way that mirrors the rapid expansion of the mass detention campaign".
Human rights violations
Various countries and organisations, including the United States, European Union and United Nations (UN), have criticised China's policies in Xinjiang, most recently highlighting alleged forced labour practices involving Uighur Muslims.
They have spotlighted alleged abuses inside the textile supply chain in particular, where cotton harvested in Xinjiang by forced or cheap labour is used to make cheap garments for the international market.
The US State Department on December 21 announced additional restrictions on the issuance of visas for Chinese officials who are believed to be responsible for, or complicit in, repressive policies or actions against minority groups and others.
The action "demonstrates the US government's resolve to hold the Chinese Communist Party (CCP) accountable for its increasing repression against the Chinese people", US Secretary of State Mike Pompeo said in a statement.
In 2020, he said, the United States "imposed visa restrictions and financial sanctions on CCP officials involved in the horrific abuses taking place in Xinjiang, restrictions on access to Tibet, and the destruction of Hong Kong's promised autonomy".
On September 9, a global coalition of 321 civil society groups from more than 60 countries urged the UN to "urgently create an independent international mechanism to address the Chinese government's human rights violations".
The signatories stressed the need to address rampant human rights violations across China, including in Xinjiang, as well as highlighting the impact of Chinese rights violations worldwide, according to Human Rights Watch.
Yet Chinese oppression of minorities continues. On December 31, Beijing confirmed that a Uighur Muslim doctor had been jailed on terrorism charges.
Gulshan Abbas vanished into detention two years ago, but her relatives told a US congressional committee December 30 that the 58-year-old had been sentenced to 20 years in prison because of activism on behalf of Uighurs.
A front for forced labour
Forced labour is so widespread in Xinjiang, labour rights advocates and observers told BuzzFeed News, "that no company that manufactures there could conclude that its supply chain is free from it".
"The Chinese government in Xinjiang surveils people so thoroughly and monitors interviews so closely that it is nearly impossible to independently assess if any one factory relies on forced labour," the media outlet said in its report.
Economic programmes designed to move Chinese out of poverty by moving rural farm workers into factory jobs "effectively give cover for the government to conceal why a person might be working far from their home", it said.
But when factories are located inside internment compounds,"it beggars belief to claim workers are there willingly".
Many Chinese factories are situated inside or next to the detention camps, the investigation found, with US-based nonprofit research institute C4ADS identifying 1,500 such companies.
Under the Chinese government's anti-poverty campaign, impoverished ethnic minorities are moved to areas that have jobs, but researchers said these so-called "labour transfers" can be a front for forced labour.
While most economies have taken major hits amid the coronavirus outbreak, China is now set to become the largest global economy by 2028, five years earlier than previously forecasted, according to the United Kingdom-based Centre for Economics and Business Research (CEBR).
China's share of the global market has increasingly become larger through its tech industry and the sale of personal protective equipment (PPE).
To profit off the pandemic, China launched a huge effort to produce PPE to meet shortages. More than 73,000 companies registered as mask makers in the first half of the year -- including more than 36,000 new companies in April alone -- as prices and demand soared.
As part of this effort, Chinese authorities forced Muslim minorities in the Xinjiang region to work in PPE factories, according to a video report by The New York Times, which cited evidence found in hundreds of videos, photos and government documents.
Detention and indoctrination
Refusing work assignments under the government's labour transfer programme is "extremely difficult", the Australian Strategic Policy Institute, which has documented human rights abuses in Xinjiang, told BuzzFeed News.
This is because they "are enmeshed with the apparatus of detention and political indoctrination", it said.
Programme participants are subject to strict controls and constant surveillance and live in fear of being sent to camps or otherwise punished if they do not comply, according to former detainees and Chinese language media.
After work, they must participate in "patriotic education", which includes being forced to study Chinese and publicly praise the CCP.
In a September report, the Chinese government said the average "relocation of surplus labour" per year topped 2.76 million people.
Workers are provided employment in textile factories, food processing plants and slaughterhouses and agricultural jobs such as cotton farming.
While it is not clear how many workers in these programmes are being forced to work, underpaid or otherwise mistreated, the BuzzFeed News investigation found that the number is large and growing.
The US Department of Labour estimated that 100,000 Uighurs and other ethnic minorities are working in forced labour, while the US-based Centre for Strategic and International Studies said that forced labour was occurring "potentially at a significant scale".