BEIJING -- Muslims in the Xinjiang region of China are being arbitrarily selected for detention by a computer programme that flags "suspicious" behaviour, activists said Wednesday (December 9), in a report detailing Beijing's use of technology in its repression.
The US-based NGO Human Rights Watch (HRW) said it received leaked police data that lists more than 2,000 detainees from the Aksu prefecture.
The Integrated Joint Operations Platform (IJOP) apparently flagged the people on the list, whom officials then evaluated and sent to "political education" camps in Xinjiang.
"The Aksu List provides further insights into how China's brutal repression of Xinjiang's Turkic Muslims is being turbocharged by technology," said Maya Wang, senior China researcher at HRW.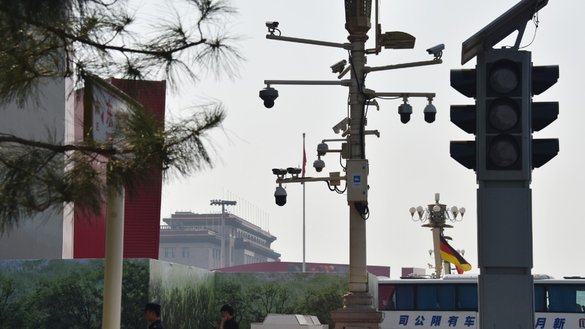 Beijing has come under intense international criticism over its policies in the resource-rich territory, where rights groups say more than one million Uighurs and other mostly Muslim minorities have been held in internment camps.
China defends the camps as vocational training centres aimed at stamping out terrorism and improving employment opportunities.
Surveillance spending in Xinjiang has ballooned in recent years, with facial recognition, iris scanners, DNA collection and artificial intelligence deployed across the province in the name of preventing terrorism.
'Suspicious' behaviour
HRW said it had obtained the list -- which detailed detentions from mid-2016 to late 2018 -- from an anonymous source that had previously provided audiovisual content taken from inside a facility in Aksu.
The list appeared to be created by identifying individuals who had talked to or were related to someone deemed "suspicious".
Local authorities determined whom to detain by tracking behaviours such as phoning a relative overseas, reading a Koran without state permission or using "suspicious" smartphone applications including Skype.
Other behaviours listed as reasons for detention include "being generally untrustworthy", "being young; that is born after the 1980s", having "unstable thoughts" or "having improper [sexual] relations".
In one case, a man was detained for not paying rent on his land, HRW said.
Travelling internationally to "sensitive" countries, including Afghanistan, Kyrgyzstan, Turkey and Saudi Arabia, including for Hajj, was also grounds for possible detention.
HRW said its information suggests the "vast majority" were flagged to authorities for legal behaviour, including making phone calls to relatives abroad, having no fixed address or switching off their phone repeatedly.
Only about 10% of those on the list were detained for the reasons of terrorism or extremism.
The list, parts of which were shown to AFP, described the reason for detention of many of the individuals as simply being "flagged" by the IJOP.
The rights group has not published the full contents of the list, citing safety concerns for the source of the leak.
Aksu's Public Security Bureau and Xinjiang regional authorities have not responded to reporters' requests for comment.
Surveillance spreads
HRW gave an example of a "Ms. T" -- detained for "links with sensitive countries" -- who was listed as having received a number of calls from a foreign number which belonged to her sister.
Researchers at the NGO spoke to the woman and learned that police had interrogated her sister in Xinjiang but that she has had no direct contact with her family in the province since.
She said she heard from an intermediary that Ms. T -- presumably upon her release from a political education camp -- is now working in a factory five days a week and allowed to go home only on weekends, HRW reported.
Ms. T is being forced to work in a factory against her will, said her sister.
As a result of the coronavirus pandemic, Chinese authorities have forced Muslim minorities in the Xinjiang region to work in personal protective equipment (PPE) factories, according to The New York Times, which cited evidence found in hundreds of videos, photos and government documents.
Uighurs and other Muslims in Xinjiang are also forced to harvest and work in factories processing cotton, rights groups say.
US Customs and Border Protection on December 2 announced it will block imports of cotton from the Xinjiang region that it says are harvested with "slave labour".
Separately, US-based surveillance research firm IPVM said in a report Tuesday (December 8) that Chinese telecoms giant Huawei had been involved in testing facial recognition software that could send alerts to police when it recognised Uighur minorities' faces.
An internal Huawei report cited by IPVM -- which has been removed from the company's website but is still visible in Google searches -- showed the software as passing tests for "Uighur alerts" and "recognition based on age, sex, ethnicity, angle of facial images".
Huawei did not immediately reply to AFP's request for comment.
Genocide in Xinjiang
Beijing for years has undertaken a systematic campaign to root out Islamic culture, destroy mosques, indoctrinate Muslims with Communist propaganda and forcibly sterilise women, independent observers and researchers say.
The United States on November 6 announced that it had removed the East Turkestan Islamic Movement (ETIM) from its list of "terrorist organisations".
The Chinese regime regularly blames ETIM to justify its harsh crackdown of Muslim minorities in the Xinjiang region.
"For more than a decade, there has been no credible evidence that ETIM continues to exist," a US State Department spokesperson said.
US officials in October classified Beijing's actions in Xinjiang as "genocide".
The Chinese campaign "against Uighurs, ethnic Kazakhs, Kyrgyz and members of other Muslim minority groups in the Xinjiang Uighur Autonomous Region constitutes genocide", US senators from across the political spectrum said in a resolution October 27.
"China's assault on Uighurs and other Muslim minority groups -- escalating surveillance, imprisonment, torture and forced 're-education camps' -- is genocide, pure and simple," said Senator Jeff Merkley, a Democrat.
In September, an investigative report out of Australia detailed how Chinese authorities have destroyed almost 16,000 mosques in Xinjiang in recent years as part of their efforts to root out Islamic culture from the Communist Party-run nation.
Beijing has forcibly sterilised large numbers of Uighur women and pressured them to abort pregnancies that exceed birth quotas, a data-driven study by German researcher Adrian Zenz found.