LONDON -- A panel of nine UK-based lawyers and human rights experts have started hearing evidence from witnesses as part of an independent investigation into whether China is guilty of genocide in its treatment of Uighurs and other Muslim minorities in the Xinjiang region.
The "Uyghur Tribunal" is holding two hearings -- June 4-7 and September 10-13 -- ahead of the intended publication of a report in December. The hearings are open to the public and streamed live on the tribunal's YouTube and Twitter channels.
"Allegations made against the PRC [People's Republic of China] are grave," tribunal chair Geoffrey Nice said Friday (June 4) at the opening of the first four-day session, adding that they included numerous breaches of the UN Declaration of Human Rights.
Beijing has imprisoned more than one million Uighurs and other Turkic Muslims -- including ethnic Kazakhs -- in as many as 400 facilities that China calls "vocational training centres" or "re-education centres".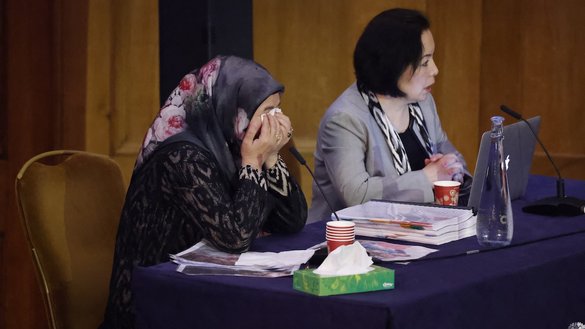 These facilities, however, are widely reported to be involuntary detention centres that some have likened to "concentration camps".
The allegations against China include "killings, serious bodily or mental harm including torture, rape and other sexual violence, enslavement, forced separation of children from their parents, forced sterilisation, forcible transfer or deportation, apartheid, forced labour, forced organ harvesting, enforced disappearances, destruction of cultural or religious heritage, persecution, forced marriages and the imposition of Han Chinese men into Uighur households", according to a description on the tribunal's website.
"If proved, some of these allegations could lead to the conclusion that the PRC has embarked on a campaign intended to destroy, in whole or in part, the Uighur people and their existence as a religious, racial, national and ethnic group," it said.
The tribunal is not affiliated with any government, and China has refused to participate, branding it a "machine producing lies". Beijing has slapped sanctions on Nice, a former UN war crimes prosecutor, and others involved.
However, lawyers for the tribunal said the US and Australian governments had offered to provide relevant material, complementing thousands of pages of documentary evidence already compiled.
The tribunal was set up in September 2020 at the request of the World Uyghur Congress, the largest group representing exiled Uighurs, which lobbies the international community to take action against China over alleged abuses in Xinjiang.
Nice and his colleagues have vowed that the panel's work will be "impartial" and led by evidence.
Heart-rending testimony
In the opening days, the panel heard heart-rending witness testimony of torture and gang rapes. Witnesses described squalid conditions and brutality in Xinjiang's camps, with one claiming a woman had died after undergoing forced sterilisation.
The situation in Xinjiang has special resonance in Central Asia. The Central Asian peoples have millions of ethnic compatriots in Xinjiang, as well as relatives. Kazakhstan, Kyrgyzstan and Tajikistan all border China.
Kazakhs have been demonstrating daily outside the Chinese consulate in Almaty for more than three months, demanding that Beijing free relatives and friends detained as part of China's crackdown on Muslims in Xinjiang.
Qelbinur Sidik, an ethnic Uzbek teacher from Urumqi, the capital of Xinjiang, said she was ordered by Communist Party bosses to teach Chinese in two fetid and crowded "re-education" camps -- one male and one female -- for Uighurs.
The so-called students were made to wear shackles during hours-long classes, she told the tribunal on Friday.
"The police, the guards in the camp, they didn't see the male prisoners as human beings," Sidik said. "They enjoyed watching them being humiliated, and their suffering was for them their joy."
Female prisoners were abused when they were taken for interrogation, she said. "They were not only tortured but also raped, sometimes gang-raped."
Forced sterilisation of Uighur women was common, and in one instance, a female prisoner died from the process, she added.
Sidik said she was subjected to forced sterilisation before she received a visa to visit her daughter in the Netherlands and fled China.
"The things that I have witnessed and I experienced, I cannot forget even for a day," she said. "I am a woman myself; I have a daughter. I don't wish anyone to suffer like that."
The tribunal also heard from Omir Bekali, a Kazakh national with Uighur heritage, whom police arrested when he was visiting family in Xinjiang.
At one point in his testimony he put on chains to show the panel how he had been held in a camp for over seven months.
"For the first four days and nights, I was tortured intensely," he said.
"I was hung from the ceiling," Bekali explained, adding that he was beaten all over his body and on the soles of his feet.
He said his father had been killed and his brother left disabled following torture. "My father died, and my sister and brother were branded terrorists," he told the tribunal.
Dolkun Isa, president of the World Uyghur Congress, who obtained asylum in Germany, addressed the panel.
"Because of my activities abroad, my whole family have faced monitoring and harassment," he said.
"I have no idea how many of my family members are in concentration camps or detention and how many are alive."
Beijing denies mounting evidence
The allegations heard at the tribunal are consistent with many other accounts emanating from the camps.
China has arrested over 1,000 imams and religious figures as part of its crackdown against Muslims in Xinjiang, the Uyghur Human Rights Project (UHRP) said in a report published May 13.
The UHRP report adds to a litany of evidence supporting allegations that Beijing is attempting to wipe out Muslim culture and religion and to assimilate ethnic minorities into the majority Han Chinese culture.
Chinese authorities have destroyed or damaged about 16,000 mosques in Xinjiang, the Australian Strategic Policy Institute (ASPI) reported last September, using satellite imagery and statistical modelling.
Most of the destruction took place in the past three years and an estimated 8,500 mosques were destroyed, the report said.
An AFP investigation in 2019 found dozens of cemeteries had been destroyed in the region, leaving human remains and bricks from broken tombs scattered across the land.
Interviews with Uighurs, Kazakhs and other Muslim women and men from Xinjiang, and a review of government statistics and local media, reveal a "coercive effort" by the Chinese regime to control the community's reproductive rights, The New York Times reported May 10.
The US government has declared that a genocide is under way in Xinjiang, and on May 12 officials from the United States, Britain and Germany jointly called on China to end its repression of the Uighur minority and to allow the UN High Commissioner for Human Rights (HCHR) access to the region.
China denies the accusations and has slammed the tribunal as a mendacious smear.
"The current situation in Xinjiang is at its best in history," the Chinese delegation to the United Nations said last month.
"This pseudo tribunal has nothing to do with the law," Chinese Foreign Ministry spokesman Wang Wenbin said last Thursday, accusing it of "anti-China politics".