WASHINGTON -- Beijing's recent attempts to throw water on the increasingly hot issue of Uighur rights in Xinjiang have only stoked further international condemnation of Chinese oppression of Muslims.
China's embassy in the United States took to social media last week to laud how women of the mostly Muslim Uighur community were no longer "baby-making machines" thanks to the eradication of extremism in the region.
The embassy tweeted a link to a January 7 article by state mouthpiece China Daily that cited an unpublished report on population change in Xinjiang since 2018 by the Xinjiang Development Research Centre.
Residents of Xinjiang resisted family planning because of their religious extremism, and the eradication of such extremism gave Uighur women more autonomy when deciding whether to have children, said the report.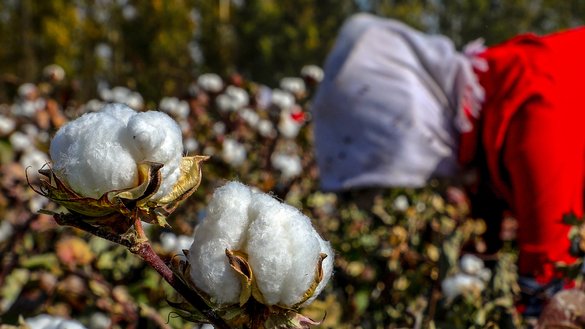 "The minds of [Uighur] women in Xinjiang were emancipated and gender equality and reproductive health were promoted, making them no longer baby-making machines," the embassy tweeted from the study.
"The changes were not caused by 'forced sterilisation' of the Uighur population, as repeatedly claimed by some western scholars and politicians," it said, denouncing German researcher Adrian Zenz by name.
The Chinese regime forcibly sterilised large numbers of Uighur women and pressured them to abort pregnancies that exceeded birth quotas, according to a studio published by Zenz last year.
"Safe, effective and appropriate contraceptive measures are now available to couples of childbearing age in Xinjiang, and their personal decisions on whether to use those measures -- which include tubal ligation and the insertion of intrauterine devices -- are fully respected," China Daily reported, citing the research centre's report.
"As a result, the birth rate in Xinjiang decreased from 1.6% in 2017 to 1% in 2018 and the natural population growth rate fell from 1.1% to 0.6%," the newspaper reported.
Between 2010 and 2017, the Uighur population grew by more than 25%, while the population of Han (ethnic Chinese) in the region grew by just 2% over the same period, it said.
'Coercive population control'
US lawmakers have pointed to population control in the Xinjiang region as they push for a declaration that Chinese policies meet the definition of genocide.
Twitter removed the embassy's initial post, saying it "violated the Twitter rules", without elaborating.
The Council on American-Islamic Relations, an advocacy group, had urged Twitter to remove the tweet, which it said used the platform "to celebrate crimes against humanity".
The embassy later reposted the same story, linking to the state-owned Xinhua news agency, which used a more benign headline: "Study explains population change in Xinjiang".
"In recent years, young people in Xinjiang have discarded backward and outdated thoughts on partner selection and procreation, and an increasing number of youths belonging to ethnic minorities chose to spend more time and energy on personal development," Xinhua reported, citing the study.
A US official expressed disgust at the embassy's "lies" and the report's appalling assertions.
"Coercive population control is not reproductive health care," tweeted Sam Brownback, the US envoy on international religious freedom. "[Uighur] women deserve to enjoy their religious freedom and unalienable rights with dignity to make their own choices."
Attempts to whitewash abuse
The Chinese embassy tweets are likely an attempt to change the narrative on Beijing's treatment of Uighurs and other Muslim minorities in Xinjiang.
In the past few years, Beijing has forced more than a million Muslims, including ethnic Kazakhs and Kyrgyz, into camps where "horrific and systematic abuses" occur.
A BuzzFeed News investigation published in August shed light on the type of abuse, deprivation and routine humiliation that Muslims have been subjected to inside these secretive camps.
The communist state has built more than 100 new detention facilities in Xinjiang, another BuzzFeed investigation published in December revealed.
Beijing defends the camps as "vocational training centres" aimed at stamping out terrorism and improving employment opportunities, but activists say inmates face torture and forced labour.
Forced labour is so widespread in Xinjiang, labour rights advocates and observers told BuzzFeed News, "that no company that manufactures there could conclude that its supply chain is free from it".
"The Chinese government in Xinjiang surveils people so thoroughly and monitors interviews so closely that it is nearly impossible to independently assess if any one factory relies on forced labour," the media outlet said in its report.
'Slave labour'
As a result of the coronavirus pandemic, Chinese authorities have forced Muslim minorities in the Xinjiang region to work in personal protective equipment factories, The New York Times reported in July, citing evidence found in hundreds of videos, photos and government documents.
Uighurs and other Muslims in Xinjiang are also forced to harvest and work in factories processing cotton, rights groups say.
US Customs and Border Protection on December 2 announced it will block imports of cotton from the Xinjiang region that it says are harvested with "slave labour".
Britain Tuesday (January 12) accused the Chinese regime of human rights violations amounting to "barbarism" against the Uighurs, as it announced new rules to ban imports of goods suspected of coming from forced labour.
The abuses were "on an industrial scale", said Foreign Secretary Dominic Raab.
"It is truly horrific barbarism we had hoped lost to another era, in practice today as we speak, in one of the leading members of the international community," he told parliament.
"We have a moral duty to respond."
Raab outlined plans to bar British companies that inadvertently or deliberately profit from, or contribute to, human rights violations against the Uighurs in Xinjiang.
The measures included a strengthening of the United Kingdom's Modern Slavery Act to introduce fines for businesses not complying with transparency rules, extending the act to the public sector and conducting an "urgent review" of export controls around Xinjiang.
British supermarket chain Marks and Spencer January 6 vowed not to use cotton from the Xinjiang region in its clothes in response to Chinese treatment of Uighurs.
Two years ago, US firm Badger Sportswear announced it would stop sourcing clothing from the Chinese apparel company Hetian Taida, over concerns it was using forced labour from internment camps in Xinjiang.
Meanwhile last month, French footballer Antoine Griezmann announced that he would "immediately terminate [his] partnership" with telecom giant Huawei, citing "strong suspicions" that it was involved in the Chinese authorities' surveillance of the Uighur minority.
Several reports in recent weeks have brought to light how authorities are using technology, including face recognition software, to track, monitor and detain predominantly Muslim minority groups in Xinjiang.
Alibaba, Huawei and other Chinese firms are attempting to distance themselves from Beijing's oppression of Uighurs and other Muslim minorities -- but the evidence of complicity is damning.