ISLAMABAD -- Pakistani religious leaders and media are amplifying their criticism of the Chinese government's brutal treatment and suppression of Uighurs in the western autonomous region of Xinjiang.
Beijing has been facing mounting pressure over its "horrific and systematic abuses" of Muslim minorities over the past few years.
China has placed more than a million Muslims, including Uighurs and ethnic Kazakhs and Kyrgyz, into indoctrination camps.
Abuses include forcibly sterilising women, a group of exiled Uighurs charge.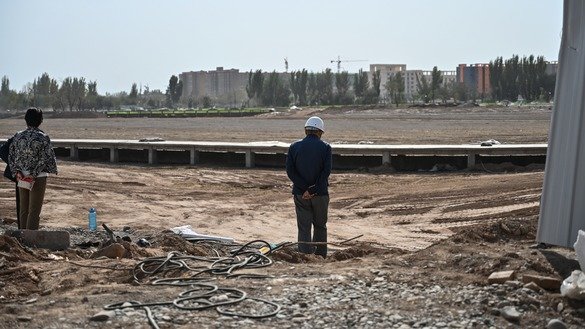 Beijing, for its part, says the facilities in the Xinjiang region, which is near the norther border of Pakistan, are job training centres aimed at steering citizens away from terrorism.
But the evidence is overwhelming that China is carrying out a systematic campaign of abuse, and is attempting to erase the ethnic group's identity and culture and assimilate it into the Mandarin-speaking Han majority.
Exiled Uighurs on July 7 urged the International Criminal Court (ICC) to investigate the Chinese regime for genocide and crimes against humanity, filing a huge dossier of evidence with the The Hague-based court to back their case.
Religious scholars speak out
Friday sermons regularly slam the Chinese regime over its treatment of Uighurs and other Muslim minorities in Xinjiang, according to Pakistani religious scholars and analysts.
"In every prayer, Pakistani Islamic scholars condemn the atrocities against Muslims by the Chinese government," said Maulana Abdul Baqi, a religious scholar in Karachi.
He urged the Pakistani government and religious parties to launch large protests to press the Chinese regime to stop the suppression of his Muslim brethren in Xinjiang.
Farid Ahmed, a Karachi-based researcher who studies the content of Islamic journals in Pakistan, recently reviewed dozens of religious journals and found that the ill treatment of Uighur Muslims in Xinjiang has affected religious opinion in Pakistan.
"Discussing Xinjiang in the context of suppression of Muslims globally has been a common pattern in religious magazines," Ahmed said.
Many religious magazines in Pakistan recently have written several critical editorials on the Chinese government's policies towards Uighur Muslims, he said.
Citing some examples, Ahmed said that religious scholar Javed Ahmed Ghamidi, in an article in the January issue of Ishraq, an Islamic journal, gave an example of "persecution of Muslims in China" while discussing the right to citizenship and migration.
Al-Burhan, a monthly religious magazine in Pakistan, reported in three consecutive editions that Xinjiang has been operating as a "police state" with "every home, street and neighbourhood being a detention centre" and "every Uighur a suspect and presumed terrorist", Ahmed said.
Growing Chinese influence in Pakistan
China has inked deals with Pakistan for several multi-billion-dollar infrastructure projects in the country, including the construction of a deepwater port in Gwadar.
The exponential growth of Chinese influence in Balochistan Province -- with Chinese companies exploiting local resources without care or concern for the impact on locals -- is driving serious unrest in the province, say lawmakers and observers.
In the Saindak area of Balochistan, Chinese companies have extracted copper and gold deposits without any local, national or international supervision.
Contrary to national and international law, Chinese companies did not invest in education, health, or infrastructure in Chaghi District, local residents and political leaders have said.