PESHAWAR -- The spread of the coronavirus in Pakistan, which health authorities in part blame on neighbouring Iran, is curbing hospitals' ability to treat general ailments as they focus on treating patients infected with the disease and protecting health workers.
One such facility is the 1,750-bed Lady Reading Hospital in Peshawar, which has shut down health services for non-COVID-19 patients as more medical personnel become afflicted with the coronavirus.
"We have suspended elective services because of the spread of COVID-19 to staff members. More than 200 of our doctors, nurses and paramedics have contracted the virus," said Dr. Khalid Masud, director of the hospital.
The accident and emergency departments remain open, but individuals are avoiding treatment because of concerns they may contract the virus, he said.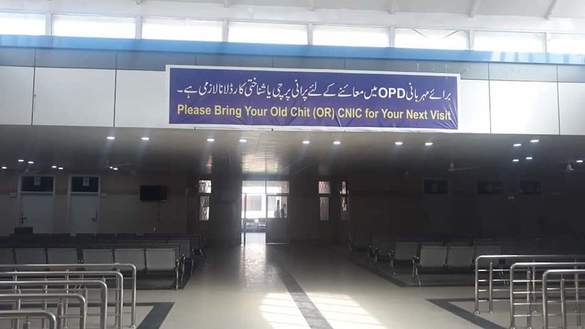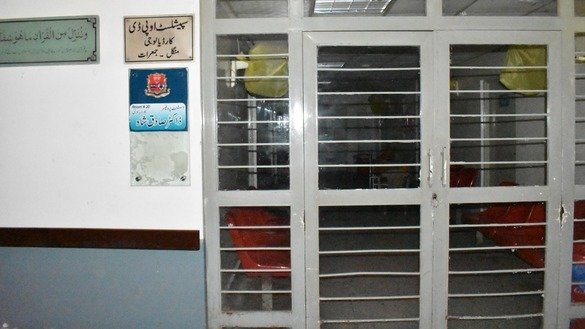 "Before the onset of COVID-19, we received 7,000 patients with common illnesses per day who received free diagnostic and treatment services for ear, nose and throat, eye, heart, diabetes, medical, surgical, orthopaedic and other procedures," Masud said. "But now, all [non-COVID-19] services have been stopped to safeguard staff from the infection."
The hospital has 3,500 employees, including 500 doctors who provide services in 27 specialties, but now they are dedicated to treating coronavirus patients, he said, adding that many staff members who are not working with those patients are having to stay home.
Phone consultations rise
Other hospitals are facing the same scenario.
Khyber Teaching Hospital (KTH) in Peshawar, with 30 wards and as many specialties, has been deserted since government announced on March 24 the suspension of all elective medical services.
Instead, doctors at the facility are holding consultations via telephone, according to Dr. Rizwan Kundi, president of the Khyber Pakhtunkhwa (KP) Young Doctors' Association (YDA).
While this service is less desirable than in-person physical examinations, the YDA has established telemedicine clinics at hospitals to facilitate patients and ensure social distancing during the lockdown, he said.
"We receive about 1,500 calls from patients every day, and our specialists prescribe them treatment," he added. "But for those requiring surgery and other treatments, those aren't possible without physical examinations."
Another medical facility, Hayatabad Medical Complex in Peshawar, also has been forced to stop general health services in order to ensure the safety of its medical teams.
"We have 1,578 health facilities where 47,000 employees served 1.3 million visitors per day, but the pandemic has forced the closure of all services because we don't want to expose our staff to the infection," said KP Deputy Director of Health Dr. Ihsan Ali.
Private hospitals and clinics have closed down their general health services because of COVID-19.
"We have been seeking treatment for a father who is diabetic, but there's no facility to visit," said Jawad Ali, a resident of Mardan. "He needs frequent tests to know his sugar level and get medicine accordingly."
Many chronically ill residents of his neighbourhood require urgent treatment, but the virus outbreak is playing havoc with the healthcare system, he said.
'Ticking time bombs'
The move by the government to curb hospitals' treatment of general ailments comes as the country faces burgeoning cases of COVID-19, an outbreak that health officials in part blame on the neighbouring Iranian regime.
Some 80% of Pakistan's earliest coronavirus infections originated from Iran, Dr. Zafar Mirza, the prime minister's special assistant on health, told the media on March 24.
Authorities have blamed the Iranian regime for not delivering accurate information to thousands of Pakistani pilgrims earlier this year regarding the outbreak of the coronavirus within the country.
The return of untested, infected Pakistani pilgrims from Iran seeded the outbreak in KP, said Ali, the KP deputy director of health.
It is a common knowledge that Tehran has mismanaged the COVID-19 situation, which has snowballed into a major public health issue not only for its own people but for Pakistan and other countries, he said.
The quarantine facility established in Dera Ismail [DI] Khan for returning pilgrims from Iran has received 6,500 returnees and found 4,600 of them to be infected, Dr. Abdullah Khan, who is in charge of the quarantine centre, said on May 5.
"These pilgrims had stayed earlier in quarantine centres in Taftan, near the Pakistan-Iran border. The facilities weren't up to the mark," he said.
Because Taftan was lacking the full complement of facilities, authorities moved some pilgrims to DI Khan to complete their quarantine there.
"The majority of the pilgrims went to their native areas in KP and other parts of the country and infected others unknowingly," he added.
"Those who escaped quarantine centres in Pakistan proved to be ticking time bombs for their own communities as they infected others," Khan said.
Iranian authorities did not allow pilgrims to buy medicines for fever, flu, cough and body aches in Iran; instead, the authorities bundled them into vehicles and sent them to the border, said Tariq Hussain, 55, one of the pilgrims whom Iran expelled.