PESHAWAR -- Pakistani health workers are raising concerns over the quality of the personal protective equipment (PPE) imported from China during the coronavirus pandemic.
On March 25, a Chinese plane delivered 450,000 face masks to Pakistan.
It is one of several deliveries of Chinese PPE that have reached Pakistan. Pakistan pays for some of the PPE, while China is donating the rest.
"More than 1,000 doctors, paramedics and nurses engaged in management of COVID-19 have tested positive for the virus because of bad PPE imported from China," said Dr. Umar Jawad, secretary of the Pakistan Medical Association.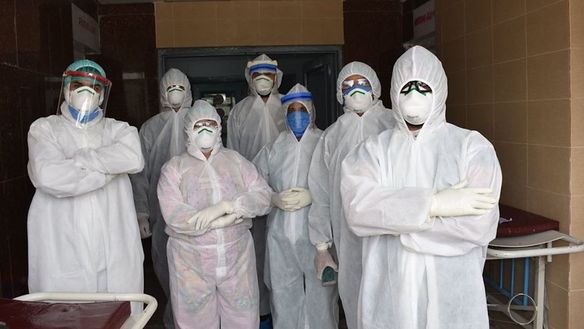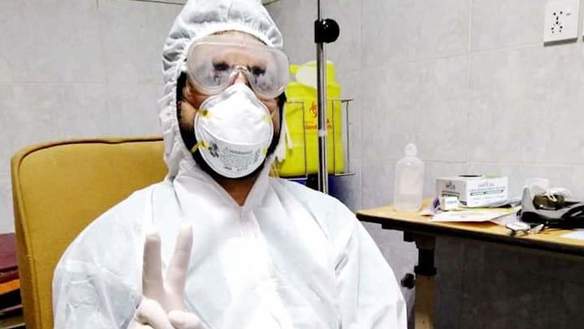 "Four doctors have passed away after they contracted infections from the patients at the hospitals during duty hours because of the substandard PPE they were using," he said.
In addition, "ventilators imported from China have not been able to ensure the best treatment in intensive-care units," he added.
The four doctors died between March 23 and April 25.
Those who died contracted the virus "while treating coronavirus-positive patients. All of them used PPE, but it was shoddy equipment supplied by China," said Dr. Jawad Khan, secretary of the Khyber Pakhtunkhwa (KP) chapter of the Pakistan Medical Association.
"We all know that China is notorious for smuggling and trading in low-quality goods, and now it has been making money by supplying substandard masks, gowns and shoes in the name of protecting the public," he said. "But it was proven that these items didn't safeguard healthcare providers against COVID-19."
Deaths mount
Prior to the COVID-19 epidemic, Pakistani doctors used PPE that was imported from Europe or was locally manufactured to protect themselves from hepatitis and human immunodeficiency virus (HIV)/AIDS, according to Muhammad Shaukat, a public health specialist at the KP Health Department.
"In the past five years, we had only 200 cases of doctors and health workers contracting hepatitis in operating rooms throughout the country, and 99% of them subsequently recovered. But amid rising demand for PPE due to COVID-19 globally, China is playing with human lives," he said.
The virus has been rapidly hitting Pakistanis since March 1 when the country started suffering more cases of COVID-19 because 95% of PPE now comes from China and is ineffective, he added.
As of Friday (May 1), the country had recorded 16,817 confirmed cases of the coronavirus, including 385 deaths.
"On April 25, Prof. Muhammad Javaid, an ear, nose and throat surgeon, died of the coronavirus in Hayatabad Medical Complex (HMC). He was the leader of the [HMC's] Coronavirus Combat Team and religiously used PPE but contracted the virus," said Zohaib Ahmed, an assistant professor at the HMC.
So far, 20 health workers, including doctors, nurses and paramedics, have tested positive for COVID-19 in the HMC despite using PPE, which means that the equipment from China was at fault, he said.
"More than 1,000 health workers have died of COVID-19 in China, which is clear testimony on the standards of the [equipment]," he added.
More than 500 health workers have been infected so far in KP, all of whom used substandard PPE made in China, said Ahmed.
The KP government is aware of the potential catastrophe for families of health workers who are risking their lives.
It will provide Rs. 7 million (US $43,932) to the family of any medical professional who dies from COVID-19, said Ajmal Wazir, adviser to the KP chief minister, at a news conference in Peshawar May 1, according to Dawn.
A grave concern
Twelve nurses and four doctors at Khyber Teaching Hospital Peshawar have contracted COVID-19 in the past month, said Dr. Saeed Khan, who works at the hospital.
"All of them used PPE, which is a matter of grave concern," he said. "We need quality PPE to ensure the protection of our staff."
"Given the speed with which Pakistan is losing its healthcare workers, we need to import PPE from countries known for good manufacturing practices," said Dr. Abdul Salam, secretary general of the Pakistan Islamic Medical Association.
"Chinese PPE, testing kits and ventilators won't help us in these trying times," he said. "We need good testing kits to ensure the proper detection of COVID-19."
"We need the best ventilators to ensure proper treatment of the seriously ill patients who land in intensive-care units because of COVID-19; otherwise, we will keep losing our health workers as well as patients because of substandard equipment," he said.