PESHAWAR -- All restaurants and parks in Pakistan are re-opening Monday (August 10), as are theatres, cinemas and public transport, following a significant drop in the number of new cases of coronavirus and deaths from the virus.
As of August, coronavirus infections and deaths were down from their peaks by by as much as 90%.
Schools and universities are slated to reopen September 15 subject to a final review, said Asad Umar, who heads Pakistan's task force to fight the coronavirus.
According to government data, Pakistan's daily virus deaths peaked at about 150 in June. But the number has steadily dwindled and on August 6 only 21 new fatalities were reported.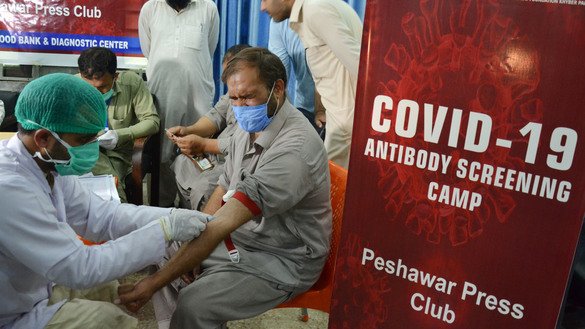 "Pakistan's timely response to COVID-19 is the best in the region, but it still needs to strictly observe physical distancing measures, wearing masks and washing hands to sustain the gains it has made," said Dr. Palitha Gunarathna Mahipala, the World Health Organisation representative for Pakistan.
Some 260 coronavirus patients were on ventilators on July 25, a number that declined to 99 on August 6, according to Mahipala.
The number of cases has dropped from 5,000 on average per day, he said. "From July 21 to August 5, we have been recording 250 cases per day, which is a great success."
Pakistan's current success in stemming the spread of COVID-19 comes despite the actions of Iran and China that have worsened the crisis.
Infected pilgrims
At the start of the pandemic in February, the Iranian regime deported hundreds of Pakistani pilgrims without testing them for the virus, resulting in transmission to the local population. By April, 51% of those infected in Pakistan could be traced back to those pilgrims.
The regime mishandled the pilgrims and forced them back to Pakistan knowing that most of them had been infected with COVID-19, said Dr. Umar Farooq, a Peshawar physician.
"The virus carriers coming from Iran mingled with the local population and transmitted the infection," he said.
"In the early days of the pandemic, Pakistan came under scathing criticism from local experts for its failure to test those coming from Iran or to isolate them. However, we controlled the situation by quarantining individuals in May," said Farooq.
"Pakistan quarantined about 7,000 pilgrims first at the Taftan border crossing with Iran and then in KP [Khyber Pakhtunkhwa] and Punjab provinces and released them when they tested negative," he said.
As of August 7, the Iranian regime had reported more than 323,000 confirmed cases and more than 18,100 deaths.
However, the number of deaths from the coronavirus in Iran is nearly triple what the government publicly claims, the BBC Persian service reported August 3.
Almost 42,000 patients died with COVID-19 symptoms up to July 20, versus 14,405 reported at the time by the regime's Health Ministry, according to government records.
The number of patients known to be infected was almost double the official figure: 451,024 as opposed to 278,827.
Chinese disinformation, faulty PPE
China, the epicentre of the virus, did not help Pakistan either.
Beijing, which detected the coronavirus in Wuhan at the end of 2019, was expected to give useful information about the pandemic and assist the world in managing the disease, said Dr. Amjad Jalal, a specialist in infectious diseases at the Pakistan Institute of Medical Sciences Islamabad.
Instead, the Chinese regime indulged in a blame game, he said.
Chinese Foreign Ministry spokesman Zhao Lijian in a tweet in March falsely claimed that the US military introduced COVID-19 into Wuhan, Jalal said.
Zhao in a news conference later walked back his earlier claim, he added.
China falsified data to claim it had controlled the spread of the virus, said Shafique Shah, a scientist at the Pakistan Council of Scientific and Industrial Research, Islamabad.
At the same time, Beijing "delivered personal protective equipment (PPE), ventilators, masks and testing kits to European countries and Pakistan that were found to be inappropriate or defective", Shah added.
Shoddy ventilators made in China were a major factor in the growing number of deaths due to COVID-19 in Pakistan, doctors said in July.
"Faulty ventilators have been the major cause of deaths of several COVID-19 patients who required mechanical ventilation in intensive care units," said Dr. Rafiq Ahmed at the Saidu Teaching Hospital in Swat.
"The ventilators weren't of good quality, costing patients their lives," he added.
Shoddy PPE from China was also tied to a number of deaths of Pakistani healthcare works.