KARACHI -- Pakistanis, ordinary citizens and health officials alike, are putting much of the blame on neighbouring Iran's regime for enabling the novel coronavirus to spread to Pakistan.
The first two Iran-linked cases of COVID-19 became public knowledge February 26.
Yahya Jafri, a 22-year-old resident of Karachi, was the first confirmed patient. He had travelled to Qom, a popular destination for pilgrims in Iran, on February 6 with a group of 28 others, according to the Sindh Health Department.
He came down with mild flu symptoms in Tehran and returned to Karachi on February 20 before testing positive for COVID-19 a few days later. He made a full recovery.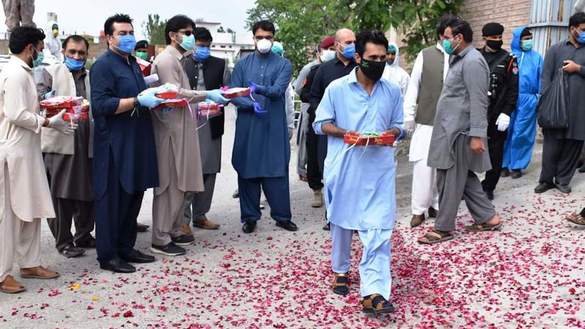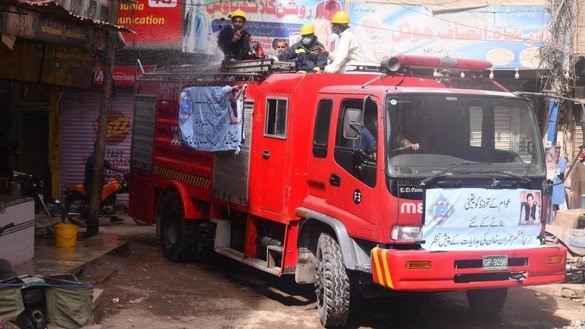 The Iranian regime did not deliver accurate information to thousands of pilgrims like Jafri regarding the outbreak of the coronavirus within the country, say Pakistanis who were in Iran earlier this year.
Rumours about coronavirus deaths were already spreading at the time, said Askari, a Karachi software engineer who was in Iran in early February.
"But Iran's government intentionally did not inform anyone, particularly pilgrims from other countries, about the virus's spread," said Askari, who preferred to use only his surname.
That was why pilgrims continued their pilgrimages and spent time in Iran until the regime finally disclosed the outbreak and deaths on February 19, he said, and by that time the virus has spread into Pakistan.
Warnings
Iranian authorities ignored doctors' warnings in late December 2019 and January of an increasing number of patients with high fevers and lung infections in Qom, Reuters reported April 2, citing health officials and doctors from Iran.
The Iranian regime's withholding of accurate information caused the spread of the virus in Pakistan, say Pakistani health authorities.
"Pakistan has been badly hit by the virus mainly because of Iran's criminal negligence," said an Islamabad-based senior health official who spoke on the condition of anonymity.
Pakistan sealed its 900km-long (560-mile) border with Iran after the emergence of the first two cases on February 26, he noted.
"The government quarantined 3,000 people in a makeshift tent city at Taftan, a border town, for 14 days," said the official.
As many as 453 pilgrims out of 1,160 who were thought to have tested negative and were released later tested positive, Dawn reported on April 9.
Some 80% of Pakistani's coronavirus infections originated from Iran, Dr. Zafar Mirza, the prime minister's special assistant on health, told the media on March 24.
Out of 5,374 confirmed patients in Pakistan, Pakistani pilgrims who returned from Iran and have tested positive number 1,362. Positive cases from other countries, including the Gulf states and European countries, number 1,221, according to statistics released by the Federal Health Ministry on April 13.
Criminal negligence
Tehran covered up news of the coronavirus mainly to avoid impacting turnout at parliamentary elections, said Shoaib Ansari, a Karachi researcher who studies Pakistani-Iranian relations.
Instead of announcing quarantine measures for those affected by the coronavirus, Iranian President Hasan Rouhani urged citizens to vote in the country's parliamentary polls on February 21.
"The legitimacy of the Iranian regime was under question after widespread protests in late 2019, global pressure following the shooting down of a Ukrainian civilian aircraft in January 2020 and heightened tension with the US," Ansari said.
The Iranian regime in recent months has suffered from a string of transparency mishaps that has cost Tehran considerably in terms of credibility with its own population and the international community.
In January, despite video and circumstantial evidence pointing to a surface-to-air missile hitting Ukraine International Airlines Flight PS752, Tehran continued for days to deny that its own missile destroyed the plane.
But faced with increasing international and internal pressure, the regime finally admitted the truth -- that the Iranian military shot down the plane in a "catastrophic mistake".
That admission -- and the appearance of an attempted cover-up -- sparked days of anti-government protests in Iran.
Tens of thousands of Iranians took to the streets with renewed outrage, shouting "Death to the dictator" -- a reference to Supreme Leader Ayatollah Ali Khamenei -- "Death to liars" and other anti-regime slogans.
Khamenei has on several occasions termed the outbreak a hoax and enemy propaganda. At the behest of Iranian authorities, some clerics began claiming that the shrine in Qom had healing powers to cure diseases.