ISLAMABAD -- Healthcare professionals are expressing serious concern over plans to undertake large-scale testing of a Chinese-made coronavirus vaccine in Pakistan, as Beijing's long history of putting profit over safety loom large over the controversial trials.
Pakistani regulators approved final-phase testing of a vaccine under development by CanSinoBio and the Beijing Institute of Biotechnology China, officials said Tuesday (August 18), in the country's first clinical trial of its kind.
"This will be the first ever Phase 3 clinical trial for any vaccine in Pakistan," Pakistan's National Institute of Health (NIH) said in a statement, as cited by AFP.
Pakistan's inclusion in the trials would help it secure "preferential vaccine supply and pricing", it added.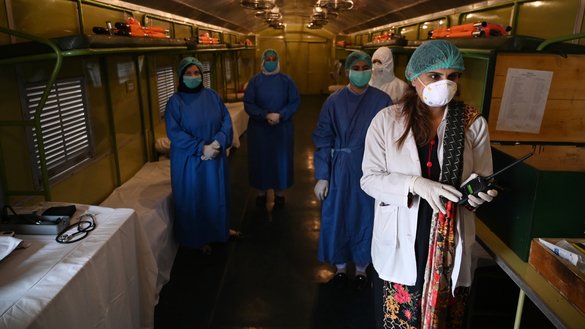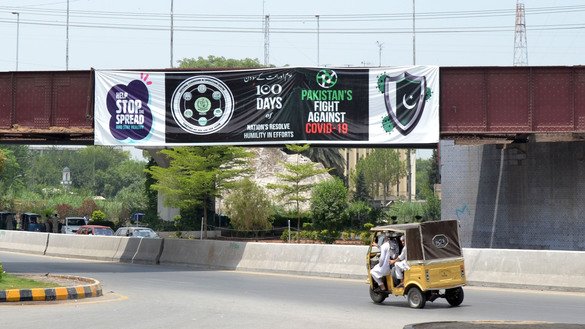 The trials will take place at several medical facilities across Pakistan, including the large Indus Hospital in Karachi.
Profits over safety
Doctors, healthcare specialists, and observers are warning of the dangers the testing poses to the participants.
There is worldwide competition among countries to manufacture the COVID-19 vaccine and capture the global market, said Dr. Ali Kamal, a pediatrician at Khyber Teaching Hospital, Peshawar.
The Chinese regime's pledge that Pakistan will receive enough doses to vaccinate about one-fifth of its population is a gimmick because Beijing has been in the habit of making money from such ventures, Kamal said, citing Dawn.
Beijing will never honour the commitment and will continue to make money as it did from the sale of substandard products it supplied during the pandemic, he said.
In July, shoddy ventilators made in China were determined to be a major factor in the growing number of deaths due to COVID-19 in Pakistan.
In June, a report detailed how Chinese-made test kits for detecting COVID-19 were giving faulty results, leading to major problems for both Pakistani healthcare workers and those being tested.
In May, Pakistani hospitals began shunning personal protective equipment (PPE) made in China after a series of infections and deaths of health workers treating COVID-19 patients.
"China didn't take preventive measures to stem the tide of the coronavirus in its earlier stages and has been making a profit by selling low-quality ventilators, kits and personal protective equipment," said Dr. Muhammad Salim, a medical scholar at the Pakistan Institute of Medical Sciences Islamabad.
"[China] now wants to earn money from vaccines when the pandemic is nearing its end," he said.
The initial recipients of the vaccine trial would be those most vulnerable to COVID-19 -- the elderly, healthcare workers and those with conditions associated with serious cases of the viral ailment, according to Salim.
"I believe the target population in Pakistan will not be ready to receive the initial doses of the vaccine because of the fear China has created... by supplying low-quality products during the pandemic and by failing itself to control the virus," Salim said.
Beijing is profiting off COVID-19, and if the vaccine is successful, it will take credit for its development, he said. In case of failure, it will blame Pakistan.
"Medically speaking, Pakistan has nothing to do with the human trials on the vaccine developed by China, and we should stay away from the plan," he added.
"It's not feasible to allow other countries to conduct human trials here," he said.
Race for a vaccine
The coronavirus pandemic, which has claimed more than 760,000 lives worldwide, has sparked a worldwide race to develop a vaccine. Researchers are developing and testing more than 150 candidate vaccines around the world.
Russian President Vladimir Putin on August 11 claimed that Russia had produced the first coronavirus vaccine, leading many to suggest that the unproven, untested drug may be in fact more dangerous than COVID-19.
The Chinese regime's vaccination programme may be part of its plan to compete with Russia in cornering the market for a vaccine, said an official working with NIH Islamabad on the condition of anonymity.
"Earlier, Russia announced that it has prepared a vaccine, which was followed by China. Both want to capitalise on the global demand for vaccination," he said.
Russia knows that China reaped immense revenues from selling COVID-19-related medical equipment and therefore made an announcement that it had manufactured vaccines to profit from their sale, the official said.
Beijing will not leave the field open to the Kremlin and jumped into the contest with a matching response that it also was prepared to sell vaccines, he added.
"Phase 3 of any research study needs to be done with extreme precautions because it exposes the participants of the trial to the virus to see if they escape infection after getting the vaccine," said the official.
"A vaccine is the only way to deal with the pandemic, and both countries [Russia and China] want to get their products approved the soonest for potential use and to earn a huge profit," said Jamal Ahmed, a Karachi-based pharmacist who works at a multinational pharmaceutical firm.
"Both are desperate to market the vaccine because researchers around the world are busy trying to make a vaccine. If the US, the UK or any other European country marketed the vaccine, then neither country would be able to compete," he said.