PESHAWAR -- Pakistani officials are laying blame on neighbouring Iran for the spread of COVID-19 in Pakistan.
Pakistan has so far recorded 1,000 confirmed cases of coronavirus, and seven deaths, according to Dawn.
"Eighty percent of the COVID-19-confirmed patients in Pakistan originated from Iran, which lacked the capacity to deal with an international public health emergency," Dr. Zafar Mirza, special assistant on health to Prime Minister Imran Khan, told a news conference in Islamabad Tuesday (March 24).
Iran: a hotbed of COVID-19
Iran, a popular destination for Shia pilgrims from Pakistan and elsewhere, has been one of the worst-affected countries by the pandemic.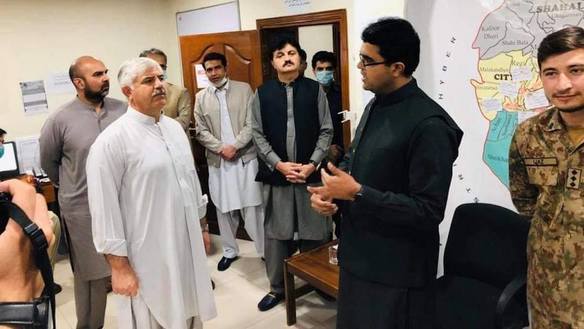 Tehran on Wednesday (March 25) announced 143 new deaths from the novel coronavirus, raising the official death toll to 2,077, AFP reported.
Iran's inefficiency has been exposed during the emergency, said Dr. Muhammad Suhail, a former health administrator in Peshawar.
"We are tracing those who remained in contact with the confirmed COVID-19 patients," he said.
Khyber Pakhtunkhwa (KP), which has quarantined 402 pilgrims who arrived from Iran, has had 78 residents test positive for the virus, including 55 pilgrims, he said. It tested some individuals who had contact with the returning pilgrims.
More than 350 samples are still awaiting testing, with more than 80% expected to be positive, said Suhail.
Most of the pilgrims were in a state of total helplessness as they were not allowed to obtain essential drugs when Iranian officials abruptly ordered them to leave, said Dr. Muhmmad Rafiq, a Peshawar-based medical scholar.
Pilgrims presently in quarantine in KP complained of the lack of facilities in Iran. Local officials in Iran prevented them from visiting markets to buy medicine after the epidemic broke out and since then have blamed them for spreading the disease, said Rafiq.
Pakistan screened over a million arriving individuals at its borders with Iran and Afghanistan, but it has since closed those borders after a surge in cases.
Pakistan is also battling a scourge of coronavirus disinformation being spread by the governments of China, Russia and Iran.
More infections loom
"Most of those who arrived in a hasty manner have mingled with other [Pakistanis], and infections are going to rise in the near future," said Rafiq.
"Pakistan faces the daunting task of screening all those who were in contact with confirmed patients," Rafiq said.
Pilgrims who returned from Iran unscreened two months ago are another significant threat, he added. "The whole crisis is of Iranian origin; Pakistanis said they faced discrimination at the hands of Iranian authorities."
Iran's work in dealing with COVID-19 has not been up to the mark, said Javid Hussain, 24, a resident of Hangu, saying its level of preparedness was very low.
"If Iran couldn't protect its own people, how can we expect it to protect others?" he asked.
In dozens of villages, thousands or residents face the risk of contracting the infection because of Iranian authorities' mismanagement of pilgrims who were visiting Iran, said Jamil Hussain, another resident of Hangu whose elder brother is among those quarantined in Peshawar.
His family is concerned about the health of all pilgrims, he said.
"We appreciate the government for keeping the returnees in isolation for 14 days," he said.