PESHAWAR -- Pakistani hospitals are shunning personal protective equipment (PPE) made in China after a series of infections and deaths of health workers treating COVID-19 patients, medical officials say.
The defective PPE, they say, is not protecting medics.
"Finally, the hospitals are listening to our demand to stop using Chinese-made PPE after several of our health professionals got infected with COVID-19," said Dr. Abdul Salam, secretary general of the Pakistan Islamic Medical Association (PIMA). "We have been complaining to the government about the substandard PPE since the onset of the pandemic."
"So far, 830 health workers, including doctors, nurses and paramedics, have been infected with the coronavirus in Khyber Pakhtunkhwa (KP), mainly because of PPE imported from China," he added. "Sadly, three people, including one senior doctor and two medical technicians, have died of COVID-19 in the province."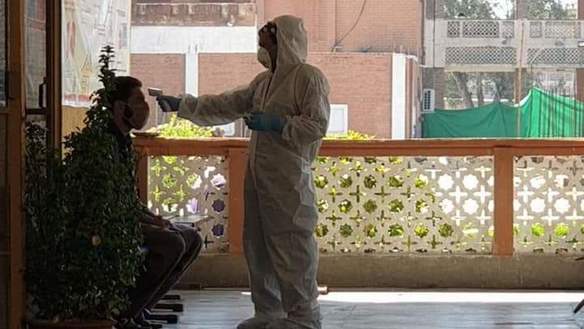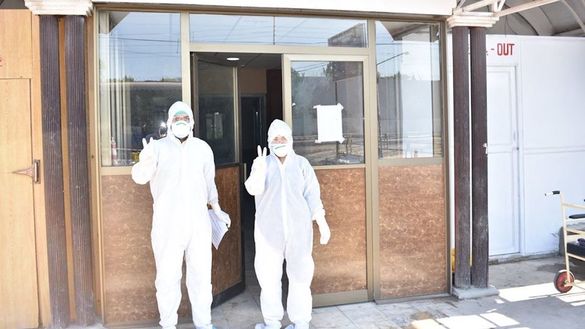 Hospitals and medical personnel have been concerned as most of the medics who tested positive or passed away used PPE from China, he said.
The number of infected health workers in the country totals about 1,700, with 11 deaths, said Dr. Hussain Shah, secretary of the Pakistan Medical Association.
"All of them used PPE because no soldier can go to the battlefield without arms or ammunition, but because they were of bad quality, it didn't protect them," he said.
"Therefore, we strongly demand that the government stop using Chinese-made PPE ... so our health workers can meet the challenge posed by the COVID-19 pandemic."
Medical institutions have begun seeking out PPE that is not made in China.
On May 11, Lady Reading Hospital (LRH) Peshawar switched to better PPE after 132 staff members contracted the virus while treating patients.
"We have allocated a 300-bed building and a 150-bed intensive care unit for COVID-19," said Dr. Hidayatullah Khan, LRH's deputy medical superintendent.
"Our hospital has received 950 patients since March 24, but the infections are causing a scare among the workers," he said. "Therefore, we have stopped using the Chinese-made PPE and purchased high-quality PPE to ensure that our workers don't get infected."
"The new PPE, imported from abroad, is washable and can be used repeatedly after disinfection. It will guarantee the safety of our staffers and ensure that the infection will not spread," Khan said.
An LRH doctor who tested positive for COVID-19 on May 1 after treating coronavirus patients subsequently transmitted the virus to eight members of her family, said Khan.
"The doctor was confident that she was safe because she used PPE during her duties with COVID-19 patients and went home regularly. When she tested positive, we then tested her parents, her children and her husband, who all turned out to be positive too," he said.
Munir Khan, a pharmacy technician at the Bacha Khan Medical Complex (BKMC) Swabi, died of the disease on May 11, said Dr. Shoaib Khan, who is in charge of the COVID-19 ward at the BKMC.
Munir Khan contracted the virus because his deficient Chinese-made PPE did not protect him, Khan said.
"The majority of the PPE is supplied by the Chinese government. But we are now using quality PPE available on the market to protect our staff," he said.
Swabi District has recorded seven deaths and 55 confirmed patients and the protection of staff is crucial because the hospital still has 15 COVID-19 patients, he added.
"The health workers don't trust Chinese-made PPE anymore and wanted better gloves, goggles, shoes, etc., to perform their duties without fear," Khan said. "Therefore, we are raising money to purchase quality materials from the market to protect our staff and ensure uninterrupted treatment of the COVID-19 patients."
Protecting medical staff
In Abbottabad, where a medical technician died of the disease on May 1, the demand for non-Chinese PPE is growing.
"Most of our staff members are afraid of providing care to COVID-19 patients despite wearing PPE," said Dr. Jawad Khan, secretary of AbbottabadNow, a provincial doctors' association. "We have started to purchase new PPE for their safety."
The market is replete with substandard Chinese PPE sold to take advantage of the virus situation, said Ikram Javid, a senior official at the Pakistan Council of Scientific and Industrial Research (PCSIR).
The majority of the Chinese PPE in Pakistan was donated and went to the hospitals without pre-testing, said Javid.
"There is local as well as imported PPE that the PCSIR approved after evaluation and recommended," he said. "The COVID-19 crisis might be prolonged; therefore, we should arm our healthcare providers with standard protective gear so they can perform their duties for the long haul."
"We'll continue losing our workers through infections if we stick to Chinese-made PPE," he added.
At the Hayatabad Medical Complex (HMC) Peshawar, where senior ear, nose and throat consultant Prof. Muhammad Javaid died of the virus on April 25, doctors are now using locally made PPE approved by the National Textile University (NTU) Faisalabad.
"More than 40 of our health workers have been infected with the virus despite having had PPE, which China donated. Now, our staff don't feel protected; therefore, we are purchasing top quality items from the market," said Deputy Medical Superintendent Dr. Muhammad Ayub.
"We have 400 COVID-19 patients currently admitted, and we need to protect our doctors, nurses and paramedics to ensure that they continue their work," he said.
Regional hospitals have started purchasing PPE from the market, said KP Director of Health Dr. Nawaz Afridi.
"We have allocated Rs. 4 billion ($6.2 million) for PPE after complaints that staff were getting COVID-19 infections at the hospitals and quarantine centres. Now PPE, which the PCSIR and NTU have approved, is procured from the market because we need to safeguard health personnel and ensure continuous treatment of patients."
The province has reported 270 deaths and 5,045 positive cases with about 1,000 patients still being treated in hospitals, he said.