ALMATY/TASHKENT -- If China and Russia once had an unspoken division of influence in Central Asia -- with Beijing responsible for financing the economy, and Moscow for security -- things have now shifted heavily in China's favour.
After botching its invasion of Ukraine, the Kremlin has been losing its influence in the region, with China ready to fill the void.
Russia attacked Ukraine unprovoked in February 2022. The invader has suffered numerous defeats and staggering casualties since then.
In turn, China has moved in on its Russian ally's "backyard", effectively assuming responsibility for protecting the region from external aggression, namely, from Russia itself, say analysts.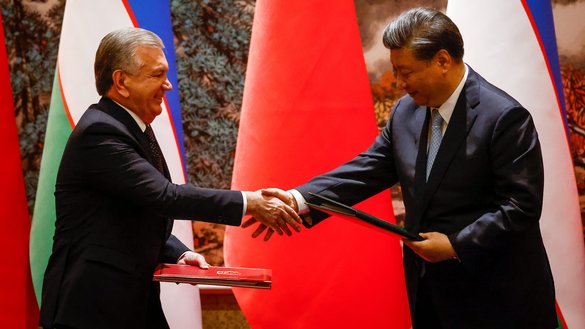 This trend was evident in the notable absence of Russia from the China-Central Asia Summit, held May 18–19, in China.
The presidents of Kazakhstan, Kyrgyzstan, Tajikistan, Turkmenistan and Uzbekistan participated in the summit. The Chinese tried to infuse the regional event with symbolism by hosting it in Xi'an, a city on the Silk Road.
China's Foreign Ministry said the summit was the first of its kind since it established relations with all the Central Asian states 31 years ago. It was the first face-to-face meeting in this format among the leaders of Beijing and Central Asian countries.
The omission of Russia from the event indicates Moscow's significantly diminished role in the region, and is evidence that China is openly shoving its "friend and ally" out of Russia's own longtime zone of influence, say analysts.
"It's the first time that Russia, which for decades, if not a couple of centuries, has been the hegemon in Central Asia, is excluded," Stefan Hedlund, professor of Russian and East European studies at Uppsala University in Sweden, told Euronews May 19.
"This follows in the wake of Russia losing friendships across the region and China pouncing on the opportunity to become the new hegemon," he added.
"The summit of the 'big six' in Xi'an can certainly be called a milestone for the following two reasons," said Alisher Ilkhamov, director of the London-based organisation Central Asia Due Diligence.
"First, a regional summit bringing together the leaders of Central Asia and China was held without Russia's participation for the first time. This is quite significant and symbolic," he told Caravanserai.
"Previously, Moscow would not have allowed this, but now it must swallow it not to spoil relations with Beijing," he said, adding that Russian President Vladimir Putin's absence clearly signals the weakening of Russia as a geopolitical and regional player.
Second, an "unprecedented" package of investment agreements was signed at the summit, totalling about $50 billion, he said, half of which went to Uzbekistan for the construction of 15 enterprises.
"Why is China being so generous? In my view, the main goal is to geopolitically wrest away Central Asia, not only from Russia but also from the West," he said.
But this does not mean that Central Asian countries "will immediately abandon their multi-vector policy", he added.
Financial 'support' with Chinese characteristics
The summit revealed Beijing's desire to expand its influence not only in its traditional sphere, the economy, but also in other areas, such as military and even information (or propaganda) co-operation, which have been Russia's prerogative for decades.
In his remarks at the summit, Chinese President Xi Jinping proclaimed a "new era" in his country's relations with Central Asia.
But the economy remains a priority, as China depends on the region to implement its far-reaching plans to diversify its export opportunities and create overland routes to supply goods to Europe.
Parties at the summit agreed to finish construction of a China–Kyrgyzstan–Uzbekistan railway and highway that will bypass Russia.
Xi additionally pledged 26 billion CNY ($3.8 billion) in loans and grants for Central Asian countries to "stimulate co-operation and development" in the region.
Observers do not take a rosy view of Chinese promises.
"In practice, such generous assistance from China often ends up funding Chinese infrastructure projects such as highways and railways, which ultimately contribute to Beijing's massive Belt and Road Initiative (BRI)," Elmira Suranchiyeva, an economist from Bishkek, told Caravanserai.
"The money allocated by [China] has gone into the pockets of the Chinese companies that build these roads," she said.
Central Asia has become key to China's trillion-dollar BRI, also known as One Belt, One Road (OBOR), a defining geopolitical project for Xi.
Critics have long accused China of luring lower-income countries into debt traps by offering huge, unaffordable loans. The BRI serves as a cover for China's expanding military presence around the globe, say others.
Xi also promised at the summit that Chinese companies operating in Central Asia "will promote the creation of more jobs for the local population".
Suranchiyeva called such provisions "crumbs from the master's table", which Beijing hopes will win over local residents so that they do not protest Chinese companies' activities in their cities and villages.
For many years, residents of the Kyrgyz countryside have spoken out against Chinese companies' mining operations on their mountainous, scenic land, trying to protect the local environment.
"By accepting huge loans from China, countries in our region fall into debt bondage and are forced to repay with their valuable underground resources, as happened, for example, with Tajikistan," she said.
Tajikistan, for example, controversially awarded China the rights to a silver mine in 2019.
China as security guarantor?
Beijing also promised to help maintain security in the region, a notable affront to traditional regional "protector" Russia.
"China and Central Asian countries will firmly support one another on issues related to their core interests such as sovereignty, independence, security and territorial integrity," Xi said at a May 19 post-summit news conference in Xi'an.
As noted by Radio Free Europe/Radio Liberty (RFE/RL)'s Kazakh service, Beijing previously said it was working to establish a regional anti-terrorism centre to train Central Asian security forces.
Xi made his first major statement about his security ambitions in Central Asia in September during a visit to Astana, when he pledged to his Kazakh counterpart Kassym-Jomart Tokayev to "resolutely support Kazakhstan in defending its independence, sovereignty and territorial integrity".
Analysts saw this as a stern warning from Beijing to Moscow, as well as an undesirable development for the Kremlin as it sinks deeper into its self-created quagmire in Ukraine.
Moscow's credibility as the guarantor of security in Central Asia has significantly decreased amid military failures in Ukraine, said Dosym Satpayev, an Almaty-based political scientist and director of the Risk Assessment Group.
"Additionally, CSTO [Collective Security Treaty Organisation] members are disenchanted with the military bloc," he told Caravanserai, referring to an organisation founded and dominated by Russia.
"Most of them, including Russia itself, have been drawn into various military conflicts, and their membership ... did not help them resolve those conflicts," said Satpayev.
The CSTO includes former Soviet republics, including three in Central Asia -- Kazakhstan, Kyrgyzstan and Tajikistan.
Beijing is trying to take advantage of the current situation and move post-Soviet countries into China's orbit and out of Russia's, Temur Umarov, a fellow at the Carnegie Russia Eurasia Centre, noted in an interview with the Siberia.Realii news outlet.
"China soon intends to resume joint military exercises with Central Asian countries, including with the participation of China's internal troops," he said, referring to troops who are assigned exclusively to put down domestic unrest.
Chinese, Russian propaganda
Apparently, Beijing has begun to actively wield its "soft power" in Central Asia, a domain where Russia has thus far dominated with its network of propaganda outlets such as Kremlin-controlled TV channels and news websites.
Chinese media corporation CCTV+ and news site Business Kazakhstan, together with the international news agency DKNEWS.KZ, signed a memorandum of understanding in March.
CCTV+, whose stated mission is "telling China's story to the rest of the world", will provide its content to Business Kazakhstan for distribution.
Beijing uses co-operation with Central Asian media outlets to foster a positive image of China and a negative image of the "collective West", and to pursue the rest of Beijing's messaging agenda.
China's "soft power" in the region will only increase, Satpayev said, warning Central Asian countries to act solely in their national interests to avoid coming under expanded Chinese influence.
"China will not bring anything good to Central Asia. Only colonisation and enslavement for our region," said Pulat Akhunov, an Uzbek politician living in Sweden.
Beijing "will support even more corruption and depravity among the elites, since this will keep the region from developing and will increase dependence on China", he said.
Russia has been reduced to a helpless observer as China peels Central Asia away from its clutches, according to Hedlund the Swedish professor.
"The Chinese don't give favours," Hedlund told Euronews. "If Russia ever believed that China was going to do something for them without getting more in return, they have now learned that it was wrong."
[Rustam Temirov from Uzbekistan contributed to this report.]