Construction on Main Line-1 (ML-1), a major Pakistani rail project, has been restricting the movements of the residents of lower-income neighbourhoods of Karachi, say activists.
The ML-1 project is aimed at track doubling and upgrades on 1,872km of railway between Karachi and Peshawar and between Taxila and Havelian.
The mega railway project is among several deals Islamabad inked with Beijing under the China-Pakistan Economic Corridor (CPEC), a Pakistani component of China's Belt and Road Initiative (BRI), also known as One Belt One Road (OBOR).
In several Karachi neighbourhoods, such as Keamari and Shireen Jinnah Colony, Pakistani authorities have built walls around the rail tracks of the ML-1 project with the aim of protecting the Chinese-financed project from sabotage.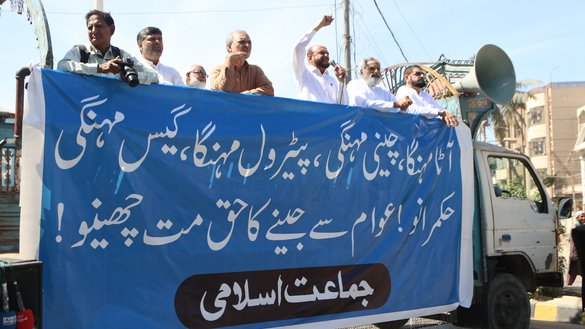 However, the construction of the walls has complicated and restricted the movements of more than 100,000 residents, locals and activists say.
"Residents, particularly the elderly, sick, women and children, have to walk for half a mile after newly constructed walls blocked their usual points to access the main roads," said Jawad Rehman, a social activist in Shireen Jinnah Colony.
The ML-1 project passes through densely populated neighbourhoods of Karachi and therefore makes the localities vulnerable to terrorist attacks, he added.
"Militants could attack the project because of its links with China, which could also harm the population that lives close to the rail tracks," Rehman told Pakistan Forward.
In January 2021, Balochistan's provincial court stopped Pakistani authorities from building a barbed-wire fence around the port in Gwadar to protect Chinese workers, after locals protested that the fencing would hamper the movement of local residents and prevented fishermen from reaching sea access points.
In recent years, Gwadar locals have held several demonstrations under the banner of the "Give Gwadar its rights" campaign, demanding an end to illegal deep-sea fishing by local and Chinese trawlers and the harassment of locals at security checkpoints leading to CPEC projects.
Growing Chinese debt
The ML-1 project has also raised concerns over massive debt to China
Pakistan last month asked China to expedite the process for implementation of the first phase of the $10 billion ML-1 project as earlier agreed last November, Dawn reported April 11.
However, taking more loans from China to implement the ML-1 project could further worsen Pakistan's ongoing economic crisis, economists and officials have warned.
Pakistan, which owes about $100 billion in external debt to lenders, is at risk of defaulting after a plunge in its foreign exchange reserves, the Financial Times (FT) reported January 4.
Chinese state lenders are among the largest creditors to Islamabad, accounting for about $30 billion of its outstanding debt.
Abid Hasan, an economist and former World Bank adviser, urged the Pakistani government to defer the ML-1 project at the time.
Pakistan should suspend public investment if it generates revenue in rupees but is financed with foreign currency debt, he said, according to FT.
US officials in February also said they were concerned about debt owed to China by Pakistan, Reuters reported.
"We have been very clear about our concerns not just here in Pakistan, but elsewhere all around the world about Chinese debt, or debt owed to China," US State Department Counselor Derek Chollet told journalists in Islamabad after he met with Pakistani officials, according to Reuters.
Washington will not ask Pakistan to choose between the United States and China but is warning it about the "perils" of closer ties with China, he said.
The United States is working with Pakistan to help extricate it from its economic crisis, he added.