KABUL -- A number of Afghan analysts say Russia is deliberately magnifying the threat of the "Islamic State of Iraq and Syria" (ISIS) to cement its domination of countries in the region.
Three of Afghanistan's neighbours, Tajikistan, Turkmenistan and Uzbekistan, are former Soviet republics still under the influence of Moscow, but in recent years have been attempting to move out from the Kremlin's orbit.
This move towards independence has Russian President Vladimir Putin and his allies worried, and observers say recent events show how the Russians are trying to get countries back into the fold.
Russian intelligence has determined that about 2,000 battle-hardened ISIS militants were concentrating in northern Afghanistan, and may attempt to destabilise nearby countries through "direct expansion", Putin told a virtual summit of the Commonwealth of Independent States (CIS) on October 15, and angering Taliban leaders who are seeking to project that they have the security situation under control.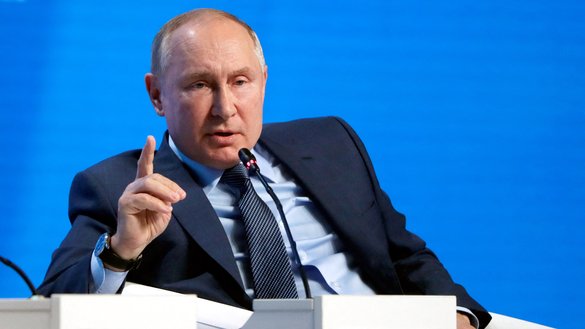 "In this regard, it is important to constantly monitor the situation on the Afghan border and be ready to counteract militants, and accordingly, to co-ordinate the work of security forces -- conducting joint special operations, if necessary," Putin said.
No other intelligence agency has suggested such a concentrated presence, and by exaggerating the proximity of ISIS on Afghanistan's northern border, Russia is trying to increase its political and security influence over countries across the region to bring them all under its control, said Latif Nazari, an international affairs analyst based in Kabul.
Calling ISIS and other extremist groups a threat to sovereignty has a purpose, said Nazari: the Russians are warning Central Asians that without Russian support, they will face enormous security challenges.
Russia is exploiting the US withdrawal from Afghanistan as a chance to expand its hegemony in the region, said Nazari, citing a recent joint military exercise in Tajikistan as evidence.
The Russian-dominated Collective Security Treaty Organisation (CSTO) last Saturday (October 23) concluded a six-day-long drill in Tajikistan. More than 5,000 troops participated, according to the Russian and Tajik governments.
The CSTO's members are Armenia, Belarus, Kazakhstan, Kyrgyzstan, Russia and Tajikistan.
Political tool for Russia
"The Russians are pursuing two goals by falsely referring to ISIS's presence in Afghanistan. First, they want to make Central Asian countries more dependent on them ... and those countries militarily have no other choice but to depend on Russian support," Abdul Shakoor Salangi, a Kabul-based Russian affairs analyst, told Salaam Times.
Russia already maintains a large military footprint in Tajikistan and wants to expand its influence outside Central Asia to include the CSTO member states, he said.
Only one of the six CSTO member states, Tajikistan, borders Afghanistan.
"The Russians are trying to strengthen their political and military influence in the region ... and to bring all countries in the wider region under their own umbrella," Salangi added, referring to the CSTO.
The Kremlin wants to convince regional countries that ISIS has pounced on Afghanistan from the Middle East and will threaten all countries on the Amu Darya River, said Moqadam Amin, a military analyst in Kabul.
Russia's relations with the Taliban are contentious and unpredictable, he said.
In recent weeks, Afghans noticed that the Russians have been shifting positions, alternating between welcoming the Taliban's assumption of power and expressing worry about their possible threat to regional countries, said Amin.
Distrust between Taliban and Moscow
"The Russian president's recent comments about the presence of 2,000 ISIS militants in northern Afghanistan, where the country borders Central Asian countries, and the rejection of these statements by Taliban spokespersons, are a clear indication of distrust between the Russians and the Taliban," Fahim Chakari, a political scientist at Kardan University in Kabul who is now temporarily in Turkey, told Salaam Times.
The CSTO exercise in neighbouring Tajikistan, plus Russia and Tajikistan's refusal to recognise the Taliban as a legitimate government during a recent meeting in Moscow, which the Taliban also attended, indicates that relations between Moscow and the Taliban are strained, Chakari said.
"No one can deny that the withdrawal of the US and NATO troops from Afghanistan provides an opportunity for terrorist groups to use the country as a safe haven, and the Russians are of course concerned about this," said Wali Forozan, an Afghan political analyst based in Canada.
However, he added, the recent CSTO drill in Tajikistan, Putin's fear-mongering about the presence of ISIS in the northern parts of Afghanistan and the Taliban's statement saying that ISIS is not a threat can be interpreted in many ways, especially when it comes to explaining the relationship between the Taliban and Russia.
These occurrences are unquestionable signs of the Taliban's dissatisfaction and of rising tensions between the Taliban and Moscow, Forozan said.
"Although Russia and the Taliban are trying to strengthen their relations, there are serious issues around the conflict of interest and distrust between the Taliban and Russia, as well as the Taliban and several Central Asian countries," said Kabul journalist Mustafa Bigzad.
"We see contradictions in recent stances. For example, the Taliban, unlike Putin, denied the presence of ISIS in northern Afghanistan, and after the Russian military drills with Tajikistan, the Taliban deployed their special forces across the border areas," he said.
"Mullah Abdul Ghani Baradar, the Taliban deputy prime minister, has warned the Tajik president not to interfere in Afghanistan's internal affairs, stating that if Tajikistan intervenes, it will face the Taliban's reaction," Bigzad said.