NUR-SULTAN -- Russian President Vladimir Putin and Chinese President Xi Jinping are taking advantage of a visit to Central Asia to push their nations' authoritarian agendas.
Xi arrived in ex-Soviet Kazakhstan Wednesday (September 14) in the Chinese leader's first trip abroad since the early days of the coronavirus pandemic.
During his three-day visit to Central Asia, Xi is scheduled to attend a leaders' summit of the Shanghai Cooperation Organisation (SCO) in Samarkand, Uzbekistan, a stop on the ancient Silk Road.
The SCO is made up of China, Russia, India, Pakistan and four Central Asian countries -- Kazakhstan, Kyrgyzstan, Uzbekistan and Tajikistan.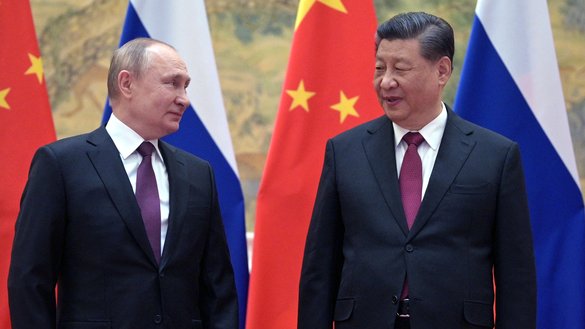 Xi ahead of his arrival vowed on Tuesday to "defend common security" with Kazakhstan, state media reported.
"China is willing to work with Kazakhstan to deepen co-operation in law enforcement, security and defence," Xi wrote in an article for Kazakh media that was republished by Chinese state broadcaster CCTV.
He added that Beijing also wanted to work with Kazakhstan to combat drug trafficking and transnational organised crime as well as what China calls the "three evils".
Such co-operation is unwelcome to many Kazakhs, who are alarmed by the rampant proliferation of Chinese-made surveillance cameras in their country and by the Chinese government's indirect claims of Kazakh territory.
China's government has previously used the term "three evils" -- defined as terrorism, separatism and religious extremism -- to refer to its crackdown in its far western region of Xinjiang, which borders Kazakhstan.
Beijing stands accused of detaining more than one million Uighurs and other Muslim minorities in Xinjiang -- including some ethnic Kazakhs and Kyrgyz -- under a years-long security campaign that lawmakers around the world have labelled a "genocide".
In a separate article for Uzbek media, Xi pledged to "strengthen security co-operation and resolve risks and challenges" and said Uzbekistan had a "unique role to play in resolving the Afghanistan issue", CCTV reported.
Part of China's goal of "resolution" in Afghanistan is gaining access to the country's extensive mineral wealth and securing more military footholds in Asia.
'Alternative' to the West
Xi is expected to confer with Russian President Vladimir Putin during the summit.
Their highly anticipated meeting comes as Russia is suffering embarrassing setbacks in its invasion of Ukraine. China rhetorically has stood firm in its support of Putin and a "no limits" friendship.
However, China, fearing Western sanctions, has not supplied weapons to Russia, forcing Putin into a humiliating situation of buying drones and artillery shells from other international pariahs Iran and North Korea, respectively.
Putin last week called the Chinese "tough bargainers" -- an indication that Xi is taking advantage of his floundering fellow dictator to demand steep discounts on Russian natural gas.
The summit will showcase an "alternative" to the Western world, the Kremlin Tuesday said.
"All members of the SCO stand for a just world order," Kremlin foreign policy adviser Yuri Ushakov told reporters in Moscow, describing the summit as taking place "against the background of large-scale geopolitical changes".
While Moscow and Beijing talk "justice", international investigations are ongoing into a slew of criminality and misconduct linked to both regimes, including the torture and executions of civilians by Russian forces and the unconscionable treatment of minorities by the Chinese Community Party.
A world 'safe for authoritarianism'
Beijing and Moscow's platitudes belie a more sinister agenda, however, with implications for Central Asia and beyond.
Putin and Xi in a meeting earlier this year vowed to stick together in a "new era" of global political and military order.
"Friendship between the two states has no limits," they said in a joint statement released after a meeting on February 4 on the opening day of the Beijing Winter Olympics. "There are no 'forbidden' areas of co-operation."
They also said there is "no one-size-fits-all" type of democracy -- a convenient assertion for Moscow and Beijing, who are fighting democratic movements within their realm of influence.
"Russia and China stand against attempts by external forces to undermine security and stability in their common adjacent regions, intend to counter interference by outside forces in the internal affairs of sovereign countries under any pretext, oppose colour revolutions, and will increase co-operation," the statement said.
Appearing publicly as the Olympics opened, Putin and Xi showed an "enhanced commitment to make the world safe for authoritarianism, in particular in former socialist countries", Steve Tsang, a political scientist at the SOAS University of London, said at the time.