ISLAMABAD -- Showing resentment against Chinese investment in the Gilgit-Baltistan region, civil society groups and rights activists in the area are warning that a recent plan to acquire additional land for Chinese companies is creating new conflicts in the region.
Gilgit-Baltistan region shares a border with China's Muslim-majority Xinjiang Uighur Autonomous Region and is a gateway to the China-Pakistan Economic Corridor (CPEC), a Pakistani component of China's controversial Belt and Road Initiative, also known as One Belt One Road (OBOR).
The region is home to the Himalayas and the world's second highest mountain, K2, and because of it, domestic tourist numbers rocketed to nearly 700,000 in 2021, government figures said.
However, local residents and civil society activists are concerned about land grabs and demographic shifts because the government has been acquiring land for Chinese companies to build a plant for multiple unannounced purposes.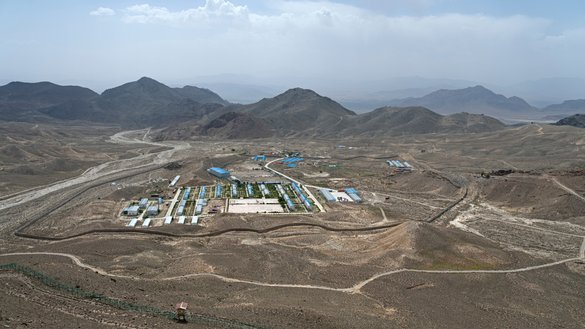 Some activists claimed that China has plans to build a processing plant for the lithium it will mine and transport from Afghanistan in the near future.
China is already eyeing up Afghanistan's vast mineral wealth, using the excuse of wanting to help rebuild the war-torn country.
Afghanistan's resources include bauxite, copper, iron ore, lithium, and rare earth elements, according to a January 2021 report by the US Geological Survey (USGS).
Since April, residents, civil society activists, and political workers organised several protests against secret agreements between Islamabad and a Chinese company to lease the land of the upper Hunza Valley.
Activists also have denounced Pakistani media outlets for bowing to federal government pressure and ignoring the protests -- all in an effort to protect Sino-Pakistani relations.
On July 1, hundreds of residents of the Nasirabad area of Hunza district organised protests outside the Gilgit Press Club against the issuance of a mineral lease to a private company in their area, Dawn reported July 2.
"Residents of the area will not allow any outsider company, including Chinese, to take their land on lease," said Hussain, a leader of the protest, who requested to use his surname only for security reasons.
Some reports say that China has been building a lithium processing plant in the region, said Hussain.
"The Pakistani government should disclose all project agreements it inked with China that will be carried out in Gilgit-Baltistan," he said. "We also demand the government share the environmental impact studies of the projects and their impact on the area and local population."
Land is a precious commodity in the mountainous terrain of Gilgit-Baltistan. Activists and residents fear that the CPEC-related projects will swallow their lands.
The federal government has already allocated about 250 acres of land for Moqpondass Special Economic Zone in the region.
Creating new conflict
Chinese investment in Gilgit-Baltistan benefits only Beijing and could spark armed resistance to it, said activists pointing to the experiences of Balochsitan and Sindh province.
Conflicts between Islamabad and local groups are already evident in Balochistan and Sindh provinces, where local ethnic militant groups have formed an alliance, called Baloch Raji Aajoi Saangar (BRAS), to attack Chinese interests in Pakistan.
"Now such elements in Gilgit-Baltistan could exploit the situation if the concerns of the local population about Chinese investment are not resolved properly," said Muhammad Shafiq Hunzai, a college professor of political science in Hunza.
"The Chinese are known for implementing development projects without caring much about the environment, local culture or religion," he said.
"On one side, the lands have been taken over forcibly in the name of CPEC projects, while on the other side, the area has been secured by deployments of largre numbers of army personnel in the name to protect Chinese nationals," he said.
Chinese investment could even lead to violence and bloodshed in Gilgit-Baltistan, the country's most peaceful region, if the government does not change its stance on Beijing's increasing role in the country, he said.
Detaining Uighur wives
Beijing's oppression of Muslims has spilled across the border into Gilgit-Baltistan as the regime continues to detain hundreds of Uighur wives and children of Pakistani nationals, hardening anti-China sentiment in the country.
A large group of men, mainly from the Gilgit-Baltistan region, have been campaigning since 2017 for the release of their Uighur Muslim wives, who reportedly are being held in the Chinese regime's notorious "indoctrination camps".
Residents of Gilgit-Baltistan and Xinjiang frequently visit each other via the Khunjerab Pass and intermarry.
In 2018, the Gilgit-Baltistan Legislative Assembly unanimously demanded that the federal government take urgent steps to secure the release of the detained wives in Xinjiang.
However, despite large-scale protest and the local parliament's resoultion, Chinese authorities did not release wives and children of Gilgit-Baltistan residents yet.