ISLAMABAD -- Coal projects in Pakistan that are part of China's Belt and Road Initiative (BRI) contributed to the displacement, without fair compensation, of residents of the Sindh province district of Thar, a new study says.
Among other goals, the BRI is meant to facilitate the extraction and shipping of poorer countries' natural resources for Chinese benefit.
In a new study, "Coal Rush: The Impact of Coal Power Generation on Tharis' Land Rights", the Alliance for Climate Justice and Clean Energy (ACJCE) looks at the societal impact of Pakistan's "unfortunate turn to coal".
It points out that in pursuit of coal power "the plight of the Thari people has been overlooked despite widespread protests on issues of land, water, pollution, unemployment, and public health concerns".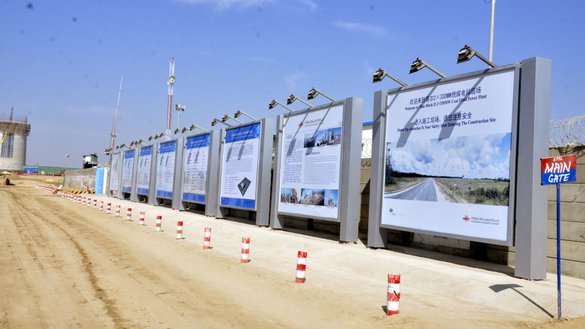 "Despite promises of ending coal projects, the Pakistani state has allowed a coal rush in Thar, with numerous national and global companies seeking to profit from the misery of Thari people," the civil society network said.
The network comprises Pakistan's leading environmentalists, community leaders and civil society activists.
Projects in the Thar Desert include the BRI's Engro Thar Block II Coal-Fired Plant and Surface Mine in Block II of Thar Coal Field.
The ACJCE study surveyed 10 village communities with a population of about 30,000, with access to 78,000 acres of land for cultivation and grazing.
The region is populated by a Hindu majority and is one of Pakistan's poorest areas. In 2019, it endured its third consecutive year of drought.
The study found that half of the total land in the surveyed villages has been, or will be, acquired for use by the Thar coal projects, while six of the 10 village communities expect "complete displacement".
"There is a general air of uncertainty among communities and families whose land is not directly acquired, but are certain to be displaced due to ecological and environmental problems," the study said.
Between 80% and 100% of the communities surveyed in Block I and II of the coal-producing area are expected to be displaced.
Broken promises
The majority of Thar region residents rely on rain-dependent agriculture and livestock, according to the ACJCE study and local residents.
The study found that some communities were promised jobs and monthly payments in compensation for the loss of their livelihoods.
"But most of them reported that they received neither monthly payments nor employment opportunities," the study said.
For the few who do gain employment, working conditions in the coal mines are "inhumane", with reports of torture and illegal confinement committed by Sindh Engro Coal Mining Company (SECMC), the study said.
Abuses in the Chinese-funded projects have aroused protests across the country.
The study cited the case of a mine worker, Dodo Bheel, who died in June as "a result of illegal confinement and intense torture" by SECMC officials, in collusion with police officers.
A Ministry of Human Rights fact-finding team investigated Bheel's death in August and recommended that the senior superintendent of police and other police officials be replaced, and that they be charged with "mismanagement".
Harmful emissions
Previous studies also have predicted that Thar residents would suffer major health problems as a direct result of coal-related projects in the region.
According to a May 2020 study conducted by the Centre for Research on Energy and Clean Air (Helsinki, Finland), emissions from Thar coal mines and power plants could be responsible for 29,000 air-pollution-related deaths over a 30-year period.
The emissions could cause 40,000 asthma-related emergency room visits, 19,906 new cases of asthma in children, 32,000 pre-term births and 20 million days of sick leave from work, the independent research organisation said.
They also could cause 57,000 cumulative years of human lives beset with disabilities related to chronic obstructive pulmonary disease, diabetes and stroke, it added.
In December 2018, Pakistan's parliament-mandated National Commission for Human Rights asked the Sindh and federal governments to review the entire Thar coal project, after considering its social impact on the community.
The commission expressed concern over "ecological degradation in the area compromising their livelihoods and triggering major social changes".